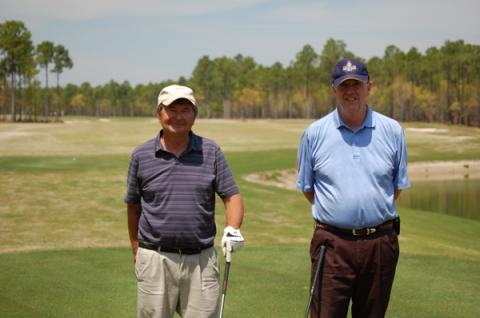 Ed Bernard, above left, and Bill Reidway are members of all four courses at St. James Plantation near Southport, NC. Ed, from Rochester, NY, and Bill, from Long Island, play golf four or five times a week. They were great company last week during our 18 holes at The Reserve course, by the Nicklaus Design shop. Most residents of the sprawling St. James, which is actually an entire town with its own government structure, are retired, and the golf courses get a fair amount of play, but Ed and Bill said they rarely have to secure a tee time more than a day in advance. The Reserve course was a brute, especially with a brisk wind making the numerous forced carries a challenge.
I'll have more to say about St. James, as well as Ocean Ridge Plantation (Sunset Beach), The Thistle (Sunset Beach) and Brunswick Forest (Leland), in coming days. In the meantime, thanks to Ed and Bill for letting me play along with them.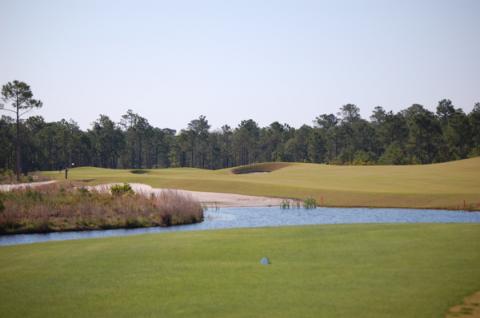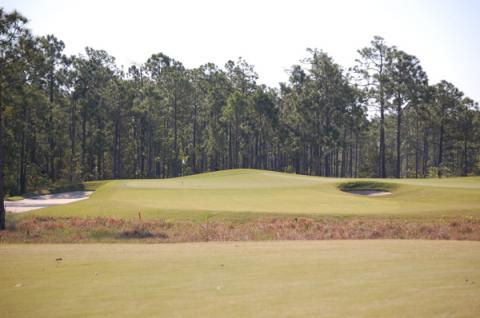 At the par 4 5th at The Reserve course at St. James, your tee shot must carry over an expanse of marsh and avoid a pot bunker at mid fairway (top photo). Your reward is about a 140-yard approach over yet another expanse of marsh to a green surrounded by trouble (bottom photo). The 5th is the number one handicap hole on a very tough golf course.


Comment
Be the first to comment