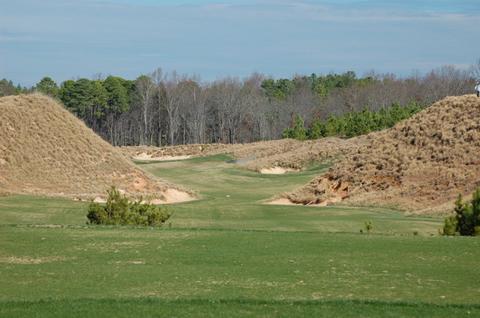 A warm up at the modest driving range at Tobacco Road is almost mandatory to be limber enough to clear the two bunkers just over 200 yards from the men's tees. The fairway opens up beyond the hills and provides an opportunity to reach the green in two on the par 5, but the approach is totally blind over another two hills.

Mike Strantz, may he rest in peace, had a puckish streak. For every conventional golf course he designed, like Caledonia Golf and Fish Club in South Carolina, he threw in a couple of whack jobs, none more whacky than Tobacco Road in Sanford, NC. What his body of work lack in size it makes up for in controversy.
I played Tobacco Road yesterday with my son Tim, a huge Strantz fan. It was in terrific shape and the weather cooperated (60F, sunny, a little breezy). On a day that could as easily have been 40 degrees this time of year, the tee sheet was filled into the early afternoon, confirmation that Tobacco Road has reached iconic status in the eastern half of the U.S. Indeed, virtually every golfer I have met in New England has played the course, low handicappers and high-teens players alike. Most love it and a few, like me, love and loathe it.
I'm in transit back to Connecticut after dropping Tim at college, but I'll try to articulate my ambivalence about Tobacco Road in the coming days. For now, enjoy a photo of the starting hole (above) and two of the finishing hole (below). Some of my best shots of the day were with the camera.
By the time you reach the 18th tee, you have either become used to the intimidating and blind tee shots over the wilderness, or you have been brought to your knees. It takes about 185 yards to reach the fairway and an "aiming flue" at the top of the hill shows the way...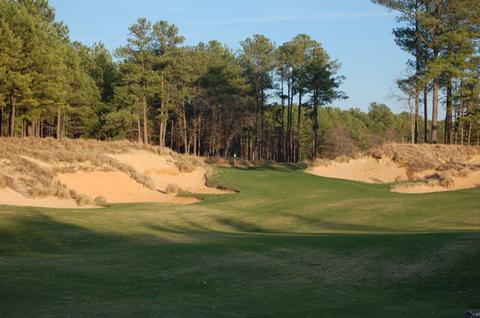 ...but you are left with a blind approach shot unless your tee shot winds up within a 10 yard band in the fairway. Yesterday, the pin was on the side of a hill, and any chip or putt from left of it could not be held within five feet of the cup.
Comment
Be the first to comment