Island living is not for everyone, especially on an island reached only by ferry. Just getting used to trading a car for a cart as your major mode of transportation is daunting enough, but then consider no shopping malls, no doctors' offices within 15 minutes, no hospitals in case of emergency.
But of course, there are the compensations. No cars mean no pollution, no honking of horns or the potential for road rage. Life is so much gentler than on the mainland, and you can walk or drive your golf cart to just about everything, including the golf course in just a few minutes.
For those drawn to the notion of island living without having tested their resolve, a place like Bald Head Island, a 20-minute ferry ride from Southport, NC, offers a couple of options. The customary one is to rent a house for the summer, or any other season for that matter, and try it out. But if you plan to live in a place year round, a one-season summer or fall sampler will not necessarily tell you all you need to know about life on an island in the dead of winter.
Purchasing a piece of The Hammocks at Bald Head is an interesting alternative. It is based on the time-share concept. Essentially, you purchase one week per season - four weeks annually - at one of the nicely designed cottage-like buildings in the island's maritime forest, overlooking a part of the golf course. The units are fully furnished and maintained and virtually all come equipped with the golf cart that is ubiquitous on Bald Head. Ownership conveys membership in the Bald Head Island Club and its links-style golf course, the oceanfront Shoals Club and the on-site Hammocks Club which includes a clubhouse with fitness center and other amenities, as well as a "services coordinator."
Four weeks at the Hammocks begins around $150,000 for a two-bedroom unit and $160,000 for a three bedroom. Insofar as homes less than a ½ mile away on the beach at Bald Head are on the market for as much as $4 million and more, The Hammocks provides an affordable entry into the high-end beach life. Contact Bald Head Island agent John Liles at 800-346-5192.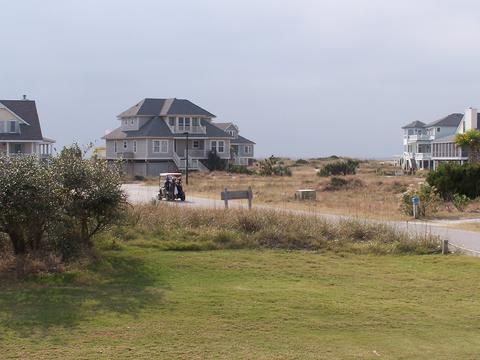 Comment
Be the first to comment