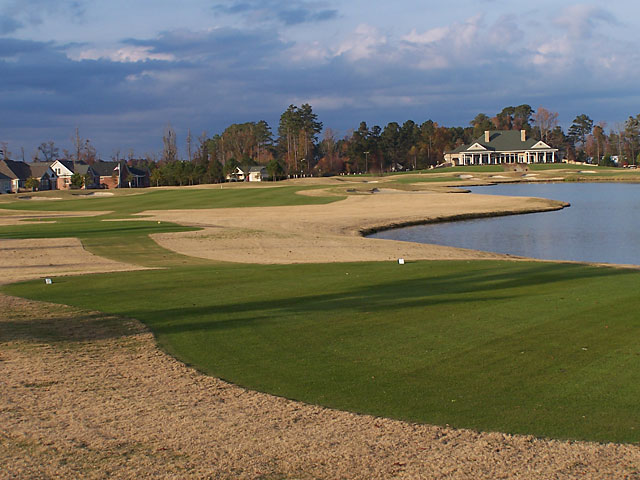 Taberna's 18th is the most dramatic hole on the course.
One of the first golf communities I visited back when I started this service in 2007 was Taberna, outside the historic city of New Bern, NC. I was struck by how orderly and neat the community was and not surprised to learn that it was favored by retired and active military personnel from nearby bases. It seems fitting on Memorial Day to reprint that review.
During a visit last November, the small city of New Bern, NC, appeared to be insulated from real estate woes. Construction cranes dotted the downtown historic area, adjacent to one of the city's two rivers. A new golfing community, Carolina Colours, had just opened outside of town and begun its advertising campaign, and the area's original golf community, Taberna, had only a few for sale signs dotting the front lawns of its tidy homes. Given its proximity to water and reasonably priced golf and real estate, New Bern's property owners do not appear to have too much to worry about in terms of valuations (barring an out and out collapse)..
Taberna, which opened in 1998, won't attract investment banker types looking to show off, but for those interested in a true neighborhood environment with an enjoyable golf course, it fills the bill. It is hard to find a house with a pricetag north of $600,000; Taberna has more than a fair share of condos and patio homes, which tamps down the price of the higher end homes. Small "patio" homes dominate the community in two large neighborhoods.
Taberna's original developer, the giant paper company Weyerhauser, must have studied the Levittown (Long Island) game plan because the houses are the same size, on identical lots and the same distance from the streets. Little attempt was made to create cul de sacs in which the houses could at least be set at more visually pleasing angles. The mostly brick exteriors do give a neat overall appearance to parts of the community.
With military bases within an hour, including Camp Lajeune,Taberna's residents include a number of former servicemen, and discipline and neatness have carried over to the community's lawns and houses. Pride of place extends to the golf course where, during a convivial round with three sextagenarian residents, I was amazed at how often they picked up broken tees and cigarette butts and deposited them into containers they carried on their carts. New club owners Gretchen and Fred Leonard appear to have a disciplined approach to fixing some nagging issues they inherited from the previous owners, and they are earning high praise from their patient and supportive members.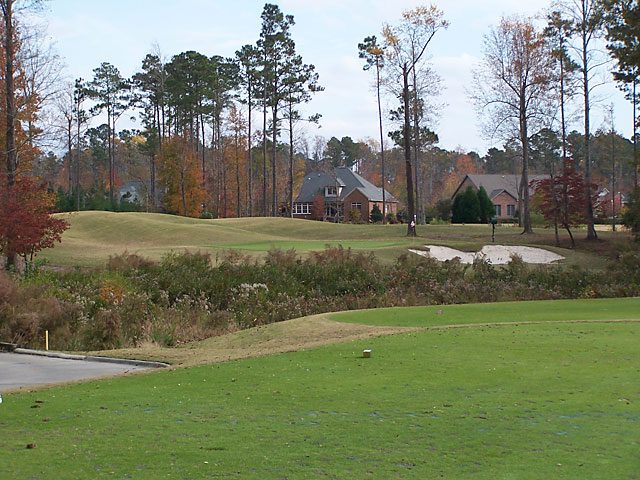 The course, which will not win awards for dramatic routing, nevertheless is a pleasure to play, and we understood the positive feelings toward it of our three new friends. The Jim Lipe design -- he was trained in the Jack Nicklaus stable -- saves much of the drama for its finishing holes on both nines, the only time you see water all day. The finisher, at 400 yards from the men's tees (427 from the back), forces a well-placed drive down the left side of the fairway, where two strategically placed bunkers await overcooked draws. That is still a safer bet than shaving distance down the right, where the lake is close. An approach shot must not be greedy when the pin is at right because the lake extends to greenside there. Traps at left front and right rear make placement even more precise.
At the tips, the course plays to 6,900 yards, with a few par 4s weighing in at 425 yards or more. Greens were not huge, but they were quite fast with subtle contours. They are big enough that different pin positions will provide a wide variety of approach options. Although it rained the prior few days and carts were relegated to cart paths only, the fairways were not at all sloshy and the greens had been closely cropped.
For those who might feel too cramped in Taberna, real estate in the city of New Bern beckons. Taberna Golf Club welcomes members from outside the community, and nice, historic properties on or near the river start around $400,000. Initiation fees for full golf are just $8,500 for a family, $5,500 for an individual. Monthly dues are $220 and $173, respectively. The club offers social memberships (no golf) at less than half the full initiation for golf and offers corporate memberships that range from $8,500 for one player up to $17,000 for four. Dining minimums are just $60 per quarter, the equivalent of one meal for a couple.
For club information, contact Gretchen Leonard at (252) 634-1600 or This email address is being protected from spambots. You need JavaScript enabled to view it.. For real estate information for Taberna and the New Bern area, contact Coldwell Banker Broker Connie Sithens at (800) 334-0792, or This email address is being protected from spambots. You need JavaScript enabled to view it..

A FEW TASTY NOTES ABOUT NEW BERN

I have eaten at New Bern's Chelsea Restaurant twice in a span of six years, and it was terrific both times. On a November visit to the downtown location, the restaurant's "famous" cream of crab soup did not over-promise, and the "Southern osso buco" ($19.95), a humongous shank of pork braised in an intense reduction of wine, olive oil, roasted tomatoes and capers, was meltingly soft and irresistible, leaving us no room for any of the attractive desserts. Other specialties on the menu include the "Combination Plates," which offer a filet mignon, New York Strip or 16-ounce rib-eye in combination with grilled shrimp, bacon-wrapped scallops or a large crab cake. The latter combo, at $29.95, was the second most expensive entrée on the menu, beaten only by the Chelsea Filet Oscar, which featured tenderloin, jumbo lump crabmeat and tempura-fried asparagus at $32. Next time, perhaps…
The two-level Chelsea, at the corner of Broad and Middle Streets, is an anchor in New Bern's historic downtown district, a few blocks from the Trent River and the site of the pharmacy where Caleb Bradham invented Pepsi Cola. New Bern has a population of just over 25,000 and wears the official distinction as an "All America City"; there is little we saw to dispute that label, except for an impending traffic problem that may result from rapid population growth and the basic geography of the area.
The Trent and Neuse Rivers bracket New Bern and provide great opportunities for recreational boating, fishing and water skiing, but they make egress possible only driving west; therefore, a visit to the beach requires a two-hour roundtrip commitment. Golf is available at seven area courses, which is plenty for now in a town of just 50,000. Two of them are private; the Taberna Golf Club (see above) and the par 70 New Bern Country Club course, a Donald Ross layout built in 1921 which we did not have the opportunity to play.
New Bern is an historic city, and the beautiful Tryon Palace, which served as the British capitol before the town's founding in 1710, is a popular tourist destination. Recognizing what they have, many property owners in New Bern have restored their old homes, some dating to the 18th Century. Recently, we noted that a beautiful house in the historic district was listed at $745,000. It featured 4 bedrooms, 4 1/2 baths and nice views of the Neuse River. Contact Connie Sithens at This email address is being protected from spambots. You need JavaScript enabled to view it. if interested in this or any other home in the New Bern area.
Comment
Be the first to comment