For those caught up in the glow –- and marketing power -– of Reynolds Plantation on Lake Oconee in Georgia, it is easy to ignore the 1,000-acre Harbor Club, less than five miles up and around the lake. But anyone visiting the wonderfully appointed Reynolds would be well advised to make a stop at Harbor Club, which may not boast six golf courses, multiple clubhouses, and an ownership the likes of Metropolitan Life Insurance, but then how many golf communities do?
Now, there is an additional reason to add that stop at Harbor Club to the Reynolds visit; a new model home of more than 3,000 square feet with an open floor plan popular with baby boomer retirees. The price of the spacious new model should prove popular, starting at $489,000. Dubbed The Pine Lake, the new home plan features three bedrooms, a two-car garage and some extra touches, such as arched windows and natural stone details on the foundation. An extra 800 square feet on the terrace level and 400 square feet upstairs can be finished off to provide another bedroom, media room or storage space. Prior to building, the dining room area can be redesigned as a study.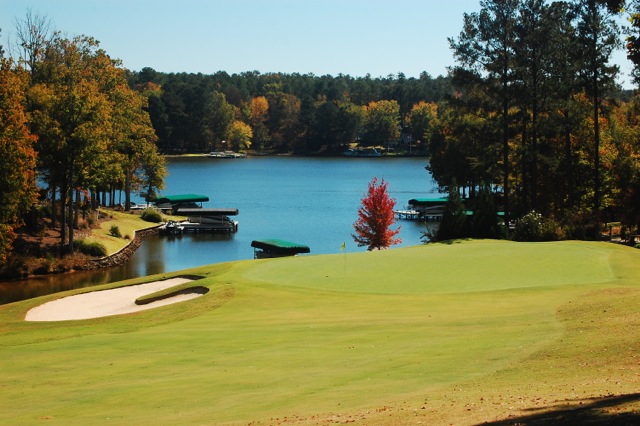 A good piece of the Weiskopf/Morrish golf course at Harbor Club bumps up against Lake Oconee.
A bit more than half the planned golf homes in Harbor Club have been built. Home sites start at a mere $20,000, with those with lake views priced correspondingly higher. Single-family homes start in the $200s and run into the millions for the best views down the lake. Harbor Club has a few townhomes as well, starting in the mid $100s.
The golf course, designed by Tom Weiskopf & Jay Morrish in 1991, is a honey and winds its way through the community and along parts of the lake. Although the golf club is semi-private and, therefore, open to the public, green fee rates are pretty high -- $105 at the peak morning hours –- and ensure the member's have full access.
Mindful that its golf community overlaps with Reynolds offerings, Harbor Club has been investing in improvements, including a new marina and boat storage facility on Lake Oconee and the opening of a new neighborhood of homes in April, which generated 63 sales over a single weekend. For more information on Harbor Club, or to arrange a visit to both Reynolds Plantation and Harbor Club, please contact us.
Footnote, especially for Yankees fans: Legendary baseball star Mickey Mantle was an active member at Harbor Club once his baseball playing days were over. Something of a shrine to The Mick occupies a small rotunda in the 15,000 square foot clubhouse.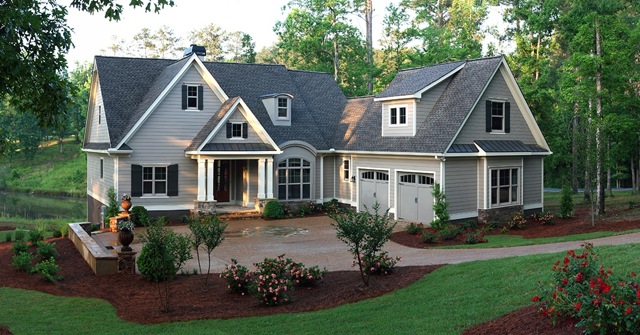 The Pine Lake model at Harbor Club is their newest, and starts at $489,000.
Comment
Be the first to comment