Like a round of golf, photographing a golf course for an amateur like myself can be a challenging experience. Some golf courses, even those with a little contour in them, are flat looking, and they translate that way to the camera. If I find an interesting hole or two per course, I am as happy as I am making a couple of birdies.
        It is rare to encounter 18 golf holes on one course that scream for a camera. In my experience, just a relative few courses scored a perfect 18 in that regard, among them Pine Valley, Kapalua Plantation on Maui, the Old Course at St. Andrews and Sunningdale outside London. Other great courses like Augusta National, Shinnecock Hills and Winged Foot come close, but there are one or two holes that, for a rank amateur photographer like yours truly, are impossible to make as interesting visually as they are to play.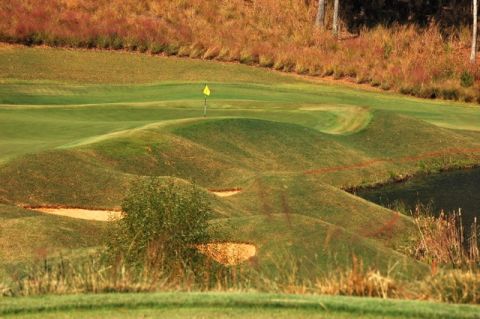 Par 3 at Creek Club, with water, bunkers and mounding.  Still, the pin was in a bowl-shaped part of the green, and quite accessible. (More photos below.) All photos by Larry Gavrich.

        This year, I photographed one golf course that offered 18 holes I couldn't screw up, with a camera at least. The Creek Club at Reynolds Plantation, designed by the under-heralded Jim Engh, is what the French refer to as trompe l'oeil, or "trick the eye." That is because every hole appears impossibly difficult to play and yet, according to the club's professional, Wes Forester, my eyes (and camera) didn't pick up the "funneling effect" on many of the greens and in many of the sloping fairways. In other words, you have to be pretty wild off the tee and on your approaches not to take advantage of sloping that protects you from the creek and can send a slightly errant approach shot toward the middles of greens.
        Creek Club is the only strictly private golf club of Reynolds' six and a half beautifully conditioned layouts. (Guests of the on-site Ritz Carlton have access to the others.) Those willing and able to pay the surcharge initiation fee to play it and the other 5+ courses will find Creek Club a feast for their eyes –- and a bit of an ego booster.
*
        Reynolds Plantation is one of the success stories of 2012 among golf communities. Thanks to its purchase by MetLife and Daniel Corporation, Reynolds not only survived some tough financial issues but also now has the financial backing to maintain its roster of top-drawer amenities. Golf homes for sale at Reynolds Plantation start in the high $100s (condos) and reach well into the millions for sites with great views of Lake Oconee. For a selection of lots and golf homes for sale, please see GolfHomesListed.