Before it hit a financial bump in the road, Reynolds Plantation, the expansive golf community on Lake Oconee in Greensboro, GA, was faulted by potential homeowners for only one thing –- its distance from civilization. "Nothing outside the gates," was a popular refrain from some who visited and otherwise sang the golf community's praises.
With its financial woes behind it -– the deep-pocketed financial giant MetLife has put its might behind the community -– and the leisure residential market showing strong signs of a comeback, I decided to visit Reynolds for the first time a week ago, expecting to be fortunate to find a cell-phone signal and little else outside the community's front gate. But on my drive to the terrific Tom Fazio designed National Golf Club course, one of 6 ½ layouts at Reynolds, I was surprised to pass a large supermarket (Publix), medical offices, a steakhouse, and myriad other conveniences, all within five minutes or so of the most remote areas of the sprawling golf community. And during a closer inspection after golf, I noted multiple doctors' shingles hanging outside the modern buildings that comprise Lake Oconee Village. (Ground has been broken for a hospital two miles away.)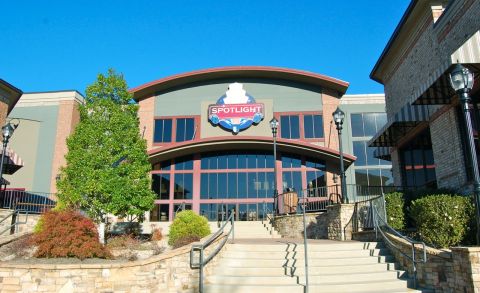 Lake Oconee Village, just outside the gates of Reynolds Plantation, features a large supermarket, multiple doctors' offices, restaurants and an eight-screen cineplex (shown here).
During my two nights at Reynolds, I ate dinner in two of the local establishments –- a decent steak dinner in Lake Oconee Village and a smashing dinner of baked ziti and sausage at the local "saloon," the Silver Moon Tavern, five minutes down the road. Okay, art museums and minor league baseball parks have not yet made their way out to Greensboro, but Atlanta and its international airport are just 90 minutes away, close enough for retirees looking to get away from traffic, pollution and the stress of a near-urban existence, but not the benefits. For a couple looking for an upscale, golf- and lake-oriented retirement lifestyle, or a family looking for a deluxe vacation spot, Reynolds' remoteness is more myth than reality.
I will have much more to say about Reynolds Plantation in this space in the coming weeks. But if, in the meantime, you would like more information on Reynolds, whose current real estate offerings begin at $40,000 for lots and $290,000 for a 3-bedroom, 2 ½-bath single-family home, please contact me.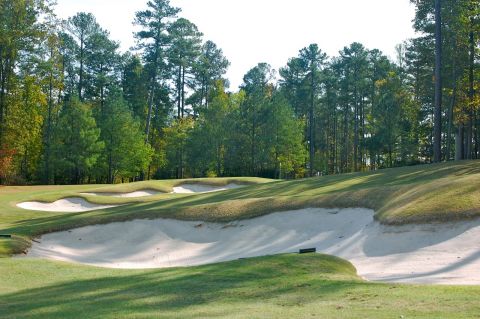 The accent at Reynolds has always been on golf, with Tom Fazio's National golf course layout, one of 6 1/2 immaculately conditioned courses on the property, considered among the top courses in Georgia. (Approach to #2 shown here.)
Comment
Be the first to comment