Third in a series on Georgia resort communities where you can stay for a vacation or life.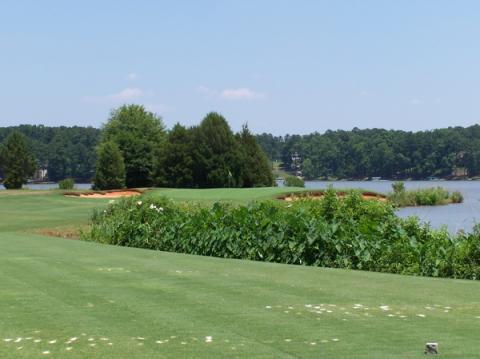 The par 3 11th at Cuscowilla is a straight-forward one-shotter, albeit with well-placed sand, water and marshy interruptions.
The Eatonton, GA, resort community of Cuscowilla finishes consistently among the top three in Golfweek's annual "Best Residential Golf Courses" ratings, largely on the basis of its terrific golf course and sparkling lake. The Bill Coore/Ben Crenshaw designed course celebrates golfing traditions and never panders. Little dirt or good red
Cuscowilla can make caddies available with a little advanced notice.
Georgia clay seems to have been disturbed to construct a layout totally integrated with the natural grasses and modestly rolling landscape. You won't find any signage at tee boxes, and you have to rely on a yardage book or your own eyesight to assess the turn of the fairways and slopes of the greens (many have false fronts). Cuscowilla is a player's course, and it respects its patrons' knowledge of the game.
The course, which plays to a par 70, uses just three sets of tees. The tips are 6,847 with a rating of 72.3 and slope of 130, not a bruiser by any means. Native grasses predominate off the generous fairways; they are in play only for the most errant of tee balls but are just enough of a threat to force extra concentration on the tee box. This is a course you will want to walk when the temperature is less than 90 (all but the summer months), and Cuscowilla makes caddies available (although one of the concessions to modern times is to also permit golf carts). The walk from green to tee is shorter than you will find at any other "modern" course.
The community that surrounds the golf course, but not too closely, snuggles up to Lake Oconee, across which lies the expansive golf resort of Reynolds Plantation (I haven't had a chance to visit yet but, based on its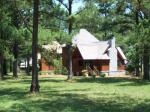 reputation, I encourage you to make a stop there if you visit Cuscowilla). Real estate options at Cuscowilla are varied and run the gamut from townhouse villas on the golf course to large, single-family dwellings on the beautiful lake, with many choices in between. Interior lots begin at $165,000, golf view lots at $235,000, and lake view at $310,000. The choicest home sites are at the lakefront and begin at $700,000. Cottages on the golf course range from the mid-$300s to $500s, and lakefront homes start around $1 million and surpass $3 million in a few cases. Cuscowilla membership fees have increased over the years from $10,000 to $40,000 today, but monthly dues at under $300 are incredibly reasonable for this kind of high-quality club.
Cuscowilla, which is just one hour from Atlanta International Airport, offers discounted "discovery" packages that can be customized to meet the interests of any potential resident. I know well the broker in charge at Cuscowilla and will be happy to arrange for you to talk with him.
Away from water, Coore and Crenshaw use the native trees and natural looking bunkers to provide all the hazards challenging holes require.

Comment
Be the first to comment