Second in a series of articles on Georgia resorts where you can spend a vacation or longer.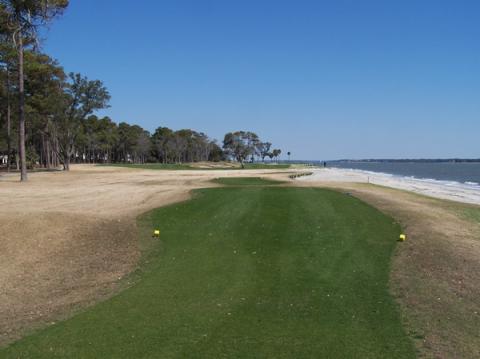 The finishing hole at Melrose features most of Jack Nicklaus' idiosyncratic touches, including tree in middle of fairway, intimidating bunkering and an all-carry shot (over water) to a firm green.
O
kay, so it's not actually in Georgia, but you can see Savannah from this historic island where, until a couple of decades ago, the dominant language was Gullah, a particular dialect that is part African and part y'all southern,
Unless you own a helicopter, Daufuskie Island is reached only by ferry
unless with a little Creole and Jamaican mixed in. You might recall the book by Pat Conroy, "The Water is Wide," about a young man teaching at a school of African American children in the backwoods of South Carolina. In 1969, Conroy was the first white male to teach at Daufuskie Island's Mary Fields School, an experience that formed the basis for his novel.
Though remote, Daufuskie is no longer rural, having been developed two decades ago by International Paper. Two big communities, Haig Point and Daufuskie Island Resort, comprise most of the island's real estate today. The island is accessible only by ferry from Hilton Head, unless you happen to own a helicopter; no cars are permitted on the island, other than service vehicles, and most roads are only wide enough for golf carts, the dominant mode of transportation.
The resort has everything a couple might want for a one-week vacation. That includes two scenic, wonderfully designed seaside courses. The Melrose Club was one of Jack Nicklaus' earliest solo designs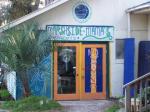 (1986), and it displays the Bear's idiosyncratic touches, such as trees at mid-fairway and in range of tee shots, and bunkers and mounding that force high shots into big greens. From the 18th green at Melrose you can look across the Calibogue Sound and see the lighthouse behind the green at Sea Pines Plantation's own famous 18th hole.
The other course at the resort, Bloody Point, was named after a legendary 18th Century battle between Indians and the British. The course, which was designed by Tom Weiskopf and Jay Moorish, features commanding views of the ocean, and the degree of difficulty runs from mild to ferocious depending on how the ocean winds are blowing.
Homes adjacent to the two courses rarely intrude on the views. Lots are available from $200,000 to more than $1 million, with built homes starting around $500,000. Ocean view and oceanfront cottages start in the $700,000s. Overall, Melrose comprises 370 home sites, less than a third of which have been built to date. There is another 110-home site adjacent to the Bloody Point course at price points similar to those at Melrose.
If you do stay at Daufuskie Island Resort, make sure you visit Haig Point, a private community across the
You won't have to share Haig Point's Rees Jones course with any tourists.
island with its own private ferry service and 29 holes of terrific Rees Jones golf -- two extra to provide a variety of routings on two par threes. You won't have to worry about sharing the course or other amenities with tourists, as Haig Point is strictly private. Homes there are reasonably priced, beginning in the mid six figures, which seems surprising given the beautiful pieces of property abundant in live oaks, and most include free golf membership (a $65,000 value). But monthly dues are high to support the ferry and the other idiosyncrasies of island living.
Island living is not for everyone, but if your lifestyle tends toward splendid isolation with outstanding golf, Daufuskie is worth a serious look. I have excellent contacts on the island and would be happy to arrange for you to meet with one of them.
At Daufuskie Island Resort, most of the recreational activities, in addition to golf, are played on grass. They include croquet and lawn bowling behind the resorts main building.
Comment
Be the first to comment