The state of Georgia doesn't get its due when it comes to golf. When was the last time your golfing buddies talked about a long weekend or week of golf in Georgia? No, Myrtle Beach, Pinehurst, Scottsdale are top of the list largely because they offer quantity as well as quality golf. But if you like to order a la carte from a big menu, Georgia can more than hold its own.
This came to mind as I entered Georgia via I-95 yesterday and picked up a copy of the state's guide to golf at the Welcome Center. This was my first visit back to the state since summer last year. It was good to be back. Last spring, I played the Dye course at Ford Plantation (see Tuesday post for how much I liked it). Last summer, my son and I played the fantastic Cuscowilla in the north central part of the state, the Crenshaw/Moore design that typically ranks either first or second in GolfWeek's annual residential course rankings (the competition is the renowned Wade Hampton in the mountains of North Carolina).
The state that gave us Bobby Jones, Augusta National and the Masters provides an almost limitless variety of public-access golf as well. At the coast, the best community courses include Sapelo Hammock (see our post yesterday) in Shellman Bluff; The Hampton Club and Sea Palms, both on St. Simons Island; and Osprey Cove, which we are visiting today. We've played the dramatic Mike Young design at Cateechee near Lake Hartwell in the north part of the state, and would return in a minute. Reynold's Plantation and its own buffet of courses (five) is on our list for the summer. We note as well that the upstate region is one of the fastest growing in terms of golf course development, and we look forward to exploring that area soon. In short, you can put together and play your own Georgia golf "trail" without burning up too much gas.
You'll find a comprehensive list of public access courses at http://www.georgia.org/Travel/Rejuvenate/Golf. Many of them are located inside residential communities.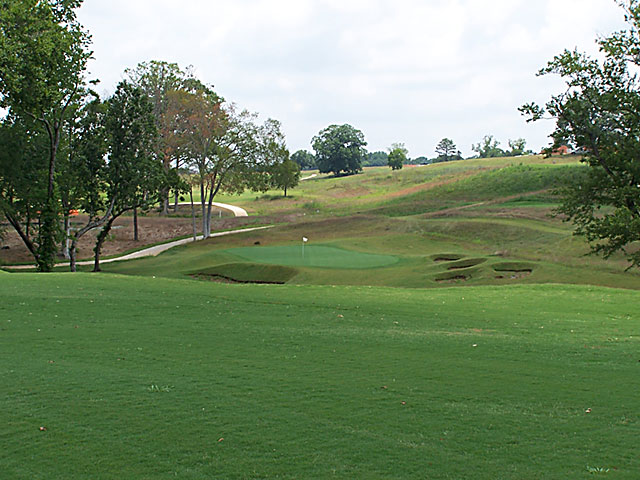 Mike Young's Cateechee course near Lake Hartwell is one of many hidden gems in north Georgia.