London bridges aren't exactly falling down, at least not yet, but London real estate prices are. Previously buoyed by an influx of wealthy foreigners, especially Russian and Arab, London has for some years been the most over-priced city in the world. The Brexit vote changed that overnight, as those wealthy foreigners are already starting to put their properties up for sale. Florida real estate agencies could be the beneficiaries.
"Anything in the United States will fare very well with the Euro-centric audience," Leonard Steinberg, an executive with a major U.S. brokerage, told Yahoo, adding that Miami was among American cities that "will always do well with the foreign buyer."
I think other Florida cities like Naples, Sarasota, Fort Myers and the Gold Coast on the eastern side of the state could do very well also as well-to-do British citizens look to escape the plummeting real estate market in London and other higher priced areas of the UK. The British have long had an affinity for vacations in Florida, and many have purchased second homes there. Non-stop flights from London to Miami, Orlando and Tampa are a few hours longer than flights to Portugal, Spain and other sun-drenched havens in Europe, but receptions for British citizens in some Euro countries in the wake of the vote could be tepid at best and vacation-ruining at worst. Florida and, potentially, other parts of the U.S. Sun Belt, could look like safe havens in more ways than one.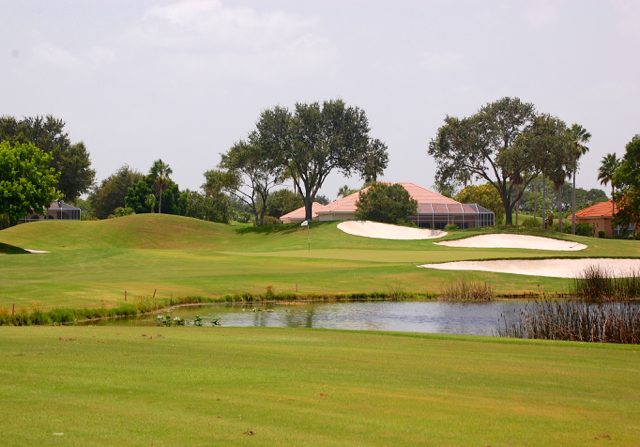 British citizens looking for a safe haven in Florida won't do much better than Laurel Oak Country Club, located near Sarasota.
Europeans watching their stock portfolios and real estate values drop, and fearing worse over the coming months, don't believe America needs to be made great again, certainly not as a place to invest. The U.S. is the world's only true safe haven for real estate and other investments, according to global experts. If I were the chambers of commerce and major real estate agencies in Florida cities, as well as other cities in the Southeast that can be undeniably attractive to foreign real estate investment, I'd be running ads in British media read by those with real estate holdings. Yes, the drop in the value of the pound sterling has made investments in U.S. properties that much more expensive for the Brits, but the exchange rate difference is nothing compared to the impact of, say, a 50% drop in properties valued in the millions. Smart money in London may be ready to take some losses now rather than much bigger ones later.
Of course, having been through a vote whose results many did not see coming, British citizens may be reluctant to jump from the fat into the fire of another chaotic and contentious campaign in the U.S. Uncertainty certainly does not inspire investor confidence. In that regard, here is an open invitation to any British citizen looking for information on the top golf communities in Florida or elsewhere in the Southeast U.S. to contact us now to lay the groundwork for a purchase decision, say, on November 9, the day after the election. That provides plenty of time to visit some Florida communities in the meantime, while lodging prices are very cheap in Florida (hot summers drive the snowbirds away) and golf communities are eager to see you.
For a sample of golf communities in Florida that we can recommend, click here.
Comment
Be the first to comment