Because my beloved Brooklyn Dodgers conducted spring training there, I grew up loving Vero Beach without ever having set foot in the place. Dodgertown was perennially regaled as the most fully outfitted spring training facility in all of baseball and, perhaps, in all of sports. Players' wives and families especially liked Vero for its balmy winter climate, wide and beautiful beaches and congenial atmosphere. It must have been tough to return to Brooklyn and its 40 to 50 degree April temperatures for the beginning of the regular season after a winter mostly in the 70s.
The Dodgers, sadly, left for dryer spring pastures in Arizona, closer to the Los Angeles they moved to in 1958 (this is where a 67-year-old man starts to tear up). The good news is that all the surrounding elements that made Dodgertown great –- its nine hole golf course at the time was much praised -– still make Vero Beach strongly worthy of consideration by those looking for a home in one of the area's top-notch but reasonably priced golf communities.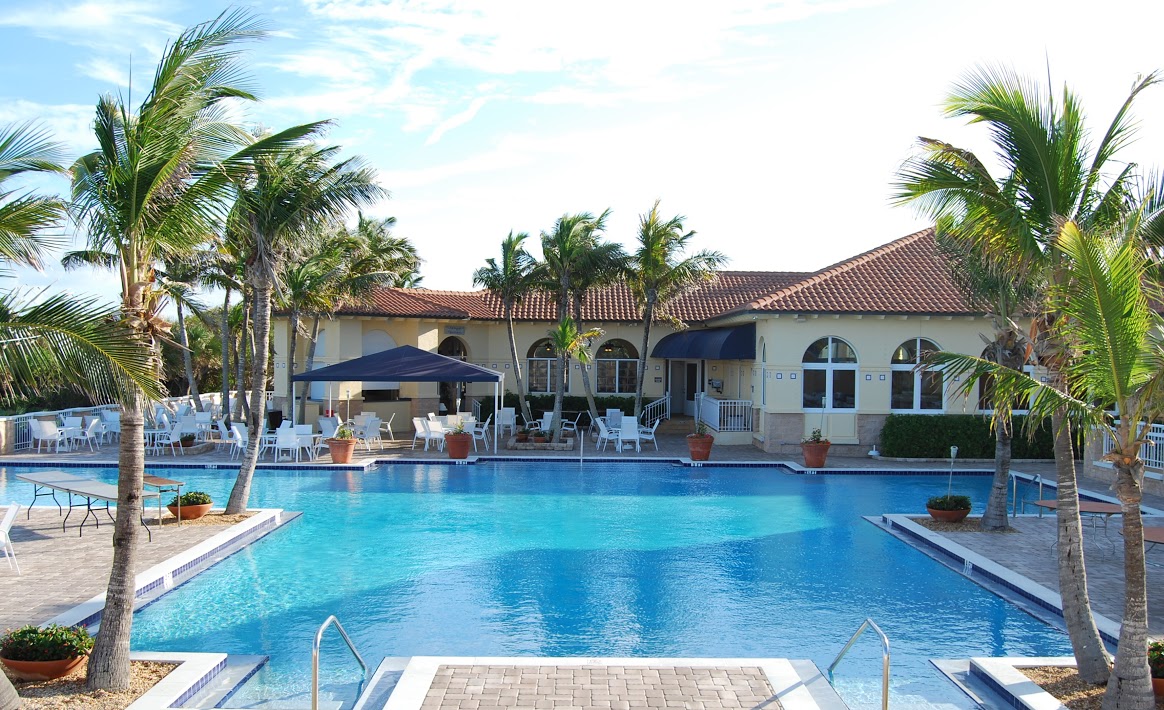 One of the pools at Grand Harbor, Vero Beach
This is why we are pleased to announce that Vero Beach golf home listings are now posted in our Golf Homes for Sale section, along with more than five-dozen other high-quality golf communities throughout the Southeast. Our real estate professional in Vero Beach is Suzanne Leffew who, like your editor, was New Jersey born and raised -– please don't hold that against us –- and is one of the most successful agents on the Treasure Coast. Suzanne suggested Grand Harbor as a golf community in the area that appeals across a broad spectrum of interests and price ranges. Click on the blue button on the Grand Harbor page, send Suzanne a note with your price range included, and she will provide you with a customized list of current homes for sale at Grand Harbor that fall in your price range. She can also provide sample listings from other golf communities in the Vero Beach area that fit your requirements and budget.
Speaking of other top golf communities in the Vero Beach area, we have also posted information at Golf Homes for Sale about Pointe West, another Vero Beach golf community with a unique twist -– shops, medical offices, restaurants and more just a short walk from within most areas of the community. Adjacent to this "Town Center" are tree-lined sidewalks in Heritage Park which lead to exhibition and entertainment venues that host festivals, craft fairs and art shows. The golf course, by John Sanford, was clearly inspired by trips to Scotland; and because the golf club is managed by the Arnold Palmer group, club members have access to the dozens of great Palmer-managed clubs around the world.
Florida is hot again, and prices are rising to pre-recession levels, which means "relatively expensive." Because it is far from the maddening crowds of Boca Raton and cities farther down the coast, Vero Beach golf communities are still reasonably priced. For example, I noted today a cute 3-bedroom, 2-bath home of about 2,500 square feet in Pointe West that is currently listed for just $315,000 and includes views out to the golf course from the home's screened porch. As a home cook, I especially appreciate the gas stove in the expansive kitchen. You will too.
Comment
Be the first to comment