Bill Straub and Bob Genovese were my hosts yesterday at North Hampton Golf Club, just outside of Jacksonville, FL. They treated me royally, even conceding me a three-foot putt at one point. They had been such good friends in Woodstock, GA, that after Bob and his wife moved to North Hampton five years ago, Bill rang their doorbell a few years later asking for an overview of the community. He and his wife bought a home in North Hampton a few days after. Bob and Bill have something of an Abbott and Costello thing going, with Bob playing the straight part and Bill cracking wise at every opportunity (at one point during the round, he cracked up the cart girl with a little ditty that was a little bawdy).
Both say their number one priority in seeking a retirement home was a good golf course they could play a few times a week. The Arnold Palmer Signature design at North Hampton filled the bill for both of them.
"It is a tough course," said Bob, whose handicap is in the high teens, "but it offers a different challenge every day."
I thought the course was both a delight to play and very tough at a relatively short 6,373 yard from the men's tees, especially for those who can't bring the ball in high over the large signature bunkers that, in the case of North Hampton, have high lips and bump right up against most of the enormous greens. North Hampton has more than five acres of them, double that of more classicly designed courses, and I didn't have a flat putt all day. The greens were quite tough to read, and looking on both sides of the hole was mandatory. We could only imagine how tough the course plays from the tips at 7,171 yards and a rating of 75.4. There are very few opportunities to run the ball up onto the enormous greens, making this a course tough on many women competitors.
Although I am not a big fan of Arnie's designs, this one was wonderful. Besides the large, often-banked greens, the most memorable observation of the round was how narrow the fairways appeared from the tee boxes. They were pinched in by enormous bunkers, many of which did double duty as cart paths. Yet when I drove to the fairway and looked back toward the tee, I realized just how much room was out there. This is the King at his best, and you can almost imagine that patented twinkle in his eye when he thought of his little deceptions.
The pleasant community that surrounds the club does not encroach. A few lots remain to be sold but, for the most part, the area is built out. Although North Hampton is "semi-private," which means anyone can play it for a daily fee, members have access privileges at other area courses. If you are in the Fernandina Beach, FL, area, northeast of Jacksonville, don't pass it by. The pro shop staff, under the guidance of Jim Houston, is friendly and accommodating. And the course will provide you with a tough but fulfilling four hours, especially if you are as lucky as I was to be paired with Bill and Bob. Thanks guys!
North Hampton Golf Club. Blue tees: 6,363 yards. Rating: 71.5. Slope: 137. Phone: 904-548-0000. Web: www.hamptongolfclubs.com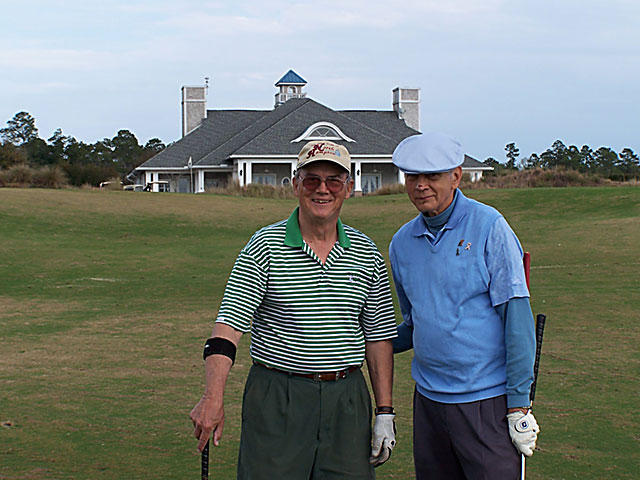 That's Bob Genovese on the left with Wild Bill Straub.