Small and inconspicuous, Delaware does not get all the respect it deserves from Northeast or Middle Atlantic residents looking for a vacation or retirement home on a golf course and near a beach. Most New Yorkers, for example, don't realize that a jaunt down the New Jersey Turnpike to the Delaware coast is less than 3 ½ hours. Take the Garden State Parkway and relax on the ferry from Cape May to Lewes, DE and you will add about an hour. Either way, you can leave the Big Apple at 8 a.m. and be on the first tee of your own golf course around noon. Cut that trip by a couple of hours if you live in the Philadelphia or Washington, D.C. areas.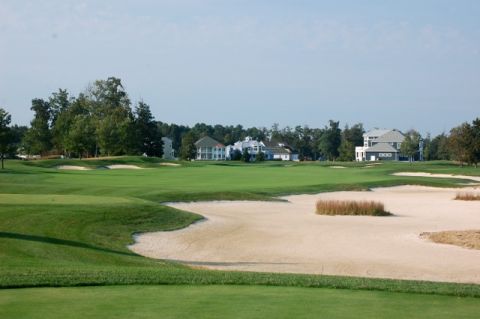 The Peninsula club golf course is a typical Jack Nicklaus "beach" layout, with plenty of large bunkers (and challenges).
Delaware, which spans less than 120 miles from the Memorial Bridge at its northern end to Ocean City, MD, at the southern end, has managed to squeeze in an impressive range of golf communities close enough to major metro areas to make it a practical place for long weekend getaways or permanent homes for retirees who want to be within a few hours of children, grandchildren and friends, yet well away from the traffic and stress of urban life.
During a late summer visit to the area from Lewes to southern Delaware, I had the opportunity to visit some of the area's top golf communities and was impressed by the diversity of real estate options and imaginatively designed golf courses. Here are some of my observations.
Bayside Resort
The "resort" in Bayside is something of a double entendre in that the community is clearly a lure to weekenders and those looking for a summer vacation spot of their own and, yet, is organized to appeal equally to retirees looking for a lifestyle packed with activities. Bayside is home to Jack Nicklaus' first golf course in the state, and one of its best, with long range views from its fairways across the marsh to Ocean City, MD, where the boardwalk scene and dozens of top quality seafood restaurants beckon. Condominiums by the Freeman Companies, a respected local developer, begin in the $200s, which makes the community popular with budget-minded weekenders. Those searching for a year-round situation will consider single-family homes that range from the $300s on smaller lots to $500s and up for "estate style" homes.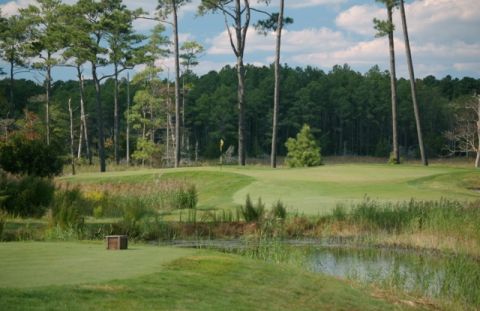 The Bayside Resort, par 3 #13 from tee.
Bear Trap Dunes
The 27 holes of golf designed by Rick Jacobson, a former member of the Jack Nicklaus design team, thread their way through wetlands and sand dunes, making it feel as if you are close to the ocean. Actually, you are only three miles away from Bethany Beach, but with a full roster of activities on the property –- including a couple of pools, multiple tennis courts, fitness center and much more -– you may want to stay put. But if the ocean calls you, the Bear Trap Dunes community provides free shuttle service. Villas and condominiums begin around $250,000, and single-family homes that range all the way up to 3,700 square feet start in the low $400s.
Heritage Shores
The title "Best Active Adult Community in the Country" says something about Heritage Shores; in fact, it says a few things. First, the 800-acre community is restricted to those aged 55 and older (although there are plenty of grandchildren around during summers). Second, Heritage Shores' infrastructure and activities are first-rate, and include a fully outfitted 28,000 square foot clubhouse, a beautifully conditioned and challenging Arthur Hills golf course, and homes that are not only attractive and well-designed, but also sharply priced, starting in the $200s. No community we visited had more homes under construction than did Heritage Shores, a sign that baby boomers may be on the march again.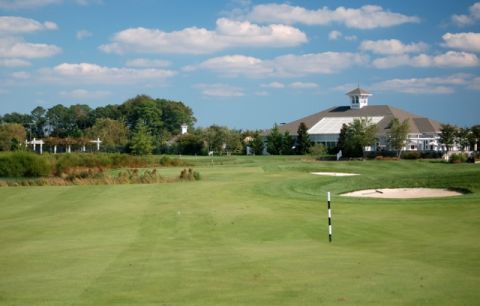 The approach to #18 at Heritage Shores, with the 28,000 square foot clubhouse beckoning.
Kings Creek
Kings Creek is a fully formed golf community, which is to say it will feel like "home" for those who have been actively involved in the country club life elsewhere. At only 350 acres, and with a spirited and welcoming group of club members, it is hard not to feel at home at Kings Creek from your first weeks there. Less a resort and more a year-round community than other Delaware coastal developments –- there are no condos or villas in Kings Creek -- the golf club is private and single-family home prices range from the $400s and up.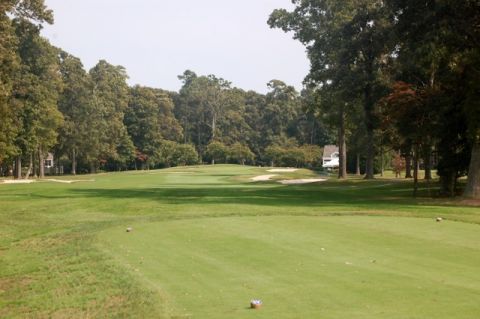 Kings Creek golf club from the 9th tee.
Rehoboth Beach Yacht & Country Club
Small, intimate and classy is a good tight description of Rehoboth Beach Yacht & Country Club, which opened in 1927 beside the Atlantic Ocean and quickly established itself as the most exclusive club in the area. It still is, although the golf course is more than approachable, playing to barely over 6,000 yards and making up in challenge what it lacks in length. The greens are the same bent grass familiar to New England and middle Atlantic golfers, and if you plan to join the 277 families already in residence at RBY&CC, expect prices starting in the $400s and ranging above $1 million.
The Peninsula
Bayside Resort claims the first Jack Nicklaus golf course in the state, but The Peninsula says it has the first "private" Nicklaus design, a burly layout that encourages length off the tee and deft approaches to heavily guarded greens with enough greenside marshland to force you to check the ocean breezes a few times before selecting your club. With golf homes for sale from the $200s into the millions, Peninsula has been successful at attracting both weekenders and year-rounders to take full advantage of its many on-site activities.
For a sample of homes currently for sale in all these coastal Delaware communities, please visit GolfHomesListed.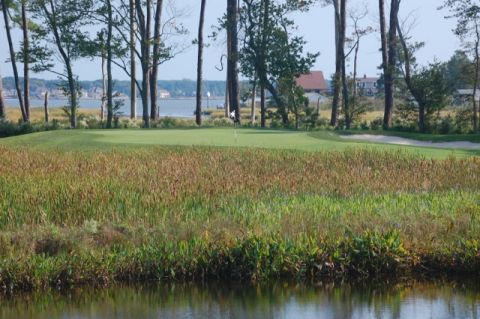 Peninsula Club's par 3 9th.
Comment
Be the first to comment