by Tim Gavrich
Rehoboth Beach, DE, is a popular summer vacation destination spot with a good spread of golf courses to occupy residents and visitors alike. The three main private clubs in the area — The Peninsula Club, Kings Creek Country Club and Rehoboth Beach Yacht and Country Club — primarily service residents and second-home owners. Three upscale daily-fee courses fight for business from the more casual golf-hungry travelers. They are Baywood Greens in Millsboro, Bayside Resort in Selbyville, and Bear Trap Dunes in Ocean View. All three golf courses are within 40 minutes of Rehoboth Beach, with their peak-season (summer) rates ranging from $120 to $135. First up: Baywood Greens.
The golf course at Baywood Greens is good, not great. Originally designed by Bill Love, it was finished, landscaped and laid out by landscape architect Larry DeWitt and owner/developer Larry Tunnell. The layout, comprising the Woodside and Waterside nines, will be joined by a Duneside nine in 2013; the land across from the entrance on Route 24 has already been scraped and appeared to be taking shape as we drove up to the golf club. The current golf course routing plays to just under 7,000 yards from the back "Gold" tees, with a rating of 73.4 and a slope of 135. The markers that attract the most play, the "Green" tees, play to 6,088 yards, with a rating of 69.0 and a slope of 125.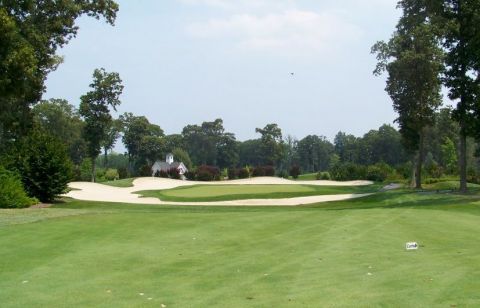 The par 4 10th at Baywood Greens. Photos by Tim Gavrich
There is no denying the emphasis on landscaping at Baywood Greens. According to the website, "200,000 flowers, shrubs and trees were planted; tons of pine needles were imported from Georgia; and acres and acres of wildflowers and other perennials were used to decorate the course."
They're not kidding: Sections of the Baywood Greens layout are festooned in floral displays. At the par four 14th hole, for example, the bridge that carries players from the tee box to one of the two landing areas is dense with a multi-colored display of pansies. Yet despite the beautiful distraction, the serious golfer may find the window dressing does not distract enough from an odd, even gimmicky hole. If you take the much shorter route on #14, you play a long iron or fairway metal from the tee to an area of land that appears to be the equivalent of a large green surrounded by water (with that flowered bridge at left front). This odd design feature makes a straight hole out of an otherwise dogleg-left. Both landing areas are very narrow, leaving higher-handicap players to pray that they are lucky enough to find land. But the flowers are certainly very pretty.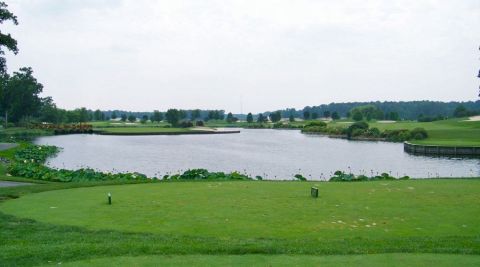 The par 4 14th at Baywood Greens can be played as a dogleg left or straight on, with a fairway metal or long iron to a peninsula, which shortens the hole considerably.
Despite such occasional bows to the out-of-the-ordinary, Baywood Greens is certainly worth a play. It is well maintained and its best holes are both interesting and challenging. The par three 6th hole, for example, measures 223 yards from the back tees and offers a full 90-degrees difference in playing angles, depending on what tee the golfer chooses. From all but the front tees, the hole calls for a carry over wetlands to a large, undulating green guarded by bunkers short and long. The par five 16th is also attractive; after a good drive, the player can attempt a heroic fairway wood to carry a corner of a lake at the edge of the green (or play a mid-iron for a conservative lay-up). This is the kind of risk-reward chance the serious golfer looks forward to on a well-designed golf course. But in its totality, Baywood Greens is merely a good course well tended, plenty enough challenge for the occasional golfer but nothing to match the Jack Nicklaus course at Bayside Resort, which we review here in the next few days. The greens at Baywood Greens, by the way, were quite smooth if a little slow, which was a blessing for the two high-handicap players in our group on those few greens with holes perched atop modest swales.
The approach shot on the par 5 16th hole at Baywood Greens.
A few of the peripheral features of the experience bear mentioning. On the first tee, the starter subjected our group to a 10-minute speech about the golf course. We were told at length about the cart rules and the particular idiosyncrasies of a few holes, even though the GPS systems in our carts were sufficient. During the starter's soliloquy, the first hole was wide open in front of us, and our group's itchiness to just get on with it and play golf was evident. The golf carts did not have rain canopies to protect our golf clubs in the event of a downpour, which happens often on a hot summer afternoon (thankfully not to us this time); at a holiday rate of $129 for green fees, that seemed a bit cheap. On the plus side were 10-minute tee times helped foster a comfortable pace of play; a wide practice facility, with 20-bay range and chipping and putting greens; and a friendly staff. (Note: The loquacious starter was quite cheery and difficult not to like, in spite of our readiness to just play.)
All in all, Baywood Greens is a good daily-fee facility that appeals to vacationers to the Rehoboth Beach area and provides a good day of golf to its customers, albeit at a fairly steep maximum price. Check the course out at www.baywoodgreens.com.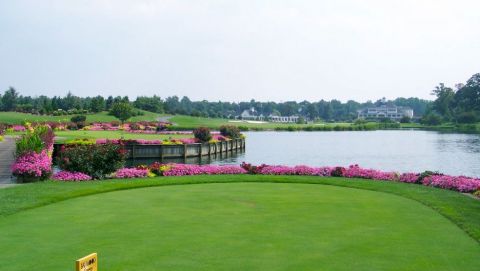 Baywood Greens' floral displays, such as here at the 18th tee, are unmatched by other public golf courses.
Editor's Note: Mostly small homes and condominiums surround the Baywood Greens golf course. Townhomes are priced from $199,000 and single-family homes from the $300s. The real estate at Baywood Greens appears to be as harmoniously organized as the landscaping on the golf course. A home there would be especially ideal for those who would like to be within a few hours drive of Philadelphia or Washington, D.C. If you would like more information at Baywood Greens, please contact me.

Comment
Be the first to comment