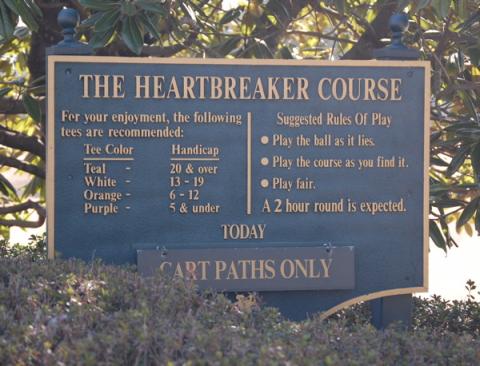 Silver Lakes provides some helpful advice to visiting golfers before they tee off on #1.

It is an occupational hazard that I only have time to play most courses just once before I am on to the next one. It is tough to get the measure of a course until you play it two or three times at least. The most you can hope for once around (and a round) is a general impression of the course's qualities and, if it has a great hole, a lasting memory of that hole.
That is how it was for me at the Silver Lakes Course on the Robert Trent Jones Trail a couple of weeks ago. The Heartbreaker and Mindbreaker nines that I played - the other is named the Backbreaker -- were quintessential RT Jones layouts, with plenty of sand and large elevated and sloping greens. The round was anything but a budget breaker, a bargain at $65, cart included.
Also a bargain is the real estate adjacent to and in the general vicinity of the 36 holes at Silver Lakes (the additional nine is an impressive and challenging Short Course). As I reported earlier here, a 4 BR, 3 BA home on a nice lot overlooking the course was listed at under $300,000. Plop that same home onto a half-acre in a golf community in the Carolinas, for example, and you will plunk down twice to three times the price. Of course, Glencoe, AL is not exactly Chapel Hill or Myrtle Beach, and the closest cities - Gadsden and Anniston - aren't either. But if you are willing to play the pioneer in exchange for outstanding golf at a bargain price - access to the Jones Trail's 26 courses is less than $2,000 annually - then the surrounding area is worth a visit (and you can play excellent golf courses while you are checking things out).
Overall, the Silver Lakes courses were in decent condition for late winter and after a few weeks of major storms, some with tornado activity. Nevertheless, the greens were firm and fast, showing some residual pockmarks from an earlier aeration. For the most part, they putted true. I did roll the ball over a few times on the over-seeded fairways, but that was mostly a result of unfilled divots and just a few sparse places. The dormant rough made for beautiful frames for Jones' sculpted fairways, many of which gently swept down from tees and up to greens (unlike my next day's round at Oxmoor Valley, near Birmingham, where the slopes were anything but gentle and I was exhausted after my round there). The bunkering at Silver Lakes was expertly handled, forcing positioned tee shots and lofted approaches to well-protected greens. They were wonderfully carved into slopes and a treat visually.
That memorable hole for me was the 7th on the Heartbreaker, a par 5 classic that forced concentration on every shot. It isn't long, but it will be reachable only for the biggest bangers. I took photos from tee to green (see below), and I hope they give you a sense of the quality of the hole, the best of a collection of 18 nice ones.

Silver Lakes Golf Club, 1 Sunbelt Pkwy, Glencoe, AL, (256) 892-3268. Located between Anniston and Gadsden.


From the tee box, the 7th hole on the Heartbreaker nine reveals its charms and challenges. The best play is to aim at the 250 yard pole; much longer and a creek that crosses the fairway 200 yards from the green could come into play.


The ideal second shot will leave you a wedge in from 80 to 100 yards. You will need significant loft to fly the bunkers and land softly on the firm green.


The third shot is straight uphill to a narrow green that arcs from front left to rear right, with three separate levels. Finding the level that holds the cup is a must.


Comment
Be the first to comment