I played golf yesterday at Pawleys Plantation Country Club with a man from Greenville, SC, who was making one of his frequent annual visits to the Myrtle Beach area. He told me he and friends in Greenville had purchased an inexpensive condo some years ago just up the road in Litchfield Beach, almost across the street from Willbrook Plantation Golf Club; together, they turned it into a kind of timeshare for themselves. His share was 13 weeks a year, which he used for solo golf trips as well as beach visits with his wife. I know the condo complex where he and his friends own, and I'd estimate they paid less than $100,000 for the unit six years ago, or about $25,000 each.
The Myrtle Beach golf condo market is still rife with bargains, although if the month of December is any indication, buyers are starting to notice. Of the 3,337 condos listed going into the month, 327, or nearly 10% were sold. (Single-family homes sold at an even more robust rate, 480 of 3,681.) Of the lowest priced condos, $100,000 to $150,000, 91 of 891 were sold, according to a report I received from Century 21's Harrelson Group in Myrtle Beach.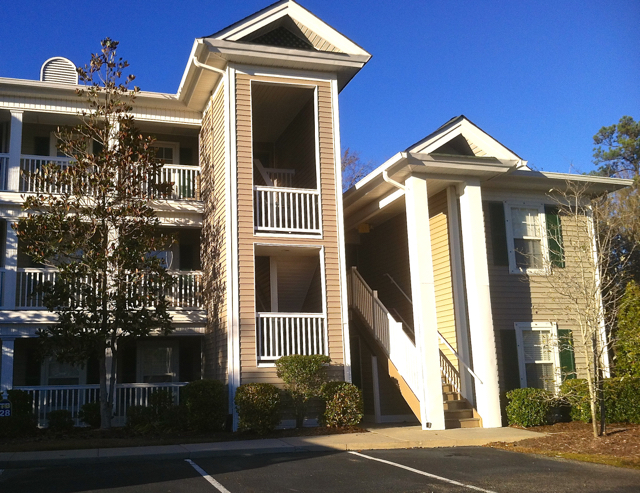 Myrtle Beach area condos, such as these across from the True Blue golf course in Pawleys Island, are listed from below $100,000.
If you are interested in a second home golf condo in the Myrtle Beach area, please contact me for more information. In the meantime, here are a few current listings in some of the best known and golf communities in the area, all under $130,000.
Pawleys Plantation, Pawleys Island, SC....$129,900
2 BR, 2 ½ BA unit with views from screened porch of 9th fairway. Potential to rent to others and generate extra income or use to your heart's content. Jack Nicklaus golf course is one of the best in Myrtle Beach area (100 courses).
International Club, Murrells Inlet, SC...$112,000
2 BR, 2 ½ BA fully furnished townhouse just a couple of miles to beaches and much shorter distance to the community's pool. Private patio courtyard and golf course, designed by Willard Byrd, is reported to have some of best greens in the area.
Arrowhead Golf Club, Myrtle Beach, SC...$87,500
2 BR, 2 BA fully furnished end unit with nice views of the golf course, which was designed by Ray Floyd & Tom Jackson and spans 27 holes. Not far from the Myrtle Beach action but surrounded by mature trees.
Legends Resort, Myrtle Beach, SC...$88,500
2 BR, 2 BA townhouse with fairway views at one of the area's most favored golf complexes, including two courses designed by Tom Doak and one by P.B. Dye. Just off Highway 501 and almost across the road from huge outlet mall.
Barefoot Resort, North Myrtle Beach, SC...$108,900
2 BR, 2 BA fully furnished unit on the corner of the second floor in the Ironwood section, overlooking 13th fairway of Greg Norman golf course, one of four at Barefoot (Fazio, Dye and Love III are the others). Ironwood has its own pool, basketball and tennis courts. Short drive to the beach, shorter to shops and restaurants.
Tidewater Plantation, Little River, SC...$104,900
2 BR, 2 BA condo beside one of the highest rated and most popular golf courses in the Myrtle Beach area, designed by Ken Tomlinson. Close to North Carolina line and multiple seafood restaurants in Calabash.