Real estate pricing allegedly operates on three principles: Location, Location and Location. But in a community like Keowee Key, prices are influenced by the true drivers of real estate prices –- supply and demand. A large, older community like Keowee Key will always have a strong supply of folks who have gotten to an age at which they can't keep up with the maintenance requirements of a single-family home. And some are ready for assisted living or even nursing home alternatives. Combine that steady stream of properties coming on the market -– no wonder three real estate agencies can sustain themselves just outside the gates -- with the fact that Keowee Key is not on many baby boomers' radars, and you have an imbalance in supply and demand that tends to depress prices.
For example, local real estate agent Jeanne Erickson, a resident of Keowee Key and my guide for the day, pointed out a home during our tour that stands on a rise that offers a long view of the lake from its back deck. At more than 5,000 square feet, I was shocked when Jeanne told me the home was listed for $599,000, less than half of what a comparably sized home with such a view would be listed for at the nearby Cliffs and Reserve. She pointed out other relative bargains as we made our way around the sprawling community, including a perfectly nice looking home at a listing price that worked out to $80 a square foot –- land included.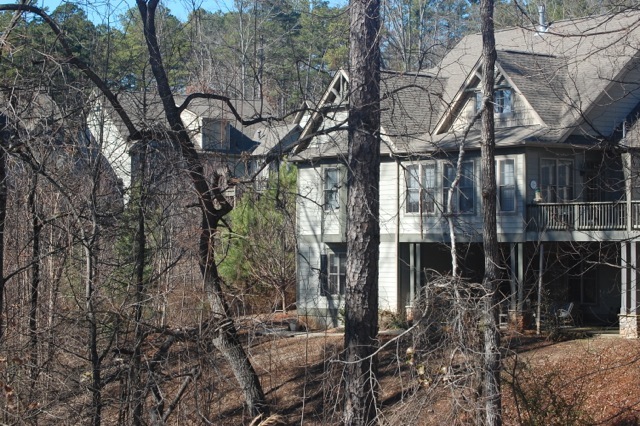 Homes adjacent to the golf course sit well up above the funneled fairways. The range of prices on the single-family and multiple unit homes are as varied as the styles and ages of the home, some of which reach back almost 40 years.
Marketing agents at the more upscale Cliffs and Reserve would be quick to point out that their own housing stock is uniformly more modern, that their golf courses are better designed and cared for, that they offer more and higher level modern amenities, and that the level of their services is higher than at Keowee Key. I would need to spend more time at Keowee Key, which I intend to do in the coming months, to test the competitiveness of service levels. There is no question that, on all other scores, the newer, upscale communities offer more, but they do so at more upscale prices for the real estate. For a couple oriented toward lake living, especially if they have a boat in tow –- many properties at Keowee Key come with docks –- and not particularly hung up on thoroughly modern and deluxe embellishments, Keowee Key can be a viable alternative.
Speaking of the golf course at Keowee Key, it was designed by the respected architect George Cobb, who for decades was design consultant at Augusta National, and recently renovated by North Carolina golf architect Richard Mandell. I borrowed a golf cart and drove nine holes along the cart path on a cold but sunny day. (The fairways were still wet from a few days of rain.) Yankees used to tree-lined dogleg holes will be quite at home on the relatively short layout. (6,426 yards from the tips, with a rating of 71.5 and slope of 134.) The terrain of the golf course follows that of the community itself, which is to say up and down in surprising ways for a lakeside geography. But Lake Keowee is, after all, in the foothills of the Blue Ridge Mountains, and those who favor both elevation and water will be right at home in any of the Lake Keowee golf communities. I will write a thorough review of the golf course upon my return in late spring or early summer. Suffice to say, the wide fairways and interesting terrain of Keowee Key's golf course have probably satisfied the hundreds of golfers who have grown old playing on it-- but not because of it.
*
Please contact me if you would like to build an itinerary of visits in the Lake Keowee area. Besides Keowee Key, we would be pleased to make arrangements for visits to The Reserve, The Cliffs and some of the fine communities in Greenville, less than an hour away.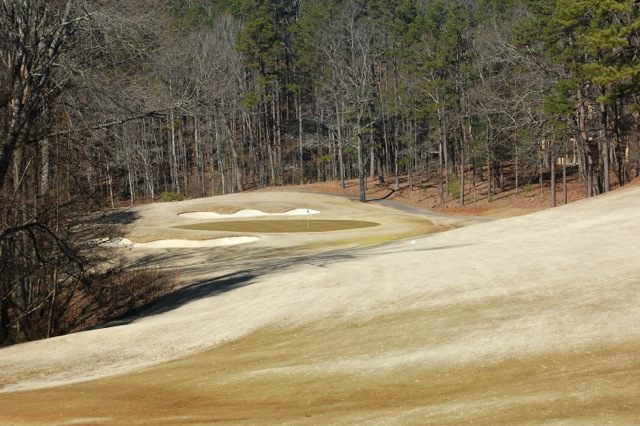 Most of the fairways at Keowee Key slope one way or the other, making sidehille lies a distinct part of the game.