When Yankees move to warmer climates, they leave behind things of psychic importance. Try finding a good bagel South of the Mason-Dixon Line. Or thin crusted, brick oven pizza. Or, for that matter, bent grass greens. But members of Green Valley Country Club in Greenville, SC, have a shot at all three, courtesy of a pizza and bagel loving golf course owner who believes he has found a way to maintain bent grass greens as if they were in mid-state Vermont.
        Mike Kaplan, the owner of Green Valley, has the passion –- some, like his wife Margaret, call it "obsessiveness" -– to pull off the modern-day miracle of actually running a golf club successively. Golf course operations require a full-time, aggressive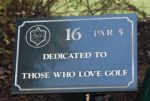 commitment, and Kaplan tends not to do anything halfway. A lover of the pizza he grew up with in his native New England, he decided to replicate the taste and texture he recalled from his youth –- not by searching high and low in Greenville area pizza parlors, but rather by buying and installing his own wood-fired oven and working relentlessly to perfect his dough and sauces. He also couldn't find a bagel that tasted quite like he remembered it up north –- some swear it's the water -– and he is on a quest to duplicate that as well. The sleekly proportioned wooden trash receptacles outside the clubhouse and a few furnishings inside are also Kaplan's own handiwork; he produces them from a small warehouse he bought where he could do his lathe and refinishing work without waking the neighbors or his wife.
The member buys the club
        As if he didn't have enough to do, last year Kaplan bought the bank-owned Green Valley, located on a rolling couple hundred acres in Travelers Rest, SC, just 15 minutes from downtown Greenville, for $2.2 million. The once-again private golf club opened to the public for two years during its financial problems and, consequently, bled members who recoiled at the paltry $25 green fees for non-members. The golf course has excellent bones, having been designed in 1958 by a dean of mid-20th Century golf course architecture, George Cobb; Cobb, golf architecture buffs will recognize, is responsible for a couple of layouts at the Sea Pines Resort on Hilton Head Island, the well-ranked Clemson University Walker
The large, bulbous bunker that fronts the par 5 6th hole's green is clearly in the owner's sights -- and should be.
course, and the famed par 3 course at Augusta National Golf Club, as well as dozens of others. A 2001 renovation at Green Valley by Tom Jackson added new bunkering and a few other touches that Kaplan can't wait to revise, including one large, misshapen bunker directly in front of the par 5 6th green, which this correspondent thought rather grotesque. (It will be replaced with a false front, says Kaplan.)
The homes surrounding the golf course
, most of them set back and above the fairways and well beyond the greens, are a mix of vintage mid-20
th
Century Georgian and brick plantation styles, well-landscaped and maintained and some ranging above 4,000 square feet, and ranging in price from $200,000 to around $800,000.  Although he doesn't have a perfect count, Kaplan believes 40% of his 300 members -– 180 of them full-time golf members -- are residents of the five immediately surrounding neighborhoods.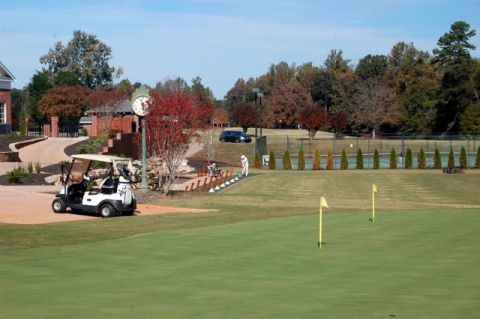 The proximity of Green Valley's practice area and tennis courts makes it easy for a post-workout stop by the clubhouse for a quaff and a snack.
        A member in good standing at Green Valley for 15 years, Kaplan, who lives 22 miles from his club, took matters into his own hands after the recession-ravaged club membership dropped below 100, the Bank of Travelers Rest took back the course, the club invited public players, and dues-paying members started to jump ship in droves. When the bank offered the golf club for sale, Kaplan made the successful bid, left the family electronics business he had helped expand to a $100 million-plus venture, convinced his father and brother to sign on as behind-the-scenes partners in the golf venture, convinced his wife to run the club's office, and went about installing some of the changes he longed for as a member. He commissioned a redesign of holes #1 and #10 and full revision of the compact but impressive practice facility, which includes the usual components (practice range, chipping green, putting green), all within a few strides of the clubhouse patio. The proximity of the practice area to the clubhouse increases the frequency of use by members who, the club owner hopes, will reward themselves with a Killian Red on draft or chef-cooked snack directly after practice.
Manufacturing little preparation for the golf business
        Given his business experience but also with a good dose of common sense, Kaplan understands that money to invest in the golf course comes from other sources of club revenue, and therefore he set about improving the food and beverage operations of the club from his first days as owner. Better food and service has led to more weddings, outings, business meetings and added use by members grateful for the upgrades in food and the clubhouse itself, providing the sources of revenue Kaplan needs to support his self-admitted compulsion for golf course improvements.
        "We are pretty much fully booked for office and other holiday parties this season," he says.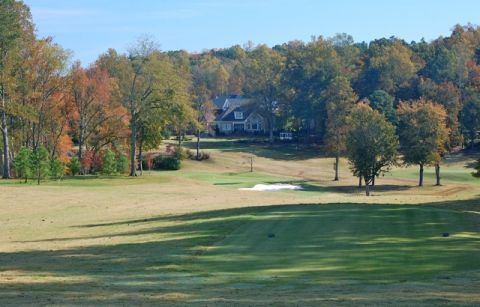 Architect Jan Bel Jan, with an enthusiastic go-ahead from owner Mike Kaplan, removed tons of dirt from the first fairway to reveal a peak at the green from the tee on the formerly blind par 4.
        Once word got out in the Greenville area that Green Valley had returned to private status and that the new owner was making improvements, including a new fitness center and a recent complete redecoration of the club's ballroom, Kaplan was able to add back 108 members in just 16 months. (The country club already had popular pool and tennis facilities.) Full golf memberships, which include all other amenities, are certainly reasonable at $2,500, and the dues are more than competitive at $350 per month. Lower-cost social and "sports" memberships are available, as well as a "non-resident" membership for those who live more than 40 miles from the club. (Those considering a move to the Greenville area take note: Kaplan is seriously considering offering a discounted membership to anyone living within a couple of miles of the club.)
        But the transition from his former job to golf club operations has not been quite as smooth as he expected.
        "This is different from manufacturing," he says, referring to the family electronics business he left to run Green Valley. "It takes some time to learn the golf business." Kaplan cites the construction of holes #1, #10 and the practice area as an eye opener.
        "Construction took four months longer than we expected," he says. "I didn't count on the weather being such a big factor."
        I ask him how being the owner of a golf club in which he had been a member for 15 years has changed his perspective, and what his relationships with his fellow former members are like these days.
        "A few really hate me," he says, explaining that those who helped keep the club alive through the lean years are a bit resistant to rules such as when to close the clubhouse each night. "You can't take it personally," he adds, like a good politician.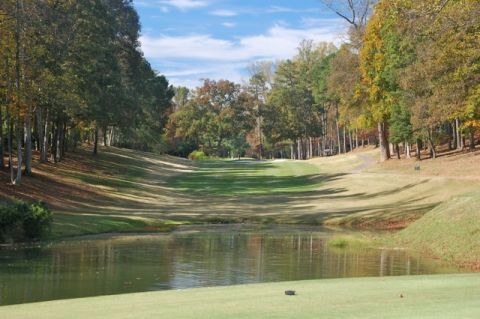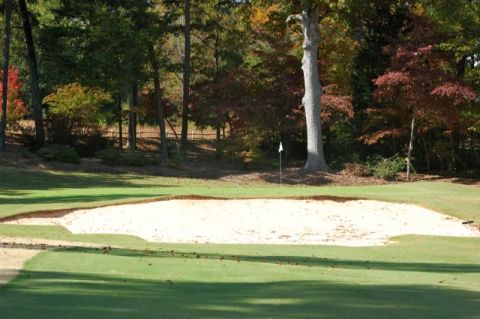 Although owner Mike Kaplan plans to make changes to Green Valley's layout, a hole like the par 4 15th (top photo) may not require much in the way of tweaking.  The steroidic bunker in front of the 6th green, however, will go -- as it should.
Big changes ahead for the golf course
        Like any involved golf club member who now just happens to own his club, Kaplan is impatient about making changes at Green Valley. His first big move was to commission Jan Bel Jan, a Jupiter, FL-based architect, to reposition and lay out the 1st and 10th holes, which he had always thought were underwhelming starters for each nine. Kaplan is a big fan of Bel Jan, whose skills were honed as an architect assistant to Tom Fazio. Since going off on her own, she has worked solo on such projects as restoration of all 36 greens at Pelican's Nest in Bonita Springs, FL, a clubhouse landscape plan for the famous Seminole Country Club in Juno Beach, and a landscape review of Orangeburg, SC, Country Club, one of the better classic courses in that state.
        "She's terrific," he says, "one of the most under-appreciated golf architects working today."
        During a round of golf at Green Valley with Kaplan, who is a single-digit player and former club champion, hardly a hole goes by without him explaining some change he wants to make, including moving the location of a couple of greens, expanding the size of others, removing bunkers (like the aforementioned grotesquerie at the 6th green) and adding new contours to a few of the holes; he has plenty of dirt for that, having stored tons of it next to the 13th hole from the excavation that reshaped the 1st and 10th holes earlier, and he plans to use some of it to add a landscaped "backstop" behind the 13th green.
No change may be the best decision of all
        But, ultimately, a Kaplan decision to leave one aspect of the greens unchanged at Green Valley may be his legacy as owner. Since its founding almost 60 years ago, through searing heat of summer and occasional freeze of winter, Green Valley's putting surfaces have been composed of bent grass, adored by northern U.S. golfers and loathed by southern golf superintendents who spend sleepless nights trying to figure out how to keep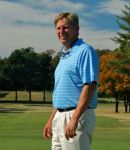 them from browning out in relentless summer heat. While competing golf courses in the area have transitioned to more weather-resistant hybrid grasses, Kaplan and Bel Jan believe they have the magic formula to maintain Green Valley's bent grass greens. arguably the best greens when they are well maintained. The secret, he contends, is MaxAnd, an organic material invented by two doctors in Florida and encouraged by Ms. Bel Jan. The club's greens keepers have injected the material into the greens' sub-surfaces and also used it for top-dressing, and as the MaxAnd has sunk in, it has formed a layer under the turf that provides much needed moisture and a cooling effect on the grass roots during hot summers. Members from some of the better private clubs in the Greenville area have visited Green Valley, putted on the greens and gone back to their clubs asking what it would take to replicate Kaplan's greens.
        Kaplan is confident he can defy Mother Nature and keep most golfers' favorite putting surface healthy at Green Valley, despite the challenges. I can testify personally that his greens did remind me of the beloved putting surfaces New England golfers are as used to as well-made pizza and bagels. Passion counts for a lot in successful golf club management, as does business experience, and more and more new members are betting on Mike Kaplan.
*
        With an already solid private golf club at its core, and an owner planning significant upgrades to it, the neighborhoods adjacent to Green Valley Country Club should be in prime consideration for retirees or families relocating to the Greenville, SC, area. If you would like see a selection of current homes for sale in Green Valley, please click here.