Those of us who play at golf somewhat seriously understand that the game is almost entirely mental. Filter out all distractions, focus singly on the shot ahead, and you have a fair chance of making the golf ball do something close to what you intend. Occasionally stuff happens, like a dog barks at the top of your backswing or a kid screams from a porch just behind the green where you are working overtime to figure out the double break on a 40-footer you must get down in two.
        At Hickory Knob State Park's golf course in McCormick, SC, on Friday, I saw something at a tee box I had seen only on miniature golf courses before. During an outing of the South Carolina Golf Rating Panel, my foursome was greeted at the tee box of the par 4 4th hole with the following sign:
        "Please limit play on this hole to seven strokes."  Talk about intimidation.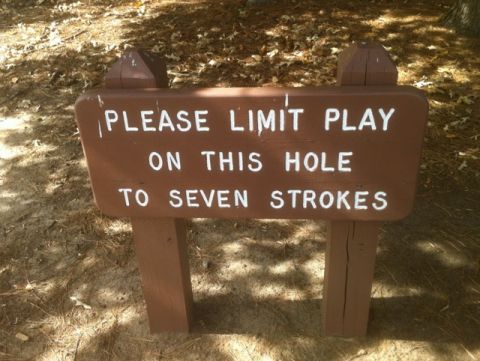 The tee shot on the 397-yarder is played to a narrow patch of elevated fairway, with trees along the right side and, according to the equally intimidating tee sign that displays the hole's layout, water down the left, unseen from the tee box, that eventually makes its way in front of the green. You are flying totally blind on your drive and left to wonder what happens once the ball disappears over the top of the hill. (Side note here: You are right, dear reader, to ask why we didn't take a minute to drive up to the top of the fairway before we hit. Later, like embarrassed schoolboys, not a one of us mentioned that we might have employed that simple strategy.)
        Long story short, every shot that made it over the hill stopped on a downhill slope of what seemed like 35 degrees or so, making an all-carry approach over the 75 yards of muck all the more challenging.
         Two in our group of single-digit golfers made double-bogey sixes, one a bogey and one managed a par. Even the par maker muttered an oath as we left the green.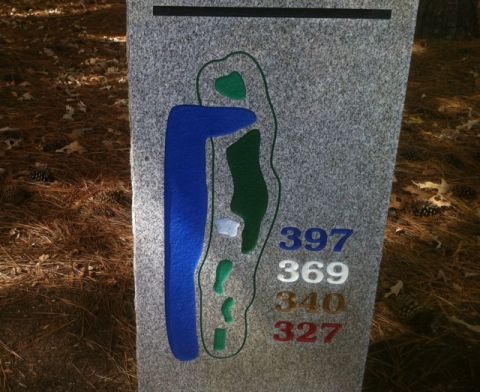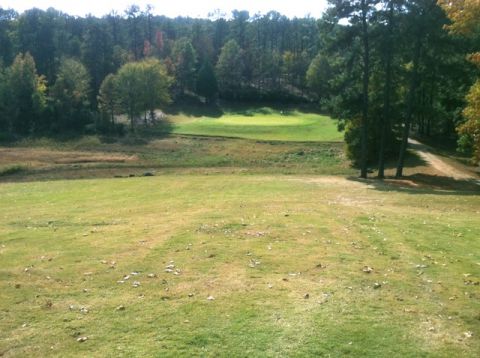 The water has evaporated in front of the green at Hickory Knob's 4th hole, but that doesn't make the severely downhill-lie approach shot any easier...if you are "lucky" enough to find the fairway on your blind tee shot.