You may have read the Wall Street Journal article recently that touted a lot for sale for just $1 in the upscale golf community of Colleton River Plantation, in Bluffton, SC. Why so cheap? It's because absentee owners of property at Colleton River are on the hook for about $15,000 in annual club dues and other fees. When we reported here last April on that same $1 lot, we observed that such properties should be especially attractive to golfing couples ready to build their retirement home in a well-organized and accessorized community like Colleton River. [Click here to read our original article article.]
        We are pleased to report that one couple I have been working with saw the wisdom in that approach and recently purchased a stunning lot in Berkeley Hall Plantation, just up the road from Colleton River and a few
Berkeley Hall features 36  holes of beautifully landscaped golf by Tom Fazio
miles from Hilton Head Island. Berkeley Hall, which we visited and reviewed a few years ago [
click here for the article
], features two Tom Fazio courses and homes that range in price from the high $300s to the millions. Undeveloped lots begin at a few thousand dollars. For a selection of current homes for sale in Berkeley Hall, visit our companion web site,
GolfHomesListed
.
        The property our customers bought looks out across a lake to a green on one of the two Fazio courses. It was originally priced in the $300s, but the owners of the lot had listed it extra aggressively in order to get out from under the obligation of the annual golf club dues, which at Berkeley Hall are mandatory and tied to the property, not to the owners. Of course, homeowner association fees are also attached to any property inside the gates of a golf community, which adds to the financial burden. Our customers were able to acquire the beautiful lot (see below) for just $45,000 a couple of months ago, then quickly hired an architect and builder; the couple are looking forward to moving into their new house early next year.
        If you are ready to retire and to build your own dream home, such bargain lots are still available in some of the South's finest golf communities, at the coast and in the mountains. But the supply is drying up as more and more baby boomers gain confidence in both the real estate and stock markets. We have established a network of top real estate professionals throughout the southern U.S.; they know where the best, most reasonably priced lots are located. And they can tour you through some of the finest homes in their respective golf communities. For an introduction, please contact us.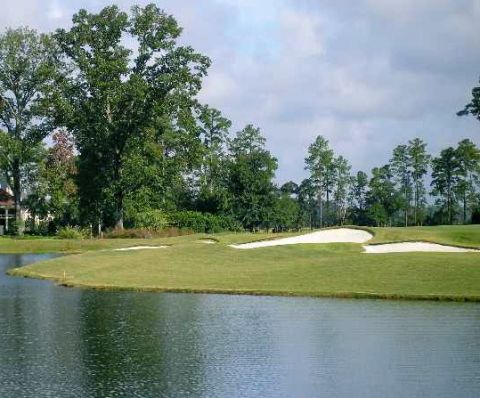 This will be the view from the back of the house our customers will build at Berkeley Hall Plantation in Bluffton, SC.  Originally priced at $300,000, the lot sold for just $45,000.  (Photo courtesy of Hilton Head Island Multiple Listing Service.)