You would be hard pressed to find a city more appropriate than Greenville, SC to the needs of active retirees who also play golf.  And, yet, the city is rarely top of mind with northerners seeking a vibrant lifestyle that includes golf. Now, according to an article in the New York Times, the ongoing development of more than 1,000 acres within a five-minute golf cart ride of the vibrant city could put Greenville on the AARP map.
        If you are even an occasional reader of this site, you know we love Greenville for its small town sophistication betokened by the Pease Center, a classy venue for concerts and other shows that much larger cities would be proud to call their own.  The city and its inhabitants have invested more than $76 million in recent years to clean up a downtown whose potential was hidden under unused parking lots and vacated buildings.  Today, the city's esplanades, which run along and over the Reedy River, feel almost European, and a string of shops and restaurants have transformed the abandoned buildings through an aggressive rehabilitation program.  The wealth of activities that includes a minor league baseball team, The Drive, makes Greenville a strong alternative as a retirement location to the more celebrated, but quirkier, Asheville.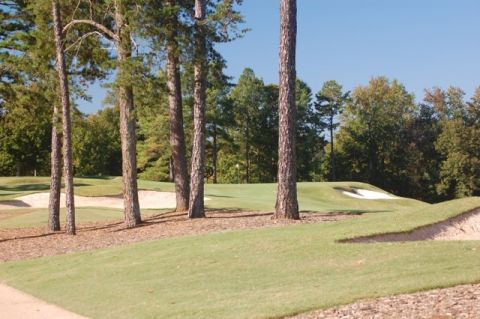 Although surrounded by an upscale community, much of The Thornblade golf course, designed by Tom Fazio, plays as if it is out in the pines.
        Verdae is the name of the chunk of land that sat idle for generations along Interstate 85, just outside of town.  Its owner, an eccentric millionaire businessman, rented out pieces of the property to a hotel, shopping center and golf course, Verdae Greens which, loosely translated, appears to mean "green greens."  But the only thing redundant about plans for Verdae is that they mimic somewhat the "town center" concept that has proven popular with young and retired couples alike.  At Verdae, according to the Times article, living, working and entertainment venues will co-exist in one area, and projections are that 10,000 residents will fill the streets, offices, shops and diverse homes of the community.  For those looking for bigger city excitement, a "clean" bus will make the five-minute loop between Greenville and Verdae.
        The golf course, which receives a four out of five stars average rating on Internet review sites (we haven't played it yet), has undergone significant changes, the first of them a name change from Verdae Greens to The Preserve at Verdae (too many "Preserves" out there, but what the heck).  Designed by the respected Willard Byrd 20 years ago, the course is owned by the operators of the attached Embassy Suites hotel who invested $3 million in course renovations, which included planting of mini-Verde Bermuda grass, the only golf course within 60 miles to feature the hardier strain.  The mini-Verde grass does not require pesticides to maintain its healthy looks.
        Membership at the semi-private golf club is reasonably priced at $1,800 annually for a couple, or $1,600 for a single.  For a single or couple expecting to play at least once a week, that's a bargain.  Current model homes in Verdae begin in the mid to hi $200s, but the expectation is that the eventual price range will span all six-figure categories as Verdae gains in prestige.  An article in the New York Times certainly is a nice start.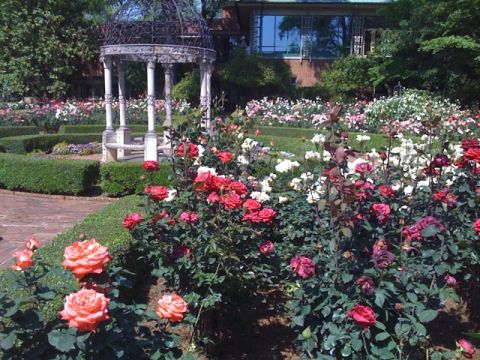 The gardens at Furman University are not to be missed.
        Editor's Note:  Although Greenville golf is not Myrtle Beach or Pinehurst golf, its comparatively few golf clubs run the gamut from sleek and private to rough and tumble public, with a nice choice inside that range.  On the private side, we have always admired The Thornblade Club in nearby Greer, with its classic Tom Fazio layout –- with plenty of signature funneled fairways and cloverleaf bunkers –- that threads its way through a tight-knit community of upscale homes (sweet spot in the mid six-figure range).  Club staff is among the most professional we have encountered anywhere, and at initiation fees under $20,000 and a membership that spans generations, there is much to recommend Thornblade…Greenville Country Club, with two well-regarded 18 hole courses, is a more mature private club, surrounded by stately homes, a few getting a bit long in the tooth.  The Chanticleer Club layout often makes its way to the top 10 lists in the state; it is on our list of must plays…We did play the Furman University golf course just after the 2008 renovation by Kris Spence, who added a bit of Rossian character (as in Donald) to the formerly flat and boring greens on the circa 1955 layout.  Today, the course has plenty of character without being fussy in the least, and it may be the best option for public players in the area.  If you go, especially during spring or early summer, do not pass up a stop on campus for some of the prettiest gardens you will ever walk through.
        If you would like more information on any of these fine clubs or golf communities, or would like to be put in touch with a professional Realtor in Greenville with whom we have worked, please contact us.