Golf course designers are psychologists too. They know that the popularity of their golf courses are directly related to the memorability of their finishing holes. And, of course, the final hole can leave the deepest impression.
        Tom Fazio is one of the more mild-mannered of major architects. If there is any flaw in his game -– he is among my favorites, so I don't see many flaws -– it could be that he is biased toward the visual occasionally at the expense of the challenging.  (Note his obsession with "burying" cart paths behind mounds and the enormous cloverleaf bunkers that splash white shapes all over the relentless green of frequently banked fairways).
        To a golfer trying to protect a score, however, there is nothing pretty about #18 at the Thornblade Club, a circa 1988 Fazio design carved into the core of one of the Greenville area's most upscale neighborhoods (homes from the $500s to over a million).  I will have more to say about the community and the fine golf club it surrounds in coming days.  As a preview, the attached photos will give a taste of the diabolical finishing hole.
        From the elevated tee box, the fairway appears to slant severely from left to right.  A bunker protects the landing area on the left side giving the player only two choices to avoid it -– go left purposely into the rough, or hit to about a 20-yard wide patch at the left center of the fairway to bound down to position A on the right half of the fairway.  Hit the fairway down the right side and consider yourself lucky to wind up playing from the right rough, as a hole-length deep creek runs down the right side.
        Even a ball in the fairway on the 444-yard hole (from the "Enclave" tees, less than 6,300 yards in total) leaves a long and menacing approach, with bunkers guarding both sides of the green, leaving only a 10-yard wide opening to a two-tiered green.  Push your approach shot to the right even just a little, and you will find yourself praying "Bunker, please" in lieu of a bounce into the creek just below the bunkers.  Even an approach shot that makes one tier can produce bogey if the pin is on the other tier.
        The Thornblade Club has an attractive bar area in massive brick clubhouse.  It is a good place for members to lick their wounds after after #18.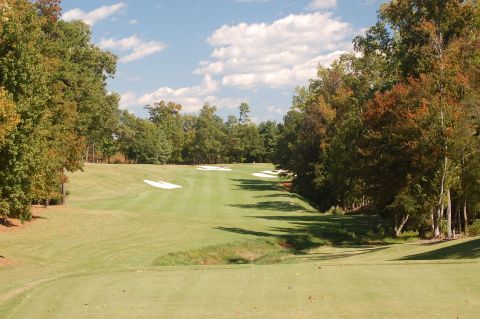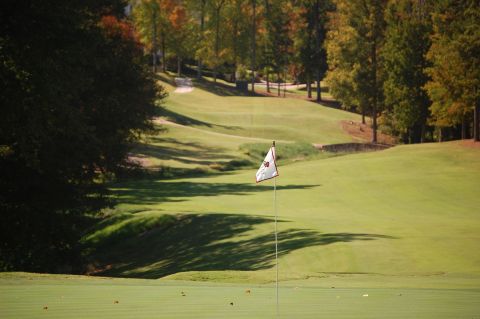 Top, there does not appear to be much room in the fairway on Thornblade's finishing hole, which plays to 444 yards from the third set of tees from the tips.  Any approach shot short and right of the green (bottom) stands a good chance of bounding into the creek.