A round of golf in August in the heart of South Carolina, a 90-minute drive from the sea breezes of the coast, is an exercise in survival.  On the day my friend Bob and I teed it up at the Country Club of South Carolina in Florence, the forecast was for a top temperature of 102 degrees.  That may explain why the group scheduled to play ahead of us never showed; nor did the other three groups on the tee sheet.  We had the course all to ourselves –- and the snack bar for breakfast and lunch too.  On a normal day, with no groups in front of us, we might have finished our round in three hours. But in the hot south in August, you enjoy any outside activity at a leisurely pace.
        Our measured pace of play gave us plenty of opportunity to mop the sweat from our brows and enjoy the fine Ellis Maples layout.  Maples, a protégé of Donald Ross and member of a golf-business family that dates to the 19th Century, designed dozens of well-respected golf courses, including Grandfather Mountain in Linville, NC, Pinehurst #5 and Country Club of North Carolina, also in Pinehurst.  His son and former business partner, Dan Maples, is himself a prolific golf architect.  I've played a few Ellis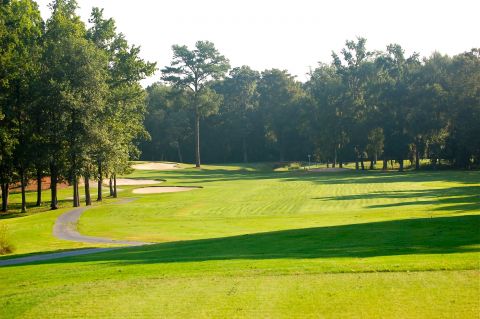 The 1st at CC of South Carolina is a nice warm-up hole, a dogleg left with a tree and bunker at the front of the green that echo obstacles to come.
Maples designs and liked every one of them, including Lexington Country Club in Virginia where my son's college golf team (Washington & Lee) practiced; Devil's Knob at the Wintergreen Resort in Virginia; and the aforementioned Country Club of North Carolina.  The variety of landscapes Maples tackled keeps him from being pigeonholed as having a particular style.  You won't find landscapes more different than the top of the mountain Devil's Knob layout and the incredibly flat land of the sand hills on which Maples built the Country Club of NC.  And yet all are interesting and stimulating designs.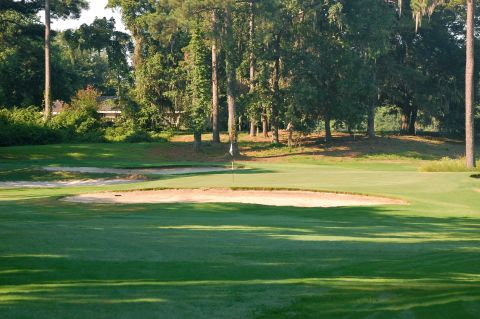 Maples' par 3s are quite tricky, among them the 139-yard 3rd.
        With Country Club of South Carolina, which Maples, who died in 1984, designed in 1968, the architect had something of a "tweener" landscape -– not quite mountain or flatland, but rather land on which he could exercise a little more intervention than customary, push up a few greens above the fairways, use a few trees to define the crooks of doglegs, bank a few fairways and mound a few greenside bunkers.  Water holes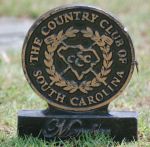 are elusive on the front nine of the course –- the only significant presence as a defense against a radically pulled layup shot on the par 5 6th hole –- but the natural ponds and small lakes come at you with a vengeance on the back nine, starting with the dangerously intriguing 157 yard par 3 12th hole.  I groaned as I first ascended the tee box, disappointed in yet another par 3 over a pond to an easily approachable green that seems almost an obligation to many golf designers; it appeared at first blush that only a topped shot off the tee could possibly bring the pond into play.  But looks were deceiving, and after a few moments of assessment, it became clear that the hole features a severely false front that will send any slightly short approach shot –- or one with a bit of backspin -- down into said pond.  A second false "middle" on the right side of the green would make a knee-knocker out of a chip shot from the back of the green to a front-right pin position, bringing the pond into play if the greens are running even at medium speed.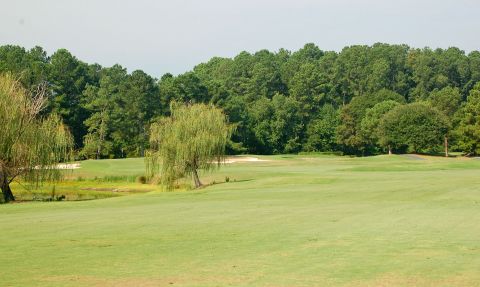 Water comes into play for the first time at the par 5 6th, where the biggest challenge is actually a layup second shot to avoid water and willow that won't weep for an errant play.
        But greens superintendents are justifiably a skittish bunch when the sun shines constantly and temperatures run to 90+ for weeks at a time; they live in mortal fear of brown greens.  On the day we played, the greens' surfaces were awfully wooly, a disappointment because, in all other regards, the turf was in fine condition.  I can't wait to make a return visit during cooler weather when the greens are substantially faster.
        Although CC of South Carolina is nominally a private golf club, there are a few ways for non-members to play it.  We rented an extremely comfortable and large condo unit (three bedrooms) that had way more than enough space for the two of us and could easily accommodate a foursome.  It is reasonably priced at $179 per night.  Green fees for those who stay on property are $55, cart included, the standard "accompanied guest" rate.  Golfers who don't mind staying off property in Florence can put together a lodging and golf package through a local company called Swamp Fox for a little over $100 per night, with a choice of four local hotels.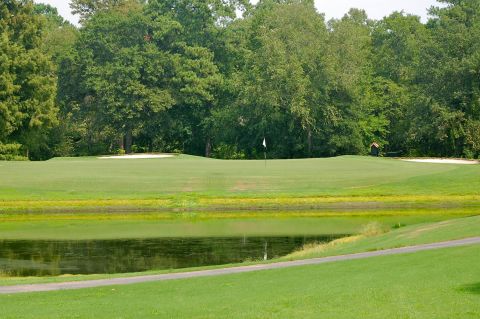 A steep false front on the par 3 12th forces a play to the middle or back of the green, but another rise in the right side of the green puts a downhill chip or putt at risk of hazard duty.
        For golfing groups headed to Myrtle Beach with no need of overnight lodging in Florence, ask your club professional to call ahead and book a warm-up round at CC of SC (the unaccompanied guest rate is $80).  It could be the best golf course you play all week.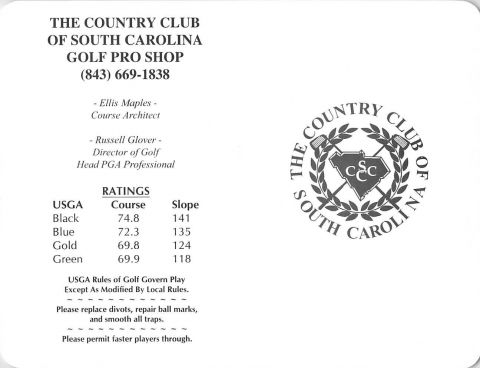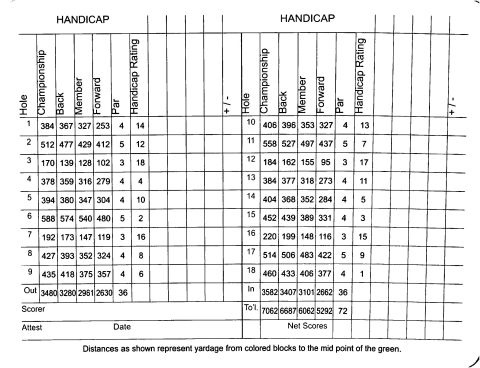 Note:  John Thomas is the current golf professional at CC of South Carolina.  Russell Glover, who was a great host, remains director of golf.
*
        Retired golfers from the north may not think of Florence, SC, as a retirement golfing destination, but those looking for reasonably priced real estate and private club membership might want to consider the area.  Florence is located just a couple of miles off Interstate 95, the major north/south route between New England and Florida.  The train station in Florence is the daily stop for Amtrak service between New York and Miami.  The neighborhood surrounding the Country Club of South Carolina is neat, well landscaped and mature, with prices that begin in the $200s for 3-bedroom, 2-bath homes.  A furnished condo of almost 2,000 square feet that overlooks the 10th hole of the golf course and a lake beyond is currently listed for $224,900.  Full golf membership in the club carries an initiation fee of $5,000 and monthly dues of just $310, with access not only to the golf course but also a fitness center, tennis courts, pool and an amply sized clubhouse.
        If you would like more information about the Country Club of South Carolina and the surrounding real estate, please contact me.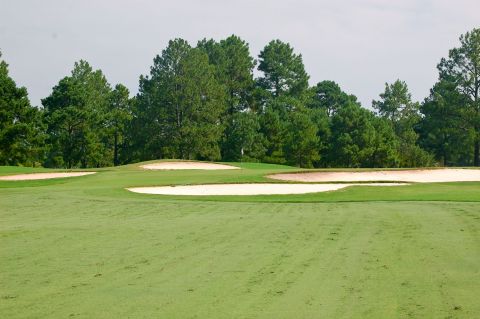 Above, the approach to the par 4 8th at Country Club of South Carolina.  Below, the par 4 14th ends with an elevated green.