My wife and I are off to Pawleys Island this week for a four-week stay at our second home and a few rounds of hot golf (literally).  Admittedly, this is a bit of a contrarian play, given that temperatures in the Low Country have been consistently close to 100 degrees the last couple of weeks.  But a scan of the forecast in Connecticut shows a week ahead that will be warmer on some days than on the southern coast. Mark Twain once had something to say about the peculiarities of New England weather ("…wait and minute, and it will change.")  So off we go.
        During our summer vacation, I plan to play a lot of golf, including the well-regarded layouts at Haig Point on Daufuskie Island and
Callawassie and Haig Point have undergone nearly $10 million in combined renovations in recent years.
Callawassie Island, near Beaufort, both during the first weekend in August as part of an outing arranged by the
South Carolina Golf Rating Panel
, of which I am a member.  The group's members are invited to play, on their own, a number of the state's semi-private and private golf courses; but a few times a year, our executive director Mike Whitaker arranges for members to get together for some collegial golf.  Although I played both the Rees Jones Haig Point and Callawassie Tom Fazio-designed courses a few years ago, both have since undergone extensive renovations at costs of over $5 million and $4 million respectively.  (I remember when entire golf course's cost that much to build from scratch, land included, and it wasn't that long ago.)  Each layout is 27 holes; actually the Haig Point layout boasts 29 holes, including alternative tees on two of its marshland holes.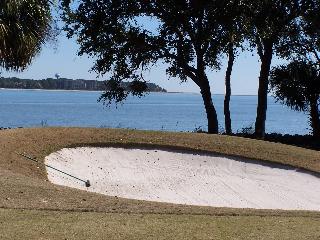 Part of the Haig Point layout runs along the Calibogue Sound, with views of Hilton Head Island across the water.
        Haig Point is an idyllic place, about as remote as you can get on the east coast since it is reached only by a ferry from Hilton Head Island.  (Community residents have access to one 24 hours a day, but the cost to maintain and run it is reflected in the property owners' comparatively lofty dues.)  Haig Point's residential neighbor, the Daufuskie Island Resort, which features two excellent golf courses, fell on hard times a few years ago, and the resort and its Jack Nicklaus Melrose Golf Club were sold earlier this year at a bargain basement price of $13 million.  The nearby Bloody Point Golf Club, designed by Tom Weiskopf, was sold separately for less than $2 million and is currently closed.  An eventual reinvigoration of the resort should help drive up interest in Haig Point, where prices have reached a low ebb during the housing recession.
        You can read my original review of Callawassie by clicking here.  I have referred to Haig Point, which is across the water from Savannah, numerous times in this space; enter the term "Haig Point" into the search box on this page for a link to all of those.  I also produced an edition of the original Home On The Course newsletter (I once printed and mailed it to subscribers) after my Haig Point visit, and I would be happy to email a copy to anyone who is interested (that same issue of the publication also featured reviews of other Savannah golf communities, as well as the golf course at Bald Head Island Island, like Daufuskie reachable only by boat or helicopter).  Just contact me with your email address and I will send the publication; though a bit dated, the information is still relevant (except for prices, which have dropped).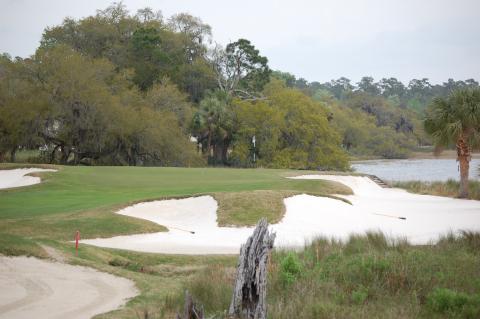 Callawassie features some typical Tom Fazio bunkering throughout its 27 holes.
        Also, if you have been thinking about a move to a golf community in the Myrtle Beach or Charleston areas, let me know and I will be happy to do some on site research while I am in the south.  Realtors in the Low Country have been reporting more visits by baby boomers in recent months, and it just might be that prices have reached their lowest point and are poised for a tick upward -– assuming our legislators in Washington don't do significant damage to the nation's credit worthiness and interest rates.
*
We hope it goes without saying that the publisher of Golf Community Reviews and Home On The Course, our monthly newsletter, has never hacked anyone's telephone, bribed any high-ranking police officials or politicians, threatened any golf community with bad coverage because its officials didn't bow to us, or showered them with favorable coverage because they cowered before us.  But given the latest news of the world, we thought we should say it, for the record.