M
embers of the Dataw Island Club on St. Helena Island, SC, whose excellent Arthur Hills and Tom Fazio layouts are at the core of one of the most established golf communities in the Low Country, have voted to spend $5.4 million to make the courses even better. Renovations began today on Fazio's Cotton Dike layout. Work will be under the direction of Billy Fuller Golf Course Design of Atlanta; other Fuller projects include The King & Prince on St. Simon's Island, Papago in Phoenix, and Wynlakes in Montgomery, AL, a course I visited recently (very nice). Fuller is the former superintendent at Augusta National.
To pay for the work, which is expected to take 18 months, club members authorized a bank loan to be repaid by current and future members with a $115 monthly dues increase (current members have the option to make larger up-front payments at a discounted rate). The upgrades will include new irrigation systems on both courses; a re-contouring of a total of 20 greens; new MiniVerde Ultra Dwarf Bermudagrass on all greens; improvement of all bunkers on the course; new Zoysia grass on all tees; and numerous other tweaks on and around the golf courses.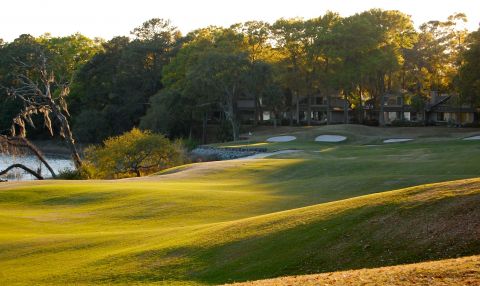 It will be tough to improve on the finishing hole of Tom Fazio's Cotton Dike layout at Dataw Island, but members have voted to improve all 36 holes inside the gated community.
Dataw is currently running a special on golf membership with a $17,000 initiation fee for full-family membership through May 31. Dues are $610 per month but during the promotional period, new members will receive a $100 per month credit for two years. After May, the dues credit goes away and joining fees are anticipated to rise $5,000.
The decision to spend more than $5 million on the golf course demonstrates, in the most concrete terms, that Dataw Island members are an involved and forward-looking group. After I played the Arthur Hills Morgan River course in early 2009, I wrote that "Turf on the fairways and tees was in excellent shape, but the greens are the real star here, their firmness and speed making it impossible to get anywhere close to front pin positions." [Read my full review here.] The commitment to improve its golf courses, and Dataw's maturity as a golf community, make it worth a look for anyone considering a Low Country golf home. If you would like more information about Dataw Island or would like to plan a visit, please contact me and I will be happy to make arrangements.