As if the relatively few property owners at the Daufuskie Island Resort were not already on tenterhooks over the bankruptcy of their golf community, now they have to sweat out whether they will need to swim to get on and off the island a year from now.  The sole remaining ferry operator to Daufuskie,
On an island with a bankrupt resort and nervous residents, a discount of about 50% does not seem far-fetched or out of line.
which is located between Hilton Head and Savannah, recently signed a one-year contract with Beaufort County, according to a recent story in Hilton Head's
Island-Packet
newspaper.  Under a revised agreement with the ferry company, the county will pay as much as $500 per day toward the costs of running the ferry a couple of times a day during off-peak (winter) months, and a smaller subsidy during the heavier trafficked months when more non-resident passengers visit the island.  Resort residents face either of two potentials -– that the ferry company won't make enough money to keep operating after next year or, in the current budgetary environment, the county will not be able to justify continued subsidies for such a small population.
        Of course, if a buyer should emerge for the entire resort, and the resort and its Melrose and Bloody Point (Weiskopf/Moorish design) golf courses should resume attracting vacationers, increased ferry fares should be enough to justify continuing operations.  Certainly new resort operators would see to it that transportation to the island was uninterrupted and frequent.  But at an auction in October, no bidders emerged to offer a minimum bid of $16.5 million for most of the resort, including the Melrose golf course and most of the other amenities.  (Bloody Point and the resort's marina were not included.)
        On the other side of the island, the golf community of Haig Point continues to run its own frequent ferry service.  But its boats are too small to accommodate the resort's residents.  Haig Point, whose mostly second-home owners would appear to have the resources to sustain the community through the housing recession, offers free golf club membership to virtually anyone who buys a resale home on the property, but carrying costs are relatively high, somewhere around $15,000 per year for POA dues, club dues and the operating costs of that darn ferry.  The 27-hole Rees Jones course is outstanding, one of the best in the golf rich state.
        Properties in Haig Point show all the classic markers of a risk/reward proposition.  For example, I received an email this week offering a 4 bedroom, 4 ½ bath, 4,000-square-foot home for sale for just $495,000. I say "just $495,000" because the lakefront home features a treed one-acre lot, an attached private guest suite and a previous appraisal of $1 million.  On an island with a bankrupt resort and nervous residents, a discount of about 50% does not seem far-fetched or out of line.
        Some Daufuskie Island and county residents are talking about two potential solutions to the resort's ferry problem –- either to permit casino gambling on the island or to build a bridge from Hilton Head.  In conservative South Carolina, it is an open question which would take longer to build –- the bridge itself or a consensus on casino gambling.  Either way, it could be decades.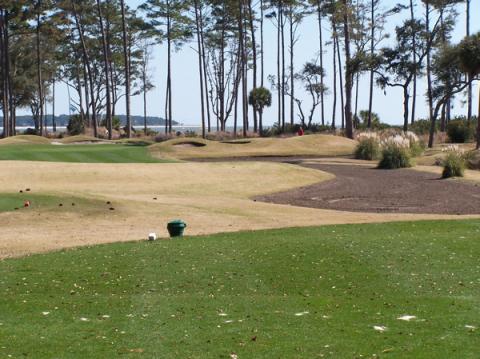 The 16th hole at the Jack Nicklaus-designed Melrose course at the Daufuskie Island Resort.  The resort is available for sale post bankruptcy.