I heard a few complaints from the rest of my foursome during a round at the revived Pawleys Plantation yesterday.  One was about the front-page headline in The Sun News of Myrtle Beach, "Real estate sales fall."   Single-family home sales decreased 17 percent in October on a year-to-year basis. That is fewer than sold in October of 2008,
Semi-private club members may need to make some concessions on pace of play.
the worst year of the current housing recession in Myrtle Beach.  My group estimated they've lost at least 25% of the value of their homes in the past few years.  (I agree; I own a condo in Pawleys Plantation).  Of course, this is good news for anyone with a modest down payment and desire to live amidst 110 very good to excellent golf courses in the golf-saturated Myrtle Beach area.  You can buy a town home inside the gated Pawleys Plantation for as low as $150,000 (and derive some rental income from it as well).
        But of even more concern to my fellow golfers, like me all members of the golf club at Pawleys Plantation, is the slow pace of play at the Jack Nicklaus Signature golf course.  A few months ago, the original owner sold the club to the Myrtle Beach National (MBN) group, along with the clubhouse and other amenities on the 900-acre development.  Always a "semi-private" club since it opened in 1989, certain playing times were guaranteed for members every day.  During peak periods, you might have to accept a tee-time an hour or two off from your preference, but most of the time you could play when you wanted, just like at a private club.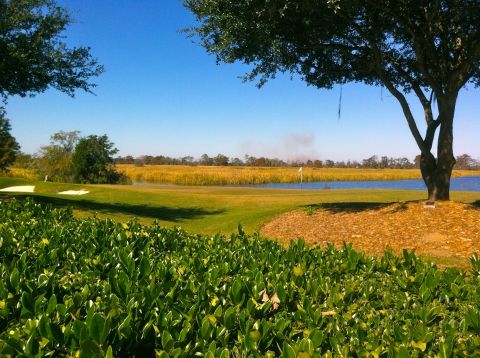 The always scenic course at Pawleys Plantation is in its best shape in years, helped by the income from an uptick in rounds since the purchase by Myrtle Beach National.
        Member dues, which have always been reasonable and today are less than $250 per month, were not enough to sustain the club.  Pawleys Plantation depended substantially on outside rounds from guests staying in the community's rental units and the "package" players from local hotels.  After 9/11, and especially the last few years, outside rounds began to dry up. Inevitably, and reportedly after passing up much larger offers in previous years, the owner of Pawleys Plantation sold to MBN, which operates another dozen courses along the Grand Strand of Myrtle Beach.
        Today, a few months after the deal was completed, the good news is the course is in its best shape in years, and
The tortoise, after all, won the race. Maybe taking a minute or two more per hole would help our scores.
getting better week by week; and Pawleys members have inherited a new perk of membership -- we can play the other MBN courses for around $25 per round, cart included.  It's a good deal.  The bad news, however, is that more and more package golfers are opting to include Pawleys Plantation in their vacation rotation.  My fellow members told me they have quit some rounds on the 15
th
or 16
th
greens after more than five hours.
        That was not my experience this week during my two rounds.  My next-door neighbor and I played on Tuesday, teed off at 12:15 and were done at 3:45.  And yesterday, our foursome completed its round at about 4 hours on a course that was substantially in better shape than I remember it, and I have been a member for 11 years.  But even if the rule is five-hour rounds, I would be willing to suffer through an extra minute or two on each hole to be assured of a golf course with enough income to remain in excellent shape.
        Indeed, I am not a fan of five-hour golf rounds, but I always wonder why so many golfers are in such a rush to jackrabbit their way around the course, especially vacationers and retirees with plenty of time on their hands.  After all, it was the tortoise who won the race, not the hare.  Perhaps a little more time lining up putts and testing the wind might shave a couple of strokes off our scores.
        Curious about what the rush was all about, I asked my cart mate yesterday what he was off to do after the round.  He frowned and said, "I promised to take my wife shopping."