I
f you are a repeat reader of this site, you have probably noticed my toasts to the area around Greenville, SC.   Located in the "Upstate" area of the Palmetto State, Greenville is a viable alternative to the popular mountain city of Asheville, NC, 80 miles up the interstate.  Greenville, though, seems to have more going for it and features a wider range of golf communities, including the upscale Cliffs Communities and the more reasonably priced but wonderfully organized Thornblade Club; a rapidly developing entertainment district in the downtown area, including a spate of nice restaurants; and a stable economy, anchored by the huge BMW of North America plant in Spartanburg.  For those seeking a retirement lifestyle -– or a job in the auto industry -– Greenville would have been near the top of the list even before recent events pushed the area ahead farther.
        BMW announced a couple of days ago that it will expand its plant in Spartanburg, spending $750 million and hiring an additional 600 workers to add to the 7,000 already working there.  The annual production of cars at the plant will reach 240,000, a 50% increase according to the Wall Street Journal, and maintaining the plant's status as the #1 exporter of U.S.-made vehicles.
        "The Upstate [area of South Carolina] should also see a ripple effect with increased jobs at second- and third-tier suppliers of the automaker," says Greenville real estate broker Lee Cunningham.  You can read the Wall Street Journal article here.  (If you have trouble accessing it, contact me and I will send you a copy.)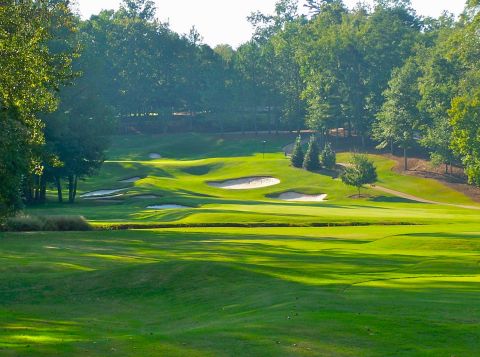 The Thornblade Club's Tom Fazio designed golf course will reopen for play in November after a five-month renovation.
        Thornblade Club in Greer, SC, is just a 12-minute drive from the BMW plant and its good news is more about contracting than expanding – that is, contracting with Tom Fazio's design shop and others for a complete makeover of the tees and greens on the classic Fazio designed layout, according to an article in the October issue of GolfBusiness.  Thornblade is one of the three host clubs for the annual BMW Charity Classic on the Nationwide Tour, and it also boasts a fair number of BMW employees on its membership rolls.
        The renovation work was part of a long-range master plan, according to General Manager Patricia Calder, which is about 80% complete after the recent renovation work.  New members, of course, will be able to take advantage of all the work that has been done to date.  The initiation fee at Thornblade, which is surrounded by a neatly landscaped neighborhood of good sized homes, is a reasonable $10,250 for full-family golf, with dues of $445 per month.  Homes in Thornblade are currently listed in the $400,000 to $1 million+ range.
         If you are interested in more information about Thornblade Club, contact Morgan Page, membership director, at (864) 234-5100.  For more information on real estate in the area surrounding Thornblade, please
contact me
.