The Nationwide Tour is on Daniel Island this weekend, just outside of Charleston, SC. The event is being played on the Rees Jones golf course, companion to an earlier-built Tom Fazio layout.
Daniel Island is one of those golf communities that combines great golf, great location and the full range of local services, some that do not require turning the ignition key in the car. An on-island shopping center is within walking distance of some of the town homes on the main part of the island. Others, even those who opt to live in one of the nicely landscaped and large single family homes the surround the two golf courses, won't have more than a five minute drive, and with Mt. Pleasant and Charleston within 15 minutes, the sky's the limit in terms of shopping, world-class restaurants and major medical centers.
I played the Tom Fazio course on Daniel Island last summer, and although I found the golf attendants around the bag drop less than attentive to one guest's needs, especially for a club whose initiation membership fee is $80,000 for residents, the golf course was well conditioned and typical Fazio, which is to say attractive to the eye and not brutally challenging. The leader after the first two days of the Nationwide Tour event on the Jones course is 11 under par, so it hasn't exactly beaten up the pros, but local sources tell me it is tougher than the Fazio course.
Daniel Island offers real estate to suit most budgets and lifestyles. The main area of town homes and Charleston-style single-family houses begin in the mid six-figures. For example, a 2,700 square foot, three-bedroom, 2 ½-bath attached home in the Pierce Park section of the island is currently listed at $449,000. Homes near the golf course begin near $1 million and proceed from there.
I published a full review of the course and community here a few months ago. For access to it, click here. I have excellent contacts on and around Daniel Island and Mt. Pleasant, and would be happy to introduce you to a qualified agent who can share more information about this all-in-one golf community. Just use the contact button on the top of the page.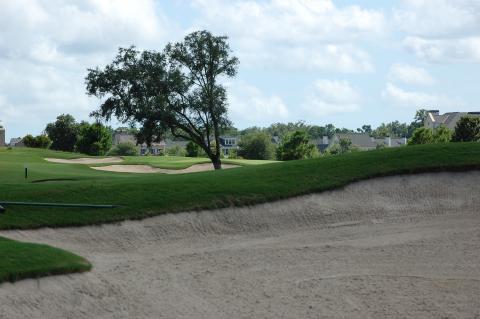 Houses around the Fazio course at Daniel Island are well out of range. The large bunkers are another story.