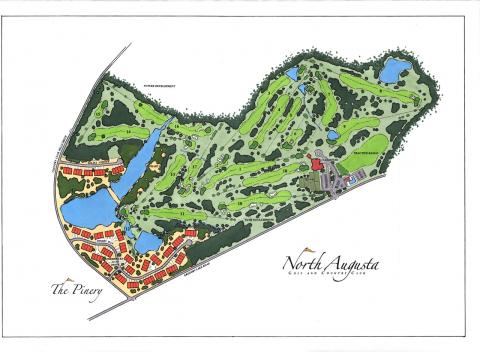 North Augusta Country Club failed to attract an acceptable price at auction on Thursday and is still available for sale. The Pinery comprises an adjacent tract of 35 acres already zoned for multiple-family dwellings and also available for sale. Map courtesy of J. P. King auctioneers.

As reported here in recent weeks, the private North Augusta Country Club, just a few miles from famed Augusta National, was up for auction on site at the South Carolina club on Thursday. According to local reports, it failed to command a bid sufficient for owner Fred Layman to sell the 46-year old club whose clubhouse burned to the ground in 2005, a few days after the developer purchased North Augusta. Although Layman upgraded the course in 2005, efforts to rebuild the clubhouse have been stalled by the economy and what some members of the club say is the owner's lack of desire to do so.
"[The owner] wants about $1.5 million for the place and is stupid enough to think he's going to get it," wrote
Super Bowl coach Ken Whisenhunt is a partner in the North Augusta club.
one club member in response to an article about the auction on a local television station's web site. "He won't build a clubhouse [because] he owes too many creditors money as it is.
"I'll be resigning my membership in the next day."
Even in a bad economy, $1.5 million, if that is an accurate number, seems like a reasonable asking price for 18 holes of golf across 135 acres. An adjacent 35-acre property, zoned for multi-family dwellings, was also up for auction but failed to fetch the required price. According to Layman, the auction house of J.P. King, which organized the sale, will continue to look for a buyer for the club and the adjacent land. If anyone out there would like me to do more research on the property, let me know.
As a side note, Super Bowl coach Ken Whisenhunt of the underdog Arizona Cardinals is a partner in the North Augusta club. Good luck Ken, in more ways than one.