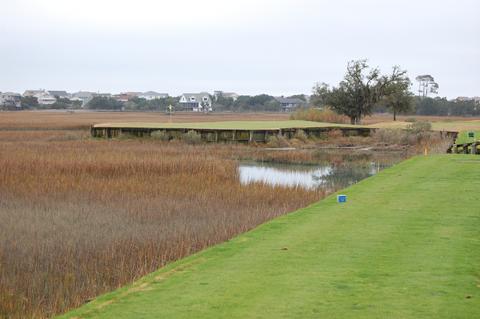 The 13th at Pawleys Plantation is short but capable of ruining a good round.

The par 3 13th and 17th holes at Pawleys Plantation (Pawleys Island, SC) are the scariest duo of par 3s on any back nine. No matter how well you have played or how confidently you are swinging, when you stand on the tee box built across the former rice paddy and stare at the small island green 13th hole, the wind forcing a shot that must start over the marsh to the left, survival mode kicks in. That wind necessitates an extra club but also a full swing. Catch it well but choose the wrong club, and you are one bounce to
Survival mode kicks in at the short par 3 13th hole
doom beyond the green. Try to "pooch punt" your shot to the front of the green and you will likely join the hundreds of balls wedged into the muck (no pun intended) in front of the bulkhead that holds the green together. The 17th hole, which plays in the opposite direction, just inverts the approach; you play downwind about 170 yards to a large but not deep green. Hitting the green is no guarantee you will have a putt since the prevailing winds take most of the spin off the ball. Out of bounds awaits just 10 yards beyond the back fringe for any shots that hit the very back of the green and roll down the hill.
Until now, the pair of par 3s presented one other shared challenge. It was difficult to find a decent piece of grass on the narrow tee boxes, and with the thick layer of sand and fertilizer under the thin veneer of what passed for grass, tee shots almost felt like blasts from a sand bunker. I don't like to hit a nine iron off a tee, but sometimes you had no choice.
Now, after an improvement project last summer and fall, the tees on the dike have been built up and planted with a hardy grass that seems to be holding up well against the thousands of rounds a month played on the popular course. As long as Pawleys' superintendent moves the tee markers daily to give the scuffed turf time to re-grow, golfers at Jack Nicklaus's brutal pair of par 3s will just need to worry about the wind, narrow landing areas and their nerves.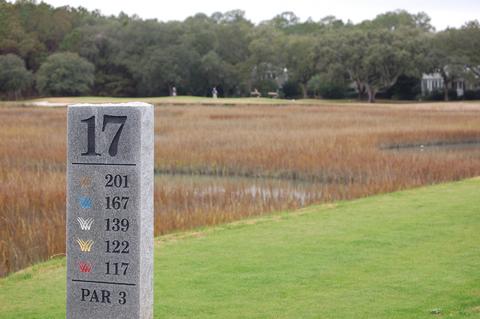 Because it plays downwind, clearing the bulkhead on the 17th at Pawleys Plantation is only half the battle.