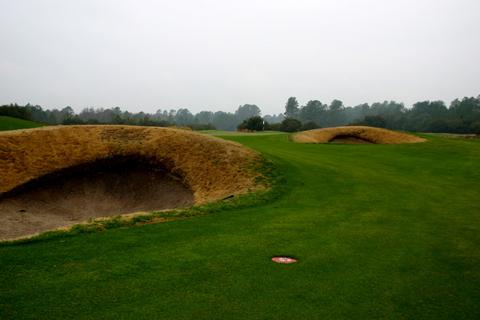 Editor's Note: This marks the debut in this space for Elliot DeBear, a frequent contributor of golf course reviews at other golf sites and forums. Elliot, a senior corporate trading executive, plays dozens of courses each year and has graciously consented to provide notes on his rounds from time to time. They appear in italics within the body of the following article. The photos were taken by him as well.

We are always harping in this space about how wise it is to rent in a community before you buy there. So much that is not evident when you take the sales tour, even a few times, can conspire to make you miserable after you actually start living in a community you thought might be paradise -- the neighbors, the traffic, the amenities, and all the other little nuances you can't know about unless you stay on property for a month or two at least.
Okay, that may not be practical for everyone, but if you are contemplating a purchase in a community of homes that are rented on a weekly or longer basis, then by all means stay short term and ask a lot of questions of people who aren't trying to sell you something.
One example where you can do that easily is the Legends Resort in Myrtle Beach, SC, a huge community that includes different neighborhoods, a wide range of housing options and three
The standard management fee to rent your condo to visiting golfers can be as high as 50% of the rental price
excellent golf courses. If you are considering a second home purchase with the intent to rent it to others, a stay in one of the units will give you a good idea of how the management company handling your rentals prepares the unit for visitors (It better be prepared well; the standard management fee to handle everything is as much as 50% of the rental price!).
I played the Legends courses some years ago and not only liked the golf but a tear came to my eye when a bagpiper in kilts climbed the hill outside the clubhouse and let loose with his pipes. Elliot DeBear, who travels extensively to play golf, played the Legends courses with a friend earlier this year. Here are some of his notes (which he gave me permission to edit for space considerations):

We stayed in a nice 2 BR, 2 BA condo, and our three-night, five round package included breakfast, access to the Legends outstanding practice facilities and a cocktail at the end of each day. The golf courses were all good. The Heathland's 18 holes were designed by Tom Doak in the Scottish tradition of St. Andrews, Lahinch and Cruden Bay. The course was extremely well manicured with nice greens. The Moorland course by P. B. Dye reminded me of PGA West, which is to say target golf in the extreme. The undulating fairways presented many large bunkers, and the par 4 16th is its own Hell's Half Acre. The Parkland course, which was opened in 1992, two years after its companion courses, was laid out in the manner of Alister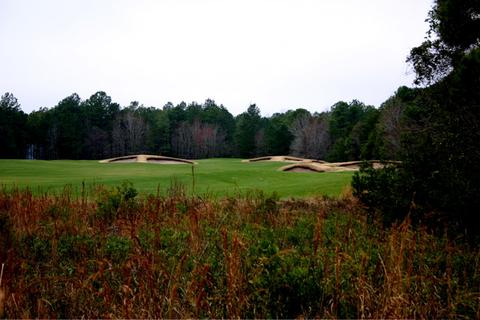 McKenzie (Augusta National and others) and George Thomas (Riviera and others). I thought it was visually magnificent, in perfect condition and fun to play. It was my favorite of the the three (Golf Digest liked it as well when it opened, giving it a 4.5 rating). One of the endearing aspects of The Legends courses is that they are not surrounded by too many condos, although there are plenty of housing options nearby and a few single family homes abut the course. The total cost of our package was $500 each for the two of us. It was my first trip to The Legends and a terrific experience.

The Legends Resort is just off Highway 501 about eight miles from Myrtle Beach International Airport ("International" because a few flights from Canada land there each week). The community is set a few miles in from the main road; there are some homes adjacent to some parts of the courses, but as Elliot reported, they do not intrude on the golfing experience. The Legends is close to all shopping, including a huge outlet mall across the highway from the community's entrance. Coastal Carolina University is just up the road and the beaches of Myrtle are within 15 minutes (as long as you don't try to get there on a Friday evening in summer when cars are pouring down 501 toward the beach). If you were ever to tire of the Legends' links, there are about a dozen other decent to excellent options within a short drive.
The courses Legends courses are all accessible to the public, so if you are expecting the private club and community experience, look elsewhere. But semi-private golf typically means lower real estate prices, and at the Legends, the real estate options and pricing cover a wide range. Single-family homes, some with golf course views, seem to run from the mid $400s and up. A lot on one of the courses is currently listed just under $200,000. Nice villas with 3 BR and 3 BA are priced under $400,000, and some include golf membership. (As at most semi-private clubs, memberships with unlimited golf are available to residents who also get priority on tee times.) Because of the traffic on Highway 501 and the distance to the beach, we estimate real estate prices at The Legends are about 10% to 20% lower than comparable homes in the Pawleys Island area (south end) or near the North Carolina border (north end).
As always, if you have an interest in looking at property at The Legends or anywhere in the Myrtle Beach area, we can arrange for you to meet with an agent we have qualified. No cost or obligation to you whatsoever. Just hit the "Contact Us" button above.