To build a golf course and surrounding community anytime after the 2008 recession, a developer either had to be dumb or very organized. Put Compass Pointe developer Bobby Harrleson in the "organized" camp.
At a time when virtually everyone not invested in a golf course or golf community is preaching gloom and doom for the golf industry, it takes guts and confidence to build a golf course, let alone an entire community with golf as its central amenity. The 79-year-old Mr. Harrelson has plenty of both and something that counts for even more –- experience. Over a five-decades-long career, he has built and/or managed 100 communities of varying sizes in the Wilmington area, including Leland, NC's Magnolia Greens, with 27 holes of golf. Magnolia Greens is located just across Highway 17 from the much more aggressively marketed and successful Brunswick Forest.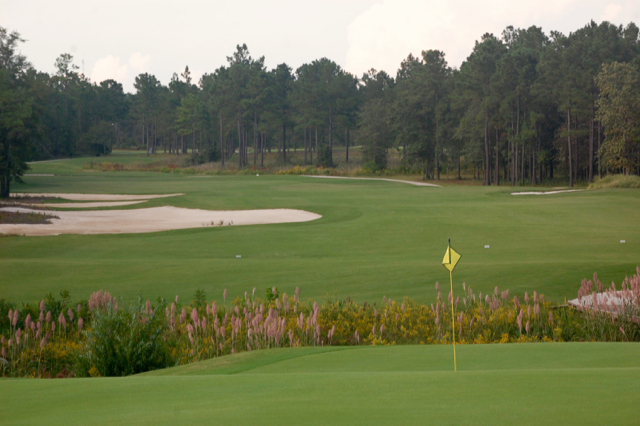 Architect Rick Robbins saves much of the drama on the Compass Pointe layout for the 18th hole, a par 5 that forces a final wedge over an expanse of marshy flora.
Compass Pointe brochures quote Mr. Harrelson as saying, "Everybody deserves a nice place to call home." That is not just good ad copy; when you meet the developer, as I had the opportunity during a recent visit, he emphasizes that his first priority in pricing the real estate and building the amenities and golf course in Compass Pointe is not to generate the most profit the traffic will bear. I didn't have my notepad out but, as I recall, he told me, "We did it this way because everybody deserves a nice place to call home." (Certain politicians could learn a thing from Bobby Harrelson about staying on message.)
Location –- and location and location -- of course, counts for most of the value in any home, and Compass Pointe has the benefit of proximity to one of the South's most interesting and full-service cities, Wilmington. High speed NC State Road 140 and US 74 link up just a few hundred yards from the community's front gate; Highway 74 makes the trip into Wilmington just 10 minutes and to the popular Wrightsville Beach less than 25 minutes. Brunswick Forest is located closer to the city, but traffic outside its entrance can make the trip into Wilmington a stop and go affair. Compass Pointe has no commercial area just outside its gates. Pick your poison: Brunswick Forest, across the highway from excellent shopping and other services but with the traffic that goes with it; or Compass Pointe's rural setting 10 minutes from all that shopping. (Note: Plans at Compass Pointe call for a small group of Village Shoppes that will add convenience shopping and a few restaurants at the community's edge. Also, an independent company plans to break ground on an assisted care center just inside the boundaries of the community, making it possible for residents to live out their days on site.)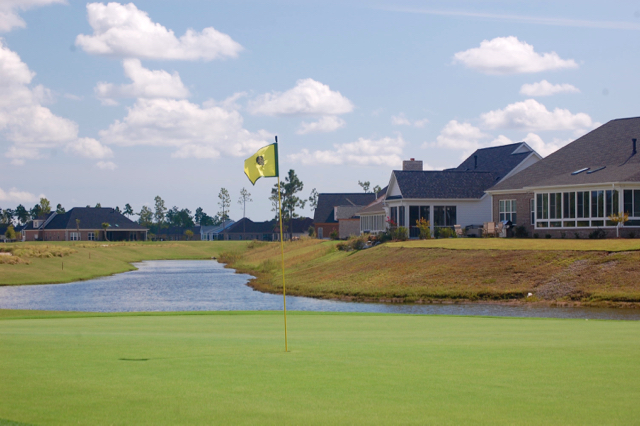 Homes are well beyond the field of play at Compass Pointe, separated in some cases by water and in others by trees on the former paper company's property.
Although Compass Pointe is open to people of all ages, except for an area of more than 100 single-family homes restricted to persons 55 years and older, just a handful of families with children live inside the gates; and more than 90% of residents are year-rounders. The community's amenities seem geared mostly to the retired residents, especially at the Grand Lanai beside Cardinal Lake. The amenities there include a Wellness Center with a constant rotation of classes for the body and mind (yoga, aerobics, painting), rows of fitness machines, a spa, and a massage therapist available on an appointment basis. (During my visit, I noted that a couple of dozen people were taking a painting class.) The Grand Lanai, which also features cooking stations and a huge screen TV for major sporting and other events, opens onto a large pool area and a canoe and kayak launch beyond. Mr. Harrelson's plan has been to roll out one big new amenity annually, and he has been true to his commitment since opening; this year's big amenity was the golf course, which opened in June (see below). An indoor pool is scheduled for next year, along with a "lazy river" that will appeal to children from 9 to 90.
Golf course designer Rick Robbins, who has chosen to build a home at Compass Pointe, has fashioned a layout to enjoy at virtually any age. The fairways are extremely generous, 40 yards or so wide in some places, with fairway bunkers positioned to catch only the most reckless of drives. You won't find any bunkering directly in front of the greens, although there were plenty of traps to catch wayward approach shots to the sides. And any "junk" in front of tee boxes –- marshy areas, streams, heavy rough -– is easily flown if the correct tee boxes are chosen. But the
For a $4,400 annual membership, golf is available not only at the 18 hole Compass Pointe course but also at the 27-hole Magnolia Greens layout 10 minutes away.
real work on the generally flat Compass Pointe course are the greens which are mostly large, undulating and, in a few cases, puckered up to make them tough to approach on a roll. Since the course is just a few months old, the greens are still extremely firm -- although not fast -- so much so that any front pin position on an elevated green should be considered unfair, since holding even a wedge shot where it lands is nigh impossible. (Thankfully, there were just one or two pin positions up front on the day I played.) There are eight layouts at Compass Pointe, if you count the three "hybrid" tees; these alternate among the Blue, White and Yellow tee boxes to form slightly different distances. Residents like Craig Park, who was my partner for the round, find a lot of fun in having the ability to score well at Compass Pointe. They also appreciate the membership plan at the semi-private club: No initiation fee and just $4,400 annually to play as much golf as you want; and that includes the 27-hole course at Magnolia Greens, which Mr. Harrelson built in 2000, sold and then re-purchased two years ago. Forty-five holes of golf at less than $400 per month (and no initiation fee) is a strong lure for those planning to play a few days of retiree golf every week.
Compass Pointe is eight years old. When Mr. Harrelson first began selling properties, land and home packages were priced in the $200s. Today, prices begin at $400,000 and new owners are opting in every week. Craig Park, who is a native Californian, told me he and his wife Louise had looked at all the golf communities in the Wilmington area and as far south as St. James Plantation, about 45 minutes away.
"But when we came through the gates of Compass Pointe," he said, "it just seemed to be exactly what we wanted." Craig and Louise have since built a house and moved in full-time last January.
The blackboard in the Compass Pointe sales office indicates folks are coming from all parts of the country, with the preponderance of new residents arriving from the mid-Atlantic and New England areas. (Coincidentally, I saw the name of a couple I know from Alaska on the blackboard in the sales office.) Sales are brisk, confirming that although Bobby Harrelson took a big risk opening a golf community in the teeth of the recession, plenty of baby boomers love to play golf. And, most of all, people will always want a "nice place to live."
Like what you've read? Please contact me if you would like more information about Compass Pointe or to arrange an introduction.