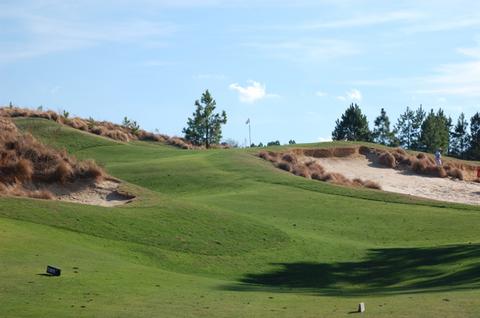 The fun begins after a challenging tee shot finds the middle of the fairway at Tobacco Road's 9th hole.

The handicappers at Tobacco Road, Mike Strantz's sandy and weirdly fascinating opus in Sanford, NC, must have had an excruciating time choosing the toughest hole on the course. One bad swing on virtually any of the par 4s or 5s, and double bogey or worse is definitely in play. They alighted on #9 as the toughest, a par 4 of beastly proportions that features just about every hazard and challenge the rest of the course presents, which are many (except water).
The 9th is a great choice, as the golfer who has made it to the last tee on the front nine without doing too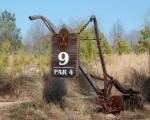 much damage to his scorecard or ego will wonder if it all may come crashing. The long waste area in front of the tee doesn't present any problem to those who can get their tee shot airborne, but the landing zone in the fairway does. It is pinched by two large and sandy waste areas on both sides of a fairway that tilts right about 210 yards out and then swerves back toward the left. The effect is to make the fairway look narrower than it really is, although it is plenty narrow, and to send a shiver down the spine to somewhere in the area of the knees.
If you collect yourself enough to make a good swing down the left side, your ball will take the hard kick right before running along a bank and returning to mid fairway. From there you have no more than a mid to short iron to the green. That is the good news. The other news is that the green is steeply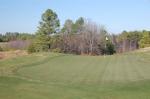 elevated, about as deep as a pair of knickers and protected on the right by a cavernous bunker. The approach must carry over the front edge of the green and somehow keep from bounding to the steep back slope from which the possibility of chipping back down the mountain is real. I recall breathing a sigh when my approach stopped just off the left side of the green, leaving a straight on chip across the length of the putting surface. I made par, so with a song in my heart, the back nine at Tobacco Road almost seemed normal. Almost.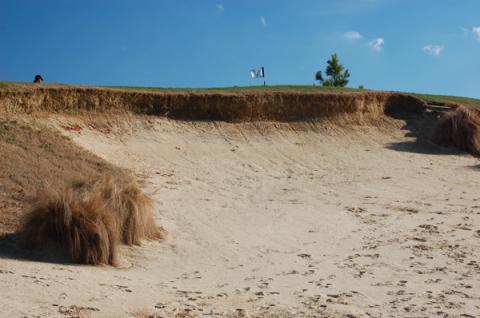 Hazards in the hazards include footprints that aren't raked. All bunkers at Tobacco Road are of the waste variety. You may need assistance getting out of the greenside bunker at #9.