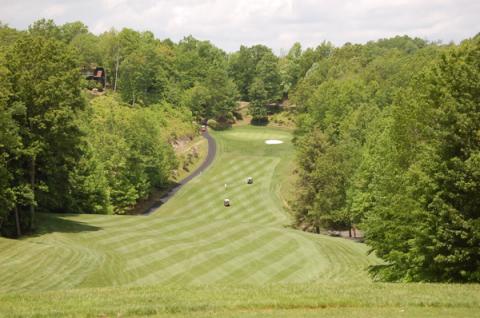 The 11th hole at Connestee Falls is a deceptive little par 5. Hit no more than a 3 wood off the tee to remain on the upper fairway. Then a medium iron second shot sets up a wedge to the elevated green. It is the most visually attractive hole on a course that has a number of them.

Escape valve: Florida "halfbacks" let off steam in Carolina mountains

As I wended my way along curved mountain roads from upstate South Carolina to Brevard, NC, I might have been in Florida, for all the Sunshine State license plates I saw on the road and in the gas stations and luncheonettes along the way. When I met with Carol Clay, a local Brevard real estate agent, she explained it.
"They leave Florida because of the Hs [aitches], the same reasons my husband and I did three years ago," said Clay, who lived in Florida for 30 years. "It's the heat, humidity, hurricanes and hectic way of life.
"To be honest, after three years in the mountains, I need to be dragged back to Florida for a visit."
Most people from Florida who live in and around the charming, artsy town of Brevard, which hosts a famous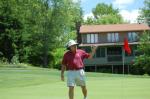 annual summer music festival, haven't left the warm climes of the Sunshine State forever, choosing to maintain second homes in the Carolina mountains. Prices are still reasonable enough to have it both ways -- the warm winters in Florida and Georgia, and the beat-the-heat and laid-back nature of the Blue Ridge Mountains. Plenty of folks from Atlanta are also attracted by the Brevard area climate and the mere three-hour ride up the interstates.
As if to prove Carol's point, I was matched up for my round at Connestee Falls, just south of Brevard, with David Kelley, a hale fellow well met from West Palm Beach, FL. David, a litigation attorney, maintains a second home just a couple of miles from the community's front gate but he enjoys playing the reasonably priced (greens fees just $60) George Cobb designed course at Connestee Falls. He confirmed Carol's opinion that the North Carolina mountains provide stress release for those forced to buck traffic and dodge the occasional hurricane in Florida.
David and I played a course that is vintage Cobb, which is to say it is neither boring nor dramatic. I am more
If the greens had been cut, Connestee might have played three or four strokes tougher.
familiar with the venerable designer's coastal courses, but at Connestee Falls, he followed his customary style with a routing that won't overtax the 20 handicap - which David was - but will still appeal to the 11 handicap, which I purport to be. In fact, if anything, Connestee is too fair to the better player, with a rating of just 70.8 from the back tees at 6,485 and 69.3 from the regular tees at 6,062 and 69.3, which David and I played.
The first hole, a wide-open par 4, sets the tone. Even a modest drive will leave a routine approach to a large, albeit sloping green. The challenges at Connestee are all in the sloping, both in some of the fairways and in most of the amply sized greens. As at Cherokee Valley, which I reviewed yesterday, only one of the par 5s plays to over 500 yards. Also, as at Cherokee, the mountain vistas are curiously out of sight from most of the course, the best view reserved for Connestee's practice range, a hint that the developers at Connestee, which emerged in the 1970s, gave the prime land to the home sites.
Cobb does use elevation changes well, throwing a few blind tee shots and approaches to elevated greens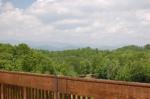 into the mix. The par 4s are the strongest holes at Connestee. The 4th is the #1 handicap hole on the course, a medium length (398 yards) par 4 with a lake in the middle of the fairway but unreachable with driver for all but the most accomplished (and strongest) player. The approach after a decent drive will need to carry about 130 yards to a steeply elevated green that slopes back to front. It is worthy of its designation of toughest on the course.
I noted very few fairway bunkers to worry about off the tee, and those at greenside did not seem to pose any significant threats. The course is beautifully conditioned, although I would like to play it when the greens are cut. They were quite slow; at the end of May, there really is no excuse on a Friday for them not to be cut. We saw plenty of men on lawn mowers during our round, so it was not a case of a day off for the workers. With a few tougher pin positions and faster greens, I estimate that Connestee Falls would play three to four strokes more difficult. Slow as the greens were, I had some straight downhill four footers on the big, sloping greens that gave me pause. I was struck by how hard it was to read breaks on most putts; mountain courses typically give you a clue of which way putts break (either toward or away from the mountains), but I found no such clues at Connestee.
Connestee Falls has some odd touches. It is the only place I have been where you pick up and return your carts to the deck outside the pro shop, overlooking the practice green below and the mountains in the distance.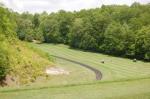 Given the 30+ year old vintage of the club, the clubhouse, locker rooms and pro shop seem a little long in the tooth but are well maintained. There is nothing odd about the golf membership fees, however, which are assessed on an annual basis. A property owning couple pays just $2,750 for unlimited golf, range balls, locker and club storage. Although the community is in the mountains, the golf course is open year round. Snowfall is minimal and rarely stays on the ground for more than a day or two.
Because of the 1,600-acre community's age, and the availability of home sites after more than 30 years, house sizes and styles are all over the place (literally and figuratively).
"Connestee Falls is still an evolving community," says Carol Clay. "The new homes are considerably bigger than the older ones." A selection of condominiums appeal especially to the 60% of Connestee's residents who stay on property seasonally and don't see the point in making any sizeable investment for a short-term stay.
Prices range from $150,000 to the millions, but the median spot seems to be in the $400s. A two-bedroom, two-bath condo, for example, built in 1978 and sporting 1,250 square feet, is on the market currently for $179,000. A three-bedroom, three-bath home with lake and mountain views and 2,500 square feet is available at $650,000.
These prices seem especially reasonable given Connestee Falls' proximity to the charming Brevard, and except for the current blip in the market in Florida, in-flows from the south have been brisk in recent years. Consequently, the Connestee community is undergoing something of a modest transformation. In its earliest days in the '70s, naturally the lots with the best views sold first. Although homes on those properties likely have not yet reached the end of their natural lives, some have been bought and torn down to make way for new homes that take fullest advantage of the great views. Other older homes have simply been refurbished. All homes are set well back from and above the golf course, and hidden in the woods. I didn't have a clear view of any home until late during the first nine, although I knew they were there. Out of bounds stakes were at a minimum, just the way we like them, and in the few cases that a backyard was anywhere near the fairway, red hazard stakes made it possible to strike your ball without penalty (just don't ground that club). The lack of OB stakes is a refreshing touch and a big plus for the golf experience at Connestee Falls.
I don't often write about property taxes -- compared to what all of us are used to in our primary homes, they tend not to be outlandish in most communities I survey -- but the taxes in Connestee Falls and the surrounding county are worth mentioning, just 54 cents per $100 of assessed value. A $500,000 home in Connestee Falls, therefore, will throw off property taxes of just $2,700. If you were to live inside the city limits of the attractive Brevard, count on close to double that rate, still a pleasant surprise to those of us used to metro area taxes up north.
That isn't the only cost of living advantage to life in the mountains.
"We cut our car insurance in half when we moved up here," says Carol Clay. Take that, Florida.
Connestee Falls, Brevard, NC 828.885.2005. Designed by George Cobb. Yardage/rating/slope: Black tees 6,485/70.8/125; Blue tees 6,062/69.3/117; Ladies tees 5,056/64.4/104. Green fees $60 May to Oct (cart included). Membership fees (full family): $2,750 annually (includes practice range, locker, club storage). If you are interested in more information or in a visit to Connestee Falls, please contact us.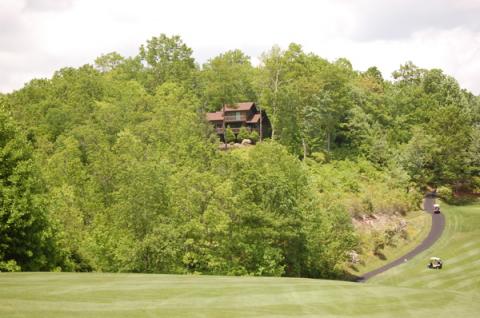 Homes around the Connestee Falls golf course sit back and above the course, when they aren't totallly hidden by trees.