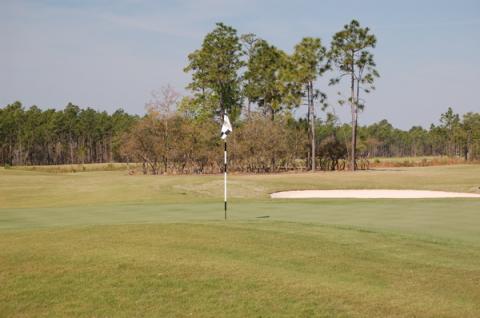 The split fairway par 5 7th hole at The Reserve at St. James Plantation forces you to make a decision on your lay-up second shot; right or left of the grove of trees about 100 yards from the green.

If you are a dedicated golfer happy to be retired and content to live among those who are equally happy about it, then you should feel right at home at St. James Plantation. The huge community, which is actually an incorporated town, features four nice, mostly private, courses and hundreds of 50- and 60-somethings. St. James isn't exactly an age-restricted community, but then again, you won't find too many young families there either.
The community is located toward the upper end of golf community alley, a string of plantations that stretches from the South Carolina/North Carolina border just above the Grand Strand of Myrtle Beach to Southport, a total of about 39 miles. People looking for a golf community along this stretch of U.S. Highway 17 have a wide variety to choose among, including Brunswick and Ocean Ridge Plantations at the southern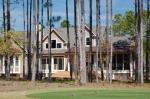 end, to Rivers Edge and Winding River more or less at the midpoint, to St. James and Bald Head Island bracketing the charming little port town of Southport at the north end. Home sites in these varied golf-oriented communities range from around $100,000 to as much as $400,000 for water and golf views combined. All these communities are at least five minutes drive to the beach, but most maintain beach clubs at oceanfront.
St. James, which is about 30 minutes south of Wilmington and just five minutes from Southport, is essentially divided up into large neighborhoods each with their own golf course, although residents have the option to belong to one or to all four of the clubs. The Members Club, Founders Club, Players Club and the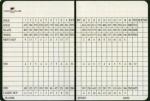 newest member of the quartet, The Reserve Club, all have their own clubhouses and, unlike most other multi-course communities, are totally separated (although all of them are inside the gates of St. James). I played The Reserve course with two St. James residents who are retired and loving it; they don't live in The Reserve but have opted for the Signature Membership Plan that provides them full access to all the clubs for a "membership deposit" of $30,000 and monthly dues of $440 per couple (their wives play golf as well). Membership in just one club is $250 per month for husband and wife, with a $20,000 deposit (but you need to sign up for the Signature Plan in order to have privileges at The Reserve). The courses are private but most members and local real estate agents indicate they all accept outside play.
I thought the Reserve course, which is the handiwork of the Nicklaus Design Group, was a tough test, especially on a windy day. It had the typical Carolina low country feel to it, which is to say a fair dose of marsh and the consequent tall grasses, sandy soil beneath the fairways, and firm greens well protected by bunkers. At 6,608 yards from the black (middle) tees, and with many forced carries over that marsh, the course played to a rating of 72.1 and lusty slope of 137 that seemed appropriate. Women golfers at St. James will find the rating of 66.7 and slope of just 105 a much milder experience at under 5,000 yards.
There is still a lot of raw dirt for sale at St. James, and especially in The Reserve neighborhood, with prices for golf views seeming to cluster around the $200,000 to $250,000 mark, less for plain old wooded views and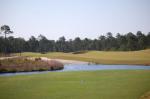 a little more if a smidgen of water is in view. Homes fall into the mid-six-figures range but the offerings are wide enough that just about anyone who wants to live in the 5,000 acre St. James can find something to suit them. Just be wary if you visit; St. James' on site agents have a vested interest in pushing their "developer" properties and may not be forthcoming - unless you ask - about resale properties. I have engaged a terrific outside agent who happens to be a resident of St. James and would be happy to make an introduction if you are interested. As ever, there is never a cost or obligation to you.
Night owls will have to content themselves with activities in one of the three clubhouses (the Reserve clubhouse is under construction) or with a drive to Wilmington. Southport is a charming town, but high-quality area restaurants are not plentiful, although I stopped for lunch on nearby Oak Island and had the largest platter of fried shrimp I had ever encountered (and for just $8.00). And it was tasty too. Of course, the hardcore golfer will find great variety either north or south, with dozens of courses available within 45 minutes.
Of modest concern to local residents was the announcement two years ago that the state of North Carolina plans to build a huge seaport just north of Southport. When completed around 2015, the port will be the second or third most heavily trafficked by ships on the east coast. New roads and related infrastructure will need to be built in the Southport area to accommodate the thousands of trucks carrying goods from the docks. On the other hand, the thousands of new jobs should not only help the general economy but also provide many part-time employment opportunities for St. James' retirees looking for some spare cash.
If you have set your retirement sights on golf five days a week and in the company of people of your own age, then St. James is worth a look.
St. James Plantation, 4006 St. James Drive, Southport, NC, 888.873.7598. www.StJamesPlantation.com.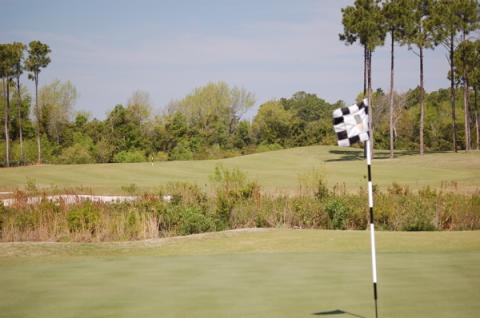 The dogleg left par 4 9th at The Reserve is short but tricky with an approach shot over no man's land to a green that slopes front to back.