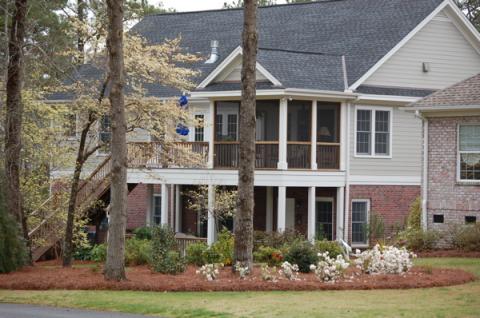 An attractive home behind the 16th green at North Shore Country Club's course is on the market for $585,000, reasonable given its location on the course and within a mile of the ocean. Annual property taxes are an incredibly low $1,275 (2006), although insurance rates are double that because of the threat of hurricanes.

For many who love the beach and golf, living within sight of both is an unattainable goal. On one hand, relatively few places on the eastern seaboard provide those two features in one lot; I've seen it at the Ocean Club at Kiawah, Wild Dunes on Isle of Palms and at communities in Florida. But even when you find them, such properties carry price tags only the very rich can afford.
But if you are willing to live within short driving range of a beach, rather than on it, you can combine the two lifestyles. Our family has something like that in our vacation home in Pawleys
So what are passionate beach nuts and golf lovers to do if they only have, say, $500,000 or less to spend?
Plantation in South Carolina. Our condo sits on the 15th tee of Jack Nicklaus' circa 1989 layout, and our trip over the bridge to one of the nicest beaches on the east coast, Pawleys Island, takes all of six minutes. Up the road at The Reserve at Litchfield Beach - not really on the beach but with private access to a nice one three minutes drive across Highway 17 - some lots are still available along the neat Greg Norman course. The best combination of golf and beach property in the Pawleys area is at DeBordieu Colony, where Pete Dye fashioned a mostly wide-open layout that snuggles up within earshot of the waves but never quite within eyeshot of them. From one of the big homes directly on the ocean at DeBordieu, the clubhouse and first tee are a five-minute walk or one-minute cart ride away.
However, that house on DeBordieu's oceanfront has a market value of $5 million. And the limited number of remaining lots on the golf courses at The Reserve and Pawleys Plantation exceed the $300,000 mark, making a total investment in a home beginning around $800,000, after construction costs.
So what are passionate beach nuts and golf lovers to do if they only have, say, $500,000 or less to spend? They could start by looking into the North Shore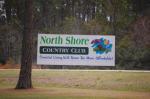 Country Club community in Sneads Ferry, NC, less than a mile from the ocean. The club sits literally at the foot of the bridge to North Topsail Island, and a few of the course's holes run along the attractive Intra-coastal Waterway. North Shore members enjoy access to a private beach area on the island, although they are welcome to use the many other public beach access points along Topsail's main road.
Although no one can testify truthfully that Sneads Ferry offers abundant conveniences, still it is only 40 minutes or so to Wilmington International Airport, a modern, pleasant facility that is large enough to handle fair-sized jets but small enough to have its rental cars parked just outside the terminal. (No need to take an annoying, time-consuming shuttle bus.) Sneads Ferry does not have a Wal-Mart or any other store of consequence, save for a recently built CVS pharmacy. The town's rural nature will be part of its charm for some - remote, with a classic beach atmosphere.
Charming also are the property taxes, which are levied by the county, not the town of Sneads Ferry, and run less than $2,000 annually for virtually all homes.
In our post-Katrina world, annual insurance rates are double annual tax rates near the ocean.
The town of Jacksonville, home to the Camp Lejeune Marine base, is about 20 minutes away if you need to scratch the itch to shop or to try out the base's 36 holes of golf open to the public (see earlier reviews).
More upscale shopping and fine dining will require the 40-minute drive to Wilmington. But Sneads Ferry and the nearby oceanfront Surf City do offer good seafood places with simply prepared dishes at reasonable prices. I had a large, fresh, well-prepared combo shellfish dinner ($17.00) at the local Green Turtle restaurant, just five minutes from North Shore and with nice views out toward the ocean and a solicitous owner who visits every table to ensure his customers are happy. They seemed to be.
The II Beauchaines in Surf City had opened for the season a few days before I visited, and I admired the restaurant's pleasant vibe, friendly servers and views out to the marsh, even if I prefer the grits in my shrimp and grits made with chicken broth and cream rather than water. But the large plate of Cajun-seared Ahi Tuna appetizer, served properly chilled, was a big winner. I watched the NCAA basketball tournament one evening from a bar stool at Rick's Bar and Restaurant in Sneads Ferry, a jam-packed, loud and convivial place with better than average food (the steak was cooked to my liking and tender, if not overly flavorful). The pre-meal salad was terrific, and the prices were modest.
North Shore, which is not gated and has three separate entrances, was developed as a series of distinct neighborhoods within the larger community; one neighborhood has its own homeowner's association, but there is one overriding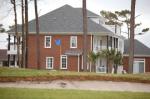 association for the entire community. The higher-end homes - the vast majority selling for less than $600,000 - feature much brick, an attractive and sturdy barrier against the hurricanes Sneads Ferry endures every decade or so. Other neighborhoods sport home exteriors more indigenous to the low country, such as hardy plank. A few of the older homes in these neighborhoods are available at less than $400,000. There are no multi-family dwellings in North Shore.
Behind the 16th green, a home at the high end of the market and on a nicely landscaped 1/3-acre (see photo at top) is listed for $585,000, golf membership included (a $15,000 value). Annual property taxes in 2006 were just $1,275. As a sign of the times in a post-Katrina world, combined homeowner, wind and hail insurance runs $2,500 per year, but the total tax and insurance burden is the lowest I have encountered this close to the ocean.
Sneads Ferry is about 10 minutes from Highway 17, the main north/south route along the coast. I have established an excellent real estate contact in the area, so if you are headed that way and want to stop for a tour of North Shore and/or a round of golf, let me know. I would be happy to make the connection for you at no cost or obligation whatsoever (other than the modest green and cart fees you will pay). Use the "Contact Us" button at the top of the page.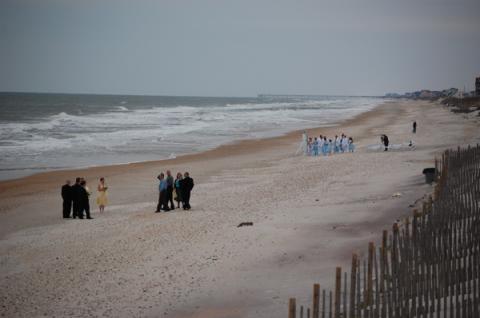 The beach at North Topsail Island has suffered significant erosion in recent years, but there is still plenty of sand available for North Shore club members, who have access to their own sandy spot. The oceanfront Atlantis Resort is a popular place for weddings, even on a cold March day.
COMING TOMORROW: A REVIEW OF NORTH SHORE'S GOLF COURSE