River Club offers pretty much the full range of housing styles and prices, including golf villas, townhouse-style condos and single-family homes. Those looking for a golf home south of the hectic Myrtle Beach area, which is where Litchfield is located, are already wise to the charms and reasonable prices inside the gates of River Club; just seven homes and five condos are currently listed for sale, at prices ranging from $225,000 for a single-family home. One of the River Club condominiums currently for sale is 1,100 square feet, 3 bedrooms and 2 baths, and priced at $150,000. (Only a few building lots remain, priced from $75,000.) The low number of properties for sale in River Club is impressive, given the state of the overall Myrtle Beach real estate market, which is only now showing signs of snapping out of its recession doldrums.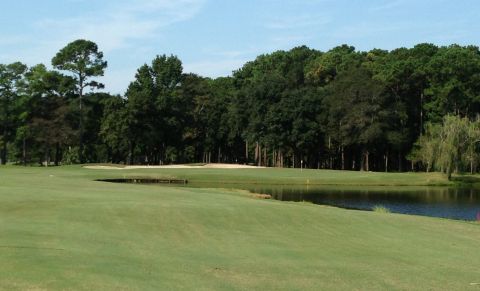 The approach to the par 5 6th hole at River Club, one of a few where a pond or lake must be negotiated. However, for the aqua-phobic, there is always a way around the water.
The golf course, which is owned by National Golf Management (NGM), was in tip-top condition when we played last week. The layout is by Tom Jackson, who has designed golf courses almost exclusively in the southeast and seems to be oriented toward a resort style of golf, which is to say generally wide fairways but just enough trouble, in the way of bunkers and water, to keep the player's attention. Jackson would be quite happy with the smooth surfaces of his slightly contoured greens on the day we played; they were rolling medium rather than lightning fast. (This is, after all, a public course where rangers work to get many players in under 4 ½ hours.)
Monthly dues for River Club members are only $205. As a member of an NGM course, though, River Clubbers have access to the company's 20 other courses for just a $25 rate (cart included). The NGM courses include the tough and beautiful Pawleys Plantation, Jack Nicklaus' layout in Pawleys Island; Kings North, the ultra-sandy Arnold Palmer layout at the Myrtle Beach National complex; the classic Pine Lakes International, the first course to open in Myrtle Beach (in 1927); and Grande Dunes, whose layout bumps up against the wide Intracoastal Waterway.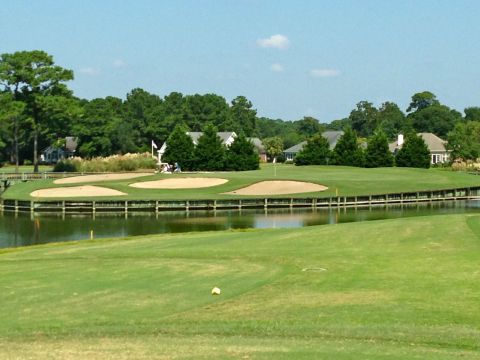 There is a bit of water on all but one of the four par 3s at River Club; the par 3 14th hole is accessed from the back, making it essentially an island green.
The level of amenities at River Club are about what you would expect for a "resort" oriented golf community, with one big exception. Attention beach lovers: The private beach and tennis courts at the Litchfield-By-The-Sea resort, just two miles from River Club's gate, are available to all residents and include miles of sandy stretch on the ocean, an oceanfront clubhouse and seven lighted tennis courts. For those who take their water unsalted and still, the community's L-shaped pool is available inside the gate. Within just a few miles are virtually all types of shopping, including major supermarkets, as well as a hospital and Restaurant Row in Murrells Inlet, a string of mostly seafood restaurants always buzzing with activity.
If you are interested in more information about River Club, please contact me and I will be pleased to put you in touch with an experienced real estate professional who knows the community well. Cathy can also show you comparable properties in other South Strand golf communities like Pawleys Plantation, The Tradition, Willbrook, Litchfield Plantation and Prince Creek, adjacent to TPC Myrtle Beach.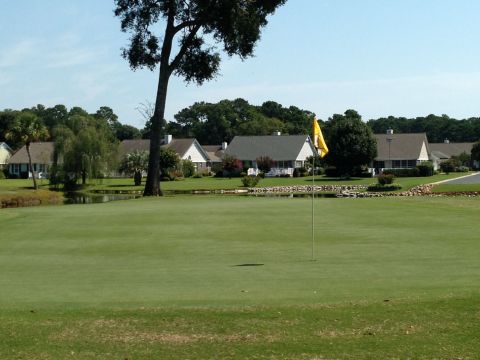 Many patio homes and town homes at River Club have views of the golf course and water. Prices begin in the mid $100s.