Tucked between the popular Carolinas and the historically hot (in more ways than one) Florida, Georgia is an afterthought for many golfers looking for a vacation home on the course or a permanent one. But Georgia shouldn't be an afterthought. The Peach State may not have the number of golfing communities of its neighboring states, but what it lacks in quantity it more than makes up for with quality courses, stable developments and a wide range of golfing options.
This correspondent has been particularly impressed with Georgia's golfing resorts cum communities. The benefit of looking for a home at a resort is that you have a choice of either having your hand held for four
Resort communities are fine for those who want to feel as if they are on vacation permanently.
hours during one of those "Discovery" tours, or staying at the resort and checking out the real estate and facilities pretty much at your own pace. The major benefit to committing a few hours to the agent is that they have the keys to any houses you want to look inside; and they are likely to arrange a complimentary round of golf if you are serious about looking for a home.
The thought of sharing a golf course and other "member" facilities with vacationers may be off-putting, but the green fees the transients fork over help pay for the maintenance of the course, keeping everything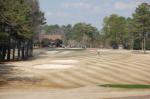 well-conditioned and members from having to pony up for extra assessments. Over time, resorts have become more sensitive to the need for residents' privacy and have carved out "members only" facilities such as locker rooms, dining areas, bars and even extra golf courses on properties with multiple courses. Then again, some people want to live in a resort to feel as if they are perpetually on vacation, and they don't mind sharing the amenities with others.
Prices for summer visits to Georgia golf resort communities are at their most reasonable from now until the middle of September. This week, I will feature a few I have visited and can recommend. We start today with Callaway Gardens.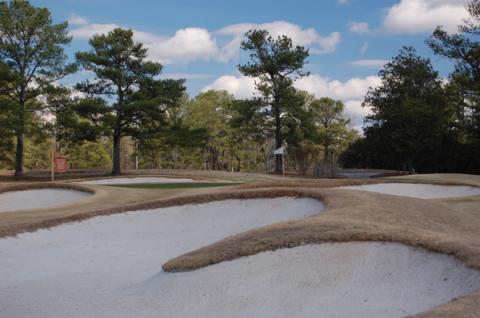 Bunkers surround the 18th green on Callaway Gardens' Mountain View course. Owners of golf cottages at Callaway (note sign at rear left) will have a view of the hole and a short walk to the practice facility.
Callaway Gardens, Pine Mountain, GA

Callaway Gardens is not as remote as it seems and can form the centerpiece for a serious weeklong golfing trip. Located in rural western Georgia, it is just 20 minutes from the Alabama state line and less than an hour from the midpoint on the vaunted Robert Trent Jones Golf Trail. Fly into Atlanta's huge international airport, and you should be unpacking your bags at Callaway's rustic lodge within 90 minutes.
The accent is on the gardens and picture-perfect landscaping throughout the resort, and the golf courses benefit from the management's fussiness about the grounds. The resort's 36 holes of golf is anchored by the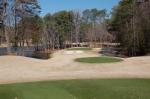 Mountain View Course, a Dick Wilson design whose fairways are framed by a thick helping of Georgia pines. At 6630 yards from the white (men's) tees, the course is tough, with a rating of 71.9 and slope of 134. The original Lake View Course doesn't receive the same accolades as its tougher sister course, but if you stick around for more than two days, the Lake is worth a play. Golf rates are incredibly reasonable for the quality of the courses, with summer weekday play at Mountain View just $80 (cart included) and $100 on the weekends. The Lake View green fees run about 20% less. Memberships for residents are available.
Housing options run the gamut from golf cottages to town homes to single-family homes tucked into heavily wooded neighborhoods secluded from the regular resort traffic. A recently opened group of 30 golf cottages look out over the finishing hole at the Mountain View course and are adjacent to the new practice facility. A neighborhood called Longleaf offers open-plan, highly energy-efficient single-family homes from 2 to 4 bedrooms. Highland Park, the newest neighborhood, has begun to sell home sites in the ½ acre to 1 acre range beginning at $190,000. The neighborhood is a convenient walk to the resort's golf practice facility, spa and lake. For those looking for a place for no muss, no fuss vacations, a section named Camp Callaway may fill the bill. Details are only emerging now, but Camp Callaway will offer 47 cabins, fully furnished, strung along the shores of Martin Lake.
If you are interested in property at Callaway Gardens, contact us and we will identify the best possible agent to work with you. For a map of the resort's location, click here.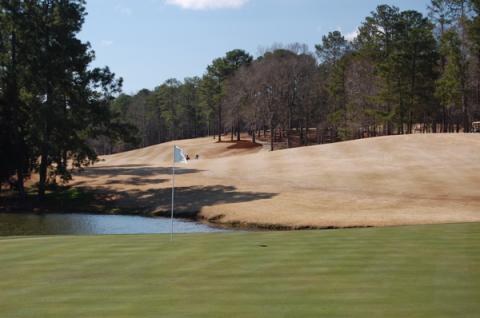 The 15th at Callaway Gardens' Mountain View course is one of the toughest par 5s in my experience. A drive must find a narrow slice of fairway before a lay-up shot to a severely sloped landing area (it slopes toward the lake). Negotiate those two shots and you are "rewarded" with a carry over the lake to a pin that may be tucked beyond the false front (as it was here). Land just short, and you are all wet.