...about the best possible golf community home for you?
If you are reading this, you have an interest in golf communities. The name Golf Community Reviews leaves little room for interpretation of the subject matter here. The web site -- some would call it a "blog" -- is geared to readers actively searching for a dream home on the course as well as to those who may be years away from such a decision but want to learn what's available and what the costs are likely to be.
I have been there and done that. For the last 25 years, I have researched and visited golf community properties, bought a couple of them
The Internet is filled with much hype about golf communities, promotion costumed as information.
myself, and written intensely about the leisure residential market. Hardly a day goes by when I don't post some original content here based on my visits to golf communities, my conversations with professional market observers in the southern U.S. and my research about golf community properties. I have acquired enough knowledge that my wife is urging me to write a book, but I'd rather concentrate on helping people more directly.
I have been witness to good, bad and ugly property searches. The Internet is filled with much hype about golf communities, promotion costumed as information. Some developers on the brink of bankruptcy continue pitching their communities as if all is paradise. The purchase of a vacation or retirement home is a huge investment, one of the largest any of us will make in our lifetimes. It is best approached with an armful of information and eyes wide open.
I started GolfCommunityReviews three years ago to help others negotiate the choppy waters of the leisure residential real estate market. I try
Some developers on the brink of bankruptcy keep pitching their properties as if they are paradise.
to be scrupulously objective, hoping that readers will trust me enough to call on me to help them look for the golf home that best suits their needs. Last year, some did, and they would testify they were well served by the agents I arranged for them to work with, and that the properties they purchased were at fair prices. (Pssst, prices have dropped considerably since then.)
I am not a non-profit, but I don't charge my customers any fees either. I work with them to find the real estate agents most qualified to help them identify the perfect home on the course. The agents compensate me with referral fees if my customers purchase property. But there is absolutely no obligation or pressure to purchase; the referral fees pay my bills, but what I learn during the process makes me smarter and better able to help other customers.
Here is how I would work for you:
Getting to know you...
I take the time to understand what you are looking for. In a phone conversation of about 45 minutes (my dime for the phone call), I take you through a series of questions, at the end of which we both have a good idea of the type of community that will best suit your lifestyle (this interview is best conducted with couples). Within a few days, I submit to you a summary report of our conversation for your review and feedback. We modify as needed.
Matching your needs...
If you are not set on a particular area, I come back to you in a short time with some idea of what geography will suit you. Most couples know whether they want mountains, coast or an inland area with perhaps a lake. But there are differences in living in Savannah and Charleston, or Asheville and Greenville, and the lifestyle in a community around Lake Keowee in rural South Carolina is going to be decidedly different from one in, say, the Chapel Hill, NC, area. I have researched many of the most popular areas in the southern U.S. and visited the majority.
Giving you a sense of community...
If you know the area you would like to live in but are unfamiliar with the golf communities there, I look at all those that might suit your lifestyle and your resources, talk with real estate professionals and residents in the area to surface any hidden "issues" about the communities, and then recommend a few you might visit. (Note: As a former communication executive and journalist, I know how the ask the tough questions and use my experience to qualify the answers.) In some cases, based on our interview, I might recommend you consider the purchase of a home outside a gated community and membership in a local private or semi-private club. This works well for couples that do not require many amenities beyond the golf course and clubhouse, and would prefer not to pay for what they don't use.
Teeing up the visits...
If the timing is right and you are prepared for a visit, I help you make arrangements either directly with the communities or through a qualified local real estate professional. Most communities offer "discovery" packages that typically include lodging, breakfast and golf at a nominal fee. Because of my contacts in the communities, I can often negotiate discounts on these or have the fee waived.
Going for the green...
If you use an agent whom I pre-qualify for you, he or she will help you negotiate the best possible price on a privately owned home. However, should you be interested in a developer owned property in a community I have visited and can recommend, I will help you negotiate the best possible price. Potentially, this could save you thousands of dollars compared with going it alone.
We can start with a no-risk, no obligation interview and my follow-up report. If you just want to keep the report for future use and do nothing now, that is fine. No salesperson (or editor) will call until you say you are ready to take the next step. And even then, there will never be a cost to you.
Contact me via email (
click here
) or by phone at
(860) 675-1491
and I will get to work.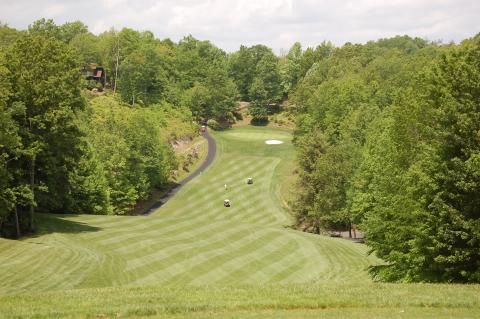 I have visited personally more than 100 golf communities, including Connestee Falls near Brevard, NC
.