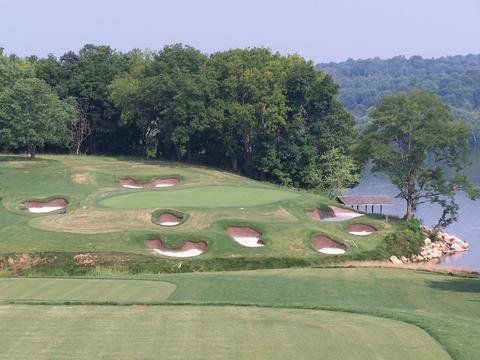 Greg Norman's golf course at the community he is developing, Tennessee National, features many bunkers with stacked sod faces reminiscent of some of his favorite courses in the British Open rotation. The par 3 12th hole bumps up against the Tennessee River. The golf course is the only major amenity built to date at the fledgling community about 20 minutes from Knoxville.

Tennessee National, the community near Knoxville that is being developed by Greg Norman's Medallist organization, is running a real estate sale for the holidays. Some homes are being marked down by up to 20% for the rest of the month. A sample includes a 3 BR, 3 BA golf cottage that was formerly $537,000 and is now $449,000.
After waiting a couple of weeks for someone at the community to respond to a request for information, one of their sales representatives contacted me to announce the holiday sale. I asked her how those who previously bought golf cottages at "list" prices felt about the instant depreciation of their homes, given these December sale prices.
"They just want more neighbors coming in," she said cheerily.
Robert Stevenson is the new golf membership manager at the golf club. The recent graduate of the highly
"They just want neighbors," the sales agent said of residents whose homes will depreciate with the knockdown in prices in their neighborhood.
regarded Penn State golf management curriculum indicated that in just his first few weeks on the job, he has signed up a couple of new members. That may not sound like much, but that is as well as many private clubs are doing. Just holding on to members in this environment is a feat.
The current golf club initiation fee at Tennessee National is $30,000 but with only 150 members out of a goal of 400, expect that fee to be somewhat negotiable with the purchase of property. Membership is essentially of the equity type; upon resignation, members receive 100% of their deposits or 80% of the then-prevailing membership fee, whichever is higher. However, as is customary in many new private clubs without a full roster of members, four new members must sign up before a refund can be granted to the person at the top of the refund list.
In recognition of the economy, Tennessee National is permitting its new members to pay off the $30,000 over four years with no interest charges. For the moment, club dues are reasonable at $385 but as the promised amenities, including a community center and pool, are opened, expect dues to increase. And, as always, there is a relationship between the price of real estate and the amenities. Once the latter are in place, the price of properties will be higher than if the amenities are simply on the drawing board. I think that is a "problem" Tennessee National and many other golf communities are looking forward to.
For now, exercise caution, and if you would like more information about Tennessee National or any other golf community, let me know.