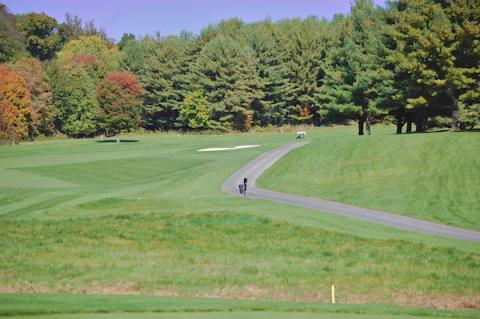 One collegiate golfer pushed his luck after driving into the trees on the right at the par 4 4th hole at Piney Branch.

I followed a threesome of collegiate golfers around the well-groomed and challenging Piney Branch Golf Club course in Hampstead, MD, on Monday. One of them was my son, Tim, a sophomore at Washington & Lee University.
One of Tim's playing partners looked terrific, hitting the ball long off the tee and straight and leaving himself reasonable birdie putts on each of the first three holes. His team was tied with Washington & Lee for the lead going into the final round. On the fourth hole, he pushed his drive into a grove of trees down the
Luck plays little or no part in golf.
right side, no more than 120 yards from the green. But he had no room to go over the trees, and a play under limbs toward the green was dicey. I would have simply pitched out to the fairway to attempt an up and down from 100 yards and not risk a big score that would hurt the team's overall score, but he opted to play under the tree limbs. (We were all young once.)
He made a good swing and hit the ball solidly, but it clipped the pine needles of one of the trees and wound up in the rough just short of the green. Stupid play, but what he said out loud revealed an attitude that can kill a game. "Why don't I have any luck?" he moaned, and I knew at that point he was done. Sure, an inch lower and he might have flown the ball to the green, but an inch higher and he would have hit a branch straight on and stayed in the trees.
His uphill approach from the rough to a tight pin bounded 30 feet beyond the hole, leaving him a slick downhill putt. He took three to get down from there, putting up a double bogey on his way to a 41 on the first nine and an 82 for the day. His team finished four strokes out of first place.
Luck plays little or no part in golf. When we start to think that some force other than our backswings, follow throughs and focus determines our scores, then we might as well repair to the casino and pull on a one-armed bandit.