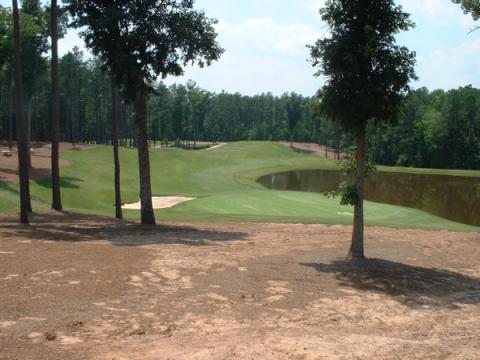 Old Chatham Golf Club opened just a few years ago. No pool, no tennis, just golf.
A reader of this space, a friend from Connecticut, alerted me yesterday that he closed on a piece of property at Governors Club in Chapel Hill, NC. Governors Club features 27 holes of Jack Nicklaus Signature golf and
I feel like a proud new father three times over this year.
impressive topography that includes dramatic rock outcroppings on many of the properties. My friend and his wife meet with a local architect next month to begin the process of moving their young family to one of the most livable towns in the southern U.S. With the University of North Carolina just a couple of miles away, and Duke University at just 20 minutes, Chapel Hill is a magnet for great entertainment, collegiate sports and the widest range of cultural and educational pursuits. Oh, and the barbecue in the area is darn good too.
My friend is contemplating an additional membership at the local Old Chatham Golf Club which opened just a few years ago and was built purely for golf.
"We are thrilled," he wrote me about the impending move to Chapel Hill. "Thanks for your help."
I feel like a proud father three times over this year, having helped other readers find a property in Ocean Ridge Plantation in coastal North Carolina and a home at The Landings just outside of Savannah.
If I can help you, please contact me. There is never a cost or obligation.