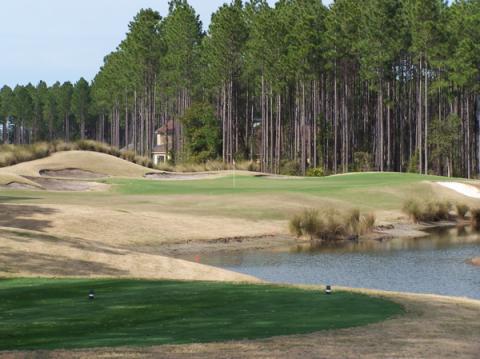 North Hampton Golf Club in Fernandina Beach, FL, ranked #45 on GolfLink's list of best courses in the U.S., ahead of the Ocean Course at Kiawah Island and Torrey Pines. Golf homes adjacent to the Arnold Palmer course are reasonably priced beginning around $350,000. Above is the par 3 14th hole.
The popular web site GolfLink.com published its take on the top 100 courses in the U.S. recently. According to the web site, the list reflects the opinions of its millions of readers rather than experts ("editors of golf magazines"). It shows. As in major league baseball, whose all-star teams are largely decided by fan votes, the results can defy logic.
The top 10 is all over the place. I won't bellyache about #1 on the list, Bethpage Black on Long Island, NY, a
When you turn the choice of "best" over to fans, results can look bizarre.
U.S. Open site (and a public course), although this may be the first time it has ever been named top golf course in the U.S. Bethpage Black is widely hailed as one of the toughest courses in the nation, although not one the average golfer would want to play regularly (unless the average golfer were a masochist). The second and third place courses also won't generate too much controversy; Augusta National and Pine Valley are on most lists of best courses in the nation, and although I preferred Pine Valley by a wide margin, I have to acknowledge my judgment could be affected by having played the Master's venue on two dreary days in February. No azaleas, no lightning fast greens but, still, atmosphere to beat the band.
I don't know Kearney Hill Links in Lexington, KY, a 20-year old Pete Dye layout that ranks fourth on GolfLink's list. The courses rated #5 thru #7 all have solid reputations, respectively Riviera Country Club in California, World Woods (Barrens Course) in Florida and Koolau in Hawaii. The problem with the list really begins at #8 where GolfLink's readers place the wonderfully wacky, but not-to-everyone's-taste Tobacco Road in North Carolina. I suppose there is a list somewhere on which Tobacco Road should rank in the top 10 -- perhaps the list of most acres of un-raked sand -- but a best-courses list is not it. Tobacco Road's eighth place rating puts it ahead of Pebble Beach, Spyglass, Shinnecock, Merion, Oakmont and dozens of others it should trail.
As you move down the list, the choices become more and more illogical. Baywood Greens in Delaware is a
Is it time for a Ryder Cup at North Hampton Golf Club?
beautifully manicured public facility I played a few years ago. It features beautiful landscaping and a profusion of flora that would impress the greenskeeper at Augusta. But 10th best in the nation? I've played it, enjoyed it, and would rank it below the 25th best course on the list of those I have played (mindful that I haven't played 200 courses that are probably better). I've also played True Blue Golf Club in Pawleys Island, SC, many times, and although I find it interesting and fair, despite its too-large greens and unevenly tended waste areas where carts are permitted, its position at 38th on a list of best golf courses is just silly.
I also scratch my head over the 45th choice, North Hampton Golf Club in Fernandina Beach, FL, the best Arnold Palmer designed course I have played. It is a fine links style course a few miles from the beach, and its attractions include tall grasses that appear native, well placed bunkers (and not as huge as the typical Palmer traps) and shore breezes that can play with shot selection and your head. But if North Hampton is better than the Ocean Course at Kiawah and Oak Hill, as the
GolfLink list
suggests, someone had better let the organizers of the Ryder Cup know.
There are plenty of reasonably priced golf homes and properties near many of these courses. If you would like more information about golf communities in these areas or about other golf real estate, let me know by clicking the Contact Us button at the top of the page.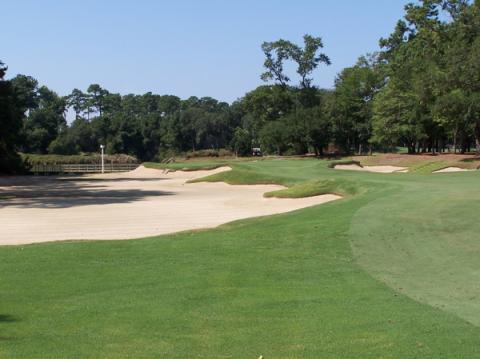 Caledonia Golf & Fish Club in Pawleys Island, SC, is rated 15th on the GolfLink list of best U.S. courses (approach to the par 4 13th hole is shown). Caledonia's sister course, True Blue, came in at 38th, ahead of courses that have hosted U.S. Open and Ryder Cup competitions. A number of condos priced in the low six figures are adjacent to a few of the fairways at True Blue.