I love golf, and my wife and I love old houses. Before the kids, we owned a 200-year old house in the northwestern part of Connecticut. We talk about possibly finding an old house in the south, where there certainly are plenty to choose among.
Although I focus most of my professional energies visiting and reviewing planned golf communities, I recognize not everyone wants to live in a brand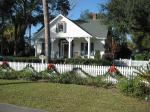 new house in a new development loaded with newly minted amenities. Some golfers would be perfectly content to buy a home that has some age on it, the better for the foundation to have settled and all the early problems to have been confronted by previous owners. As long as there is a good private course to join nearby, or a selection of accessible daily fee courses, an older home -- especially one loaded with charm and accessibility to town -- is a viable, and often cheaper, alternative to a new or nearly new planned development. And if you can get to the local coffee shop or newstand or restaurant without turning the ignition key on the car, all the better.
The current economy has wreaked havoc on virtually all real estate, but with an oversupply of new homes being dumped on the market at discount prices, old homes have become particular bargains. New homes may seem a safer bet than a home where the boiler could blow at any moment or the roof might need replacing. But the playing field is leveled if you hire a qualified engineering inspector before you negotiate any final price on an older home.
The current economy has not only affected the old house market, but it also has dealt a blow to the antiques market, as reported by the Wall Street Journal recently. According to Journal reporter Nancy Keates, some antique furniture pieces are selling for a third of what they were just a year ago. (Email me if you cannot get access to the article and I will send it to you.) Those looking to purchase an older home and furnish it may never find a better time than now.
Plenty of old homes are available in golf rich areas of the south, according to a quick scan I did this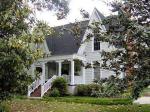 morning. For example, in Georgetown, SC, a town at the very southern end of Myrtle Beach's Grand Strand, historic homes across a range of prices are become more available than they had been in recent years. Georgetown, which features a boardwalk along the river, excellent restaurants and fish markets where you can pick up a pound of the renowned local shrimp, is just 10 miles from Pawleys Island and the outstanding daily fee golf available at the Founders Club, Caledonia Golf & Fish Club, True Blue and Pawleys Plantation.
At the top end of the Georgetown market, the three-story DuPre Bed & Breakfast house is listed for $1.275 million. Within a block of the town's historic district, the 6 bedroom, 6 ½ bath 1740 colonial is zoned commercial for those considering a little B&B business. At the other end of the market, a turn-of-the-century home is available on Cannon Street, also a walk to the historic district, for just $375,000. It features 4 bedrooms and 2 baths.
The 3 bedroom, 3 ½ bath Moore Cotton Plantation home in Acworth, GA, is just a couple of miles from the well-regarded Cobblestone Golf Club, rated one of Golf Digest's "Top 100 Courses You Can Play." The circa-1848 Gothic Revival house is listed for $650,000; a number of private clubs are within 15 minutes, but so too is the Arnold Palmer designed Eagle Watch Golf Club, part of the Canongate group of courses. An annual membership in any one of Canongate's 19 courses in the Atlanta area conveys access to all the others.
A few years ago, I visited Osprey Cove, a LandMar development just outside St. Marys, GA, a charming little town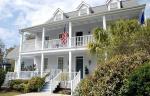 that always ranks high on those lists of the best small towns. Osprey Cove, with its Mark McCumber designed layout, is within five miles of the town, and golf memberships are available to townspeople. I have great memories of the stroll I took up and down St. Marys' tree-lined streets, the restorative cup of coffee in one of the local shops, and the two excellent dinners. I was struck during my walk at the lack of for-sale signs in front of the well-cared-for homes. But times change with the markets, and a restored 1880s cottage is now for sale, just a one-block walk to the ferry that takes passengers out to Cumberland Island, famous for its inn, its wild horses and the John Kennedy Jr, wedding some years ago. The Palm Cottage, which is listed for $850,000, features 4 bedrooms and 3 baths and a detached two-car garage with a separate apartment above. Just up the street, the Riverview Hotel, with 10 bedrooms and 7 baths, is on the market for $3.9 million. The historic Bealy/Bison home, just three blocks from the marina, includes a detached guesthouse, three fireplaces and a price of $600,000.
At nearby Osprey Cove, you can find a 4 bedroom, 3 bath home for $600,000, but it won't have the detailing, provenance or character of a 160-year old home in the middle of a charming town. It will have a golf course just down the block and, of course, a terrific town just five minutes away. Either way, old or new, it is nice to have choices.
I am happy to put you in touch with one of my real estate contacts in the southern U.S. if you are in the market for an old or new home near excellent golf. Just hit the "contact us" button at the top of the page.