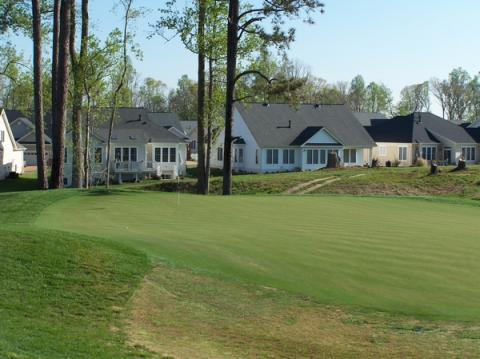 At Colonial Heritage in Williamsburg, VA, the houses are nice and small, but perhaps a little too close for some.

A few years ago, my wife Connie found in a small shop a wooden board with the words "Simplify. Simplify. Simplify." on it. It hangs in our kitchen today. About the same time, she also discovered a book called "The Not So Big House" which, you might have figured from the title, extols the glories of downsizing your living space. Doing so removes complications from your life, the book argues. It also lowers your negative impact on the planet, since less space to heat and air condition means less environmental badness. I thought the downsizing notion made sense, but to cut your living space, say, by half, seemed a little extreme.
According to an article in the New York Times online real estate section on Friday, an increasing number of people are cutting their living space by even more than half and making do in homes of 1,000 square feet.
I am approaching the age when to simplify is less choice and more necessity.
And although the new trend also means living greener, it takes a surprising amount of green to buy one of these small homes. Some new 1,000 square foot houses in Washington State, for example, are selling for almost $600,000. At $600 a square foot in the Carolinas, you could build yourself quite a sweet house.
Planned developments have been slow to catch on to the emerging trend, especially among planet-conscious baby boomers, to build small. I wrote here some months ago about one of my loyal readers who was rebuffed in his attempts to build a "green" home in a southern golf community. The developers' "preferred" builders had no experience in construction of green homes, and our reader wanted to bring in his own expert. After months of wrangling, the community relented, figuring it was better to catch the wave than to swim against it. One of the developers' preferred builders will now participate.
To this point, small homes in planned communities have been mostly the province of retirement and age-restricted (55+) properties at the lower end of the price range. I was impressed with the golf course and clubhouse at one I visited, Colonial Heritage in Williamsburg, VA, but could not quite envision myself in a home a few feet from my neighbor's. For me it was more about the claustrophobia than the size of the house. I wandered into a couple of model homes at Colonial Heritage and thought they were sensibly laid out and with enough space for retirees who wouldn't (or couldn't) climb stairs or push a vacuum around 3,000 square feet.
But now, if
the Times article
has caught onto something more than just a blip on the radar screen, we could begin to see more and more golf community developers offer smaller homes on smaller lots but with some separation between them (to satisfy claustrophobic guys like me). I am approaching the age when to simplify is less choice and more necessity. Who knows, removing distractions around the house just might improve my golf game.