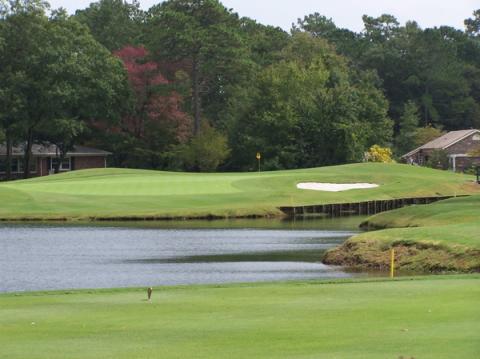 Designer George Cobb, whose portfolio of work includes the 6th hole at the Surf Club in Myrtle Beach, deserves proper credit for having put together the original routing at PGA Tour stop Quail Hollow in Chartlotte.

As I write this, I am watching Anthony Kim blow away the field at the Wachovia Championship at the Quail Hollow Golf Club in Charlotte, NC. I could not find a web site for the golf club, but The Wachovia Championship site does provide some course details. Suspiciously, though, the Wachovia site totally ignores the original designer of the course, George Cobb, who laid out Quail Hollow in the late 1950s (other sites acknowledge the Cobb connection). It was the original Cobb design that was used by the PGA Tour when its Charlotte stop at Quail Hollow was known as The Kemper Open.
The Wachovia Championship site indicates the course opened in 1961 (no designer named), that Arnold Palmer modified a few holes in 1985, Tom Fazio reconstructed the entire layout in 1997 and then modified a few more holes in 2003. With all this reworking, you cannot say that Quail Hollow meets the definition of a "classic" course.
Cobb isn't exactly a piker, having designed dozens of well-respected, if not legendary, tracks throughout the southeastern U.S., including the par 3 at Augusta National. His routings are more classic than those of his more modern contemporaries, not the stuff great photographs are made from but you won't hurt yourself mentally or physically on a Cobb course.
Okay, so he doesn't design championship courses, and names like Palmer and Fazio inspire thoughts of architectural flourishes more than does Cobb. But does it really hurt the pedigree of the course to deny its original designer his due? Word to Wachovia: Post a new history for Quail Hollow that gives credit to George Cobb.