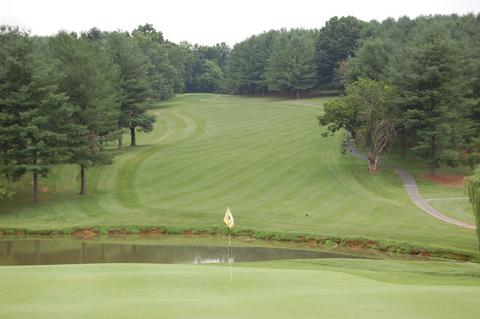 Leaders at the one-day 36 hole collegiate event at Lexington Golf Club on Monday had better not take the finishing hole for granted. It is uphill and tricky, and disaster awaits if you miss the green.
I will be traveling the interstates of Virginia and the Carolinas over the coming week. Below is my itinerary. If I will be anywhere near a community in which you are interested, let me know and I will try to stop by for a quick assessment. I won't have time to play the golf courses but I will snap off a few photos for you and try to get some inside info.
I'll be traveling from Connecticut and then down through New York State and New Jersey along Interstate 287 to I-78 West and into Pennsylvania. Near Harrisburg, I'll connect with I-81 and ride it south to Lexington, VA, where I will
If I am near a community in which you are interested, I will stop by and check it out for you.
stop for the night to watch a 36-hole collegiate golf event hosted by Washington & Lee University, where my son attends school and competes for the golf team.
Lexington has a nice, classic golf course, the Lexington Golf and Country Club, designed by Ellis Maples and the late Ed Seay, who did a lot of work with Arnold Palmer. From the tips, the course is only 6,444 yards, but the trees that line the fairways and the contoured greens provide a nice challenge. Homes in the neighborhood are reasonably priced generally in the low to mid six-figure range, and the town of Lexington is charming and historic. Lexington is a college town, with Virginia Military Institute's campus abutting Washington & Lee's. Robert E. Lee was W&L's president after the Civil War and the general and his horse Traveller are in eternal repose on the campus.
After the golf tournament, I head southeast across southern Virginia and then North Carolina toward the South Carolina coast and Pawleys Island, where I will stay for a couple of days. Pawleys anchors the lower end of the Grand Strand that is Myrtle Beach, and I will be passing dozens of golf courses and communities. Later in the week, I head up through Myrtle Beach to the area of Southport, NC, to spend time (and play golf) at Ocean Ridge Plantation and St. James Plantation. I will also be checking out Brunswick Forest near Wilmington in behalf of one of my readers. That new community is in the early stages of selling property but is getting some notice by those considering purchase of a lot now that they can build on in a few years. A golf course is promised in the next two years.
From Wilmington, I head to the Lynchburg, VA, area for the Old Dominion Athletic Conference golf championship which will be played at Poplar Grove in Amherst. The winners will get a bid to the NCAA Division III national championships at Chateau Elan outside Atlanta in May. If it's the Generals, I expect to be at Chateau Elan, camera in hand, cheering silently from the sidelines.
I'll have my camera and notepad with me this entire trip and will be filing reports from the road. Please let me know if you have any specific location in mind and, if it is not to far off the beaten path, I will try to check it out. Just click on the "Contact Us" button above this article to get in touch.