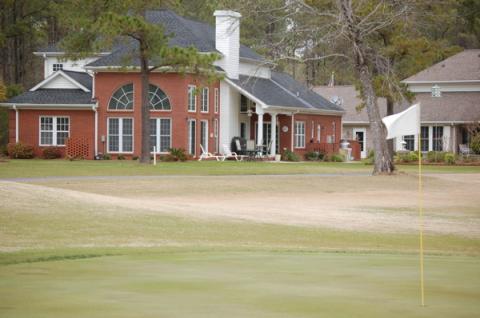 The mostly brick homes in the North Shore Country Club are well tended to and reasonably priced. Many lots are available by owners.

To the best of my knowledge, Picasso did not play golf. Let's face it, our popular notion of the artiste is that, well, he spends his time in front of a canvas or over a drawing board, not over a 7-iron shot. At Camp Lejeune last weekend in Jacksonville, NC, however, a group of young golfers from the Savannah College of Art and Design (SCAD) competing in the Marine Federal Credit Union Intercollegiate Invitational brushed past most of the field of 30 teams to finish tied for third with mighty Division III Oglethorpe University and behind 2nd place Berry College. The winners, Methodist University, destroyed the field, finishing 30 strokes clear of SCAD. One of the SCAD players, Tom Hayes, mustered the low score of the 80 players on Sunday, a gutsy 72 in 40-degree weather and a 20 mph wind with occasional sideways rain. SCAD also had the best looking golf bags...
The headline of a Wall Street Journal online article yesterday informed us that "Americans Delay Retirement As Housing, Stocks Swoon." You wouldn't know it if you talked with real estate agents in some southern cities. On Wednesday, I asked an agent who covers St. James Plantation and other communities in the Southport, NC, area if I could stop by and talk with him one day in the next two weeks. "You better give me some lead time," he replied. "We're busy." I've heard the same thing from agents in Wilmington, Chapel Hill, Charlotte, Savannah and elsewhere. Yes, many baby boomers are deferring their moves south, but the generation is so large - 78 million strong - that even a small percentage can keep real estate offices hopping in key southern towns. And if the market turns around in 2009, the migration north to south, and from Florida to the Carolinas, will pick up steam once again...
If the numbers in my own hometown of Avon, CT, are any indication, some homeowners in the northeast are not exactly hurting. In the last quarter of 2007, home sales in Avon, for example, increased by 9% over the comparable period in 2006. The median price of homes that sold in the town during Q4 '07 increased by a healthy 23%. On the other side of the equation, condo sales sunk by 42% and foreclosures were up a scary 31%, albeit on a fairly low base of 17 homes. That said, if someone were to ring my doorbell and offer me 23% more than my home was worth a year ago, I'll put on a pot of coffee and sit down with Mrs. G. for a serious chat...
I may have found last week the most reasonably priced single-family homes in a golf community within a mile of a nice Atlantic beach. North Shore Country Club, just over the bridge from North Topsail Island, NC, features attractive brick homes close by an enjoyable 18 holes designed by Bob Moore, whose Chapel Ridge layout in Chapel Hill I enjoyed very much when I played it two years ago. You have to work hard to find any home in North Shore more expensive than $600,000, and some are on the market for six figures less. Membership is included in the purchase of most homes and many of the lots that are still available; members have access to the community's private beach out on the island. I was surprised to learn that 40% of the community's properties do not have houses on them; it seemed built out to me, at least from the orientation of the golf course. I'll have more to say about North Shore here this weekend, including some comments about the course.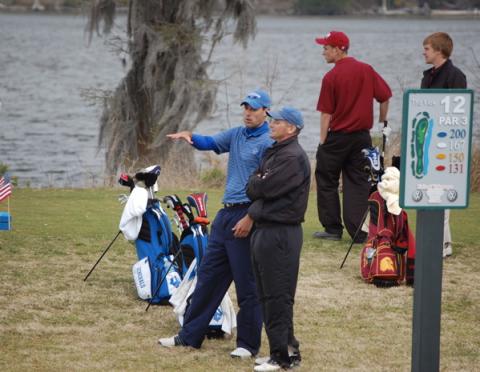 Thirty teams and more than 140 players competed in the Camp Lejeune Invitational last weekend. The tournament, which was played on the Marine base's two 18-hole layouts, was won by Methodist University.